It's hard to believe, but even today, in 2016, I know so many people who still use tanning beds. They tell me that it's so "warm" and "relaxing" but to me that's no excuse – no amount of comfort is worth putting yourself at major risk for skin cancer.
I will admit, I've used tanning beds before, but after fully educating myself on the facts years ago, I completely stopped and never went back. I've become a pro at self-tanning, and these products are my absolute favorites! With springtime arriving, I'm starting up my self-tanning regimen again, so keep reading to see my current faves:
Fake Bake Flawless Self-Tan Liquid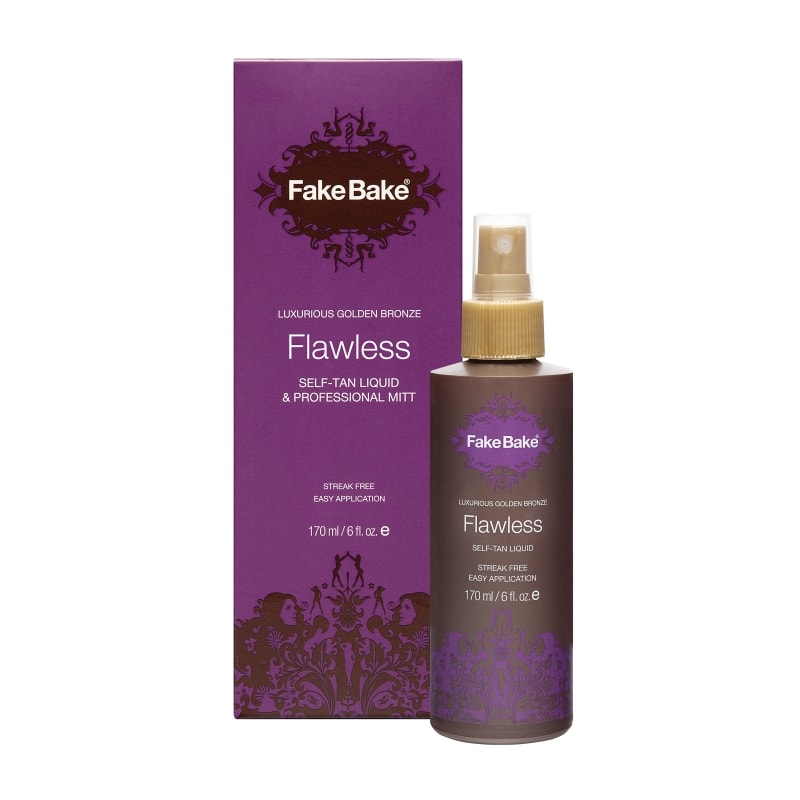 Fake Bake Flawless Self-Tan Liquid – $12.80
I've tried so many different self-tanners that you use a mitt with, like St. Tropez or Vita Liberata, but this one by Fake Bake is my absolute favorite. It applies so easily, smells good (not like fake tan!), and looks perfect with no streaks, once you get the application technique down.
It can be difficult to use the mitt at first, but it gets much easier once you realize that as long as you're touching your skin with the tan solution, you will have a tan after 8 hours! This formula doesn't streak, so as long as the skin gets tanner on it, you're generally good.
There are some precautions to take with this, as with any self tanner: Make sure to watch your knees and elbows, and use a lighter touch on areas that tend to get dry. Exfoliating beforehand is crucial, but make sure you do it earlier in the day so your skin has a little bit of time to recover!
Banana Boat Sunless Color Tinted Tanning Lotion
Banana Boat Summer Color Self Tanning Lotion – $7.99
When you think of Banana Boat you probably think of tanning oil or sunscreen. At least, I did before I discovered their self-tanning lotion! (It's actually been one of our CF favorites for years.) This stuff is so amazing for a quick tan with easy application. It doesn't have the same dark effect as the previous one, but this is ultra easy and quick, and goes on smooth and provides a beautiful color.
I use this over three days, so three applications over three days. Doing that helps lock in the color and make sure I didn't miss anything. This stuff also smells good! It doesn't last as long as other tanners, but it looks really great and has a natural color, none of that orange stuff. It's also very affordable. If you want to try self-tanning, this is a great place to start.
L'Oreal Sublime Glow Daily Moisturizer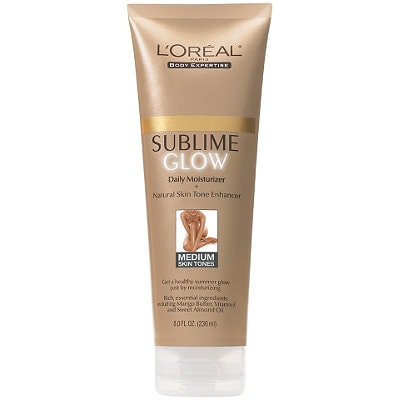 L'Oreal Sublime Glow Daily Moisturizer – $10.99
If you're looking for easy, no-hassle, glowy skin this is the product for you! This daily moisturizer by L'Oreal is meant to enhance natural skin tones without being overly tan or orange. It's supposed to look like a "summer glow" which I actually think it does.
It's a very light tan but it's noticeable, and it's so easy to apply this every day. I use this in the winter, or I also use it when I get a spray tan to maintain the color. In the summer, I don't use this as much because I'm typically using the products above or getting spray tans for a darker look, but in the winter this is key. Love this stuff!
What do you think?
Do you use any self-tanners? Which ones are your favorite? Do you use any of these? Let me know in the comments!