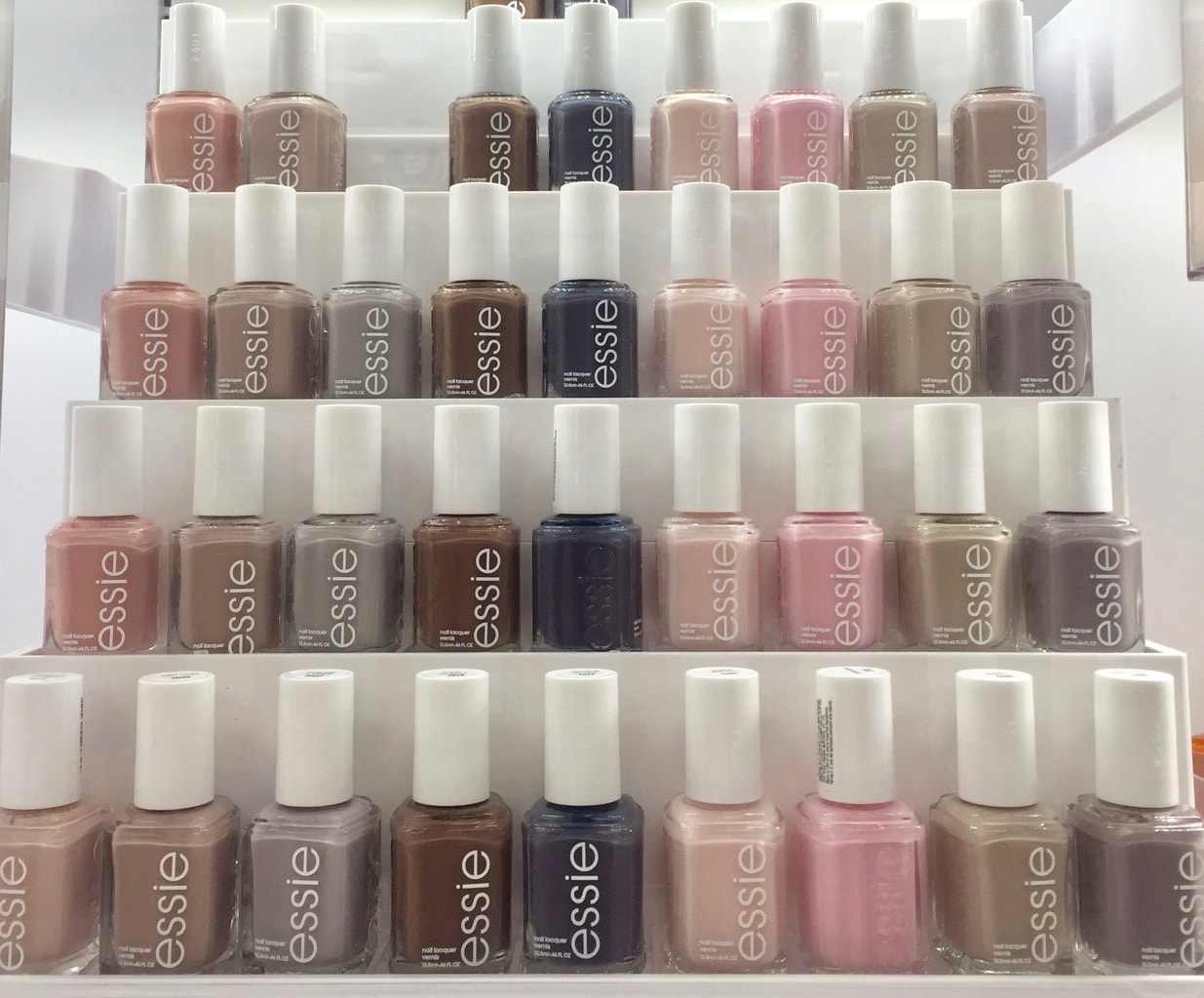 Against my will, I have been recently been dragged into the adult world. Not only the adult world, the professional adult world. I have to wear business formal, keep my makeup "polished and natural in appearance", and exude an air of knowledge and maturity.
So when I saw this display of Essie nude polishes at Target this year, it seemed like a match made in heaven. So I bought ten of them and decided to pit them against one another.
This review includes five of the Essie "Wild Nudes 2017" collection polishes and five of their "Classic" nude polishes. Let's see how they all stack up.
First, My Methods:
Here's how I tested the polishes:
I started every nail with with the Essie Treat Love and Color: Laven Dearly as an undercoat.
I did as many coats as was necessary for each nail to be opaque.
I finished every nail with the Essie Gel Top Coat.
To be honest, if you only want to buy one polish, I would recommend the Essie Gel Top Coat beyond all others. You can wear it over any nail polish and it keeps your nails from chipping. Like, at ALL.
I thought it would be best for comparison to have the most similar polishes next to each other, and I did so to the best of my ability .
I apologize for any smudging/lack of aesthetic in the photos. You see, my assistant had difficulty keeping his head in the game and instead kept trying to get attention: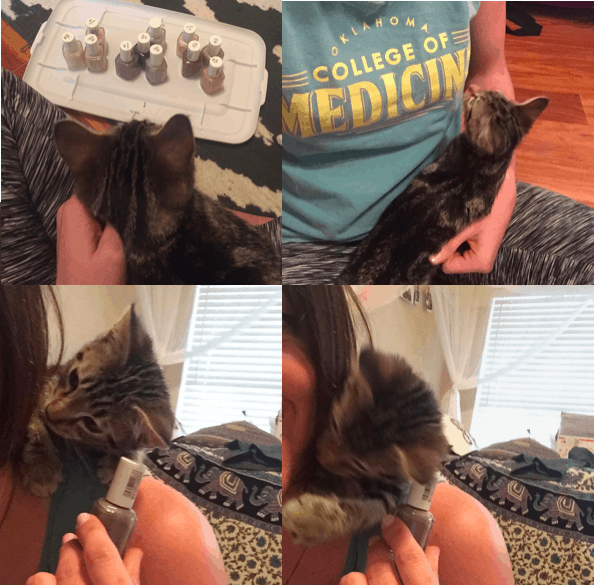 First batch: Sand Tropez, Bare With Me, Minimalistic, and Ballet Slippers

Sand Tropez – Classic Color (pinky)
I'm gonna be honest, I didn't love Sand Tropez. I know this is a classic that many people adore, but for me, it was a miss.
The color seemed kind of murky and it didn't look good against my skin – it made my fingers look (even more) pink. However, it's sort of a coffee-colored beige/brown and it would work for you medium-toned ladies.
Bare With Me – Wild Nudes 2017 (ring finger)
Bare With Me was a dark horse. I HATED it in the bottle, but was surprisingly into it on my finger.
It was the closest "nude" to my skin color (rather than lighter) and would definitely look good on someone a little less pale than I am. I recommend it.
Minimalistic – Classic Color (middle finger)
Minimalistic was a fairly bright pink – brighter than I thought it'd be – but I did like it. It was the closest color of the bunch to my nail bed.
I ended up also painting all my toes this color, because it was closest to the "french manicure" style pink.
Ballet Slippers – Classic Color (index finger)
Ballet Slippers is one of Essie's bestsellers. It's definitely pinker than is shown on my nail (I blame my kitchen light), and is a fairly soft, nude pink. You can't go wrong with this classic.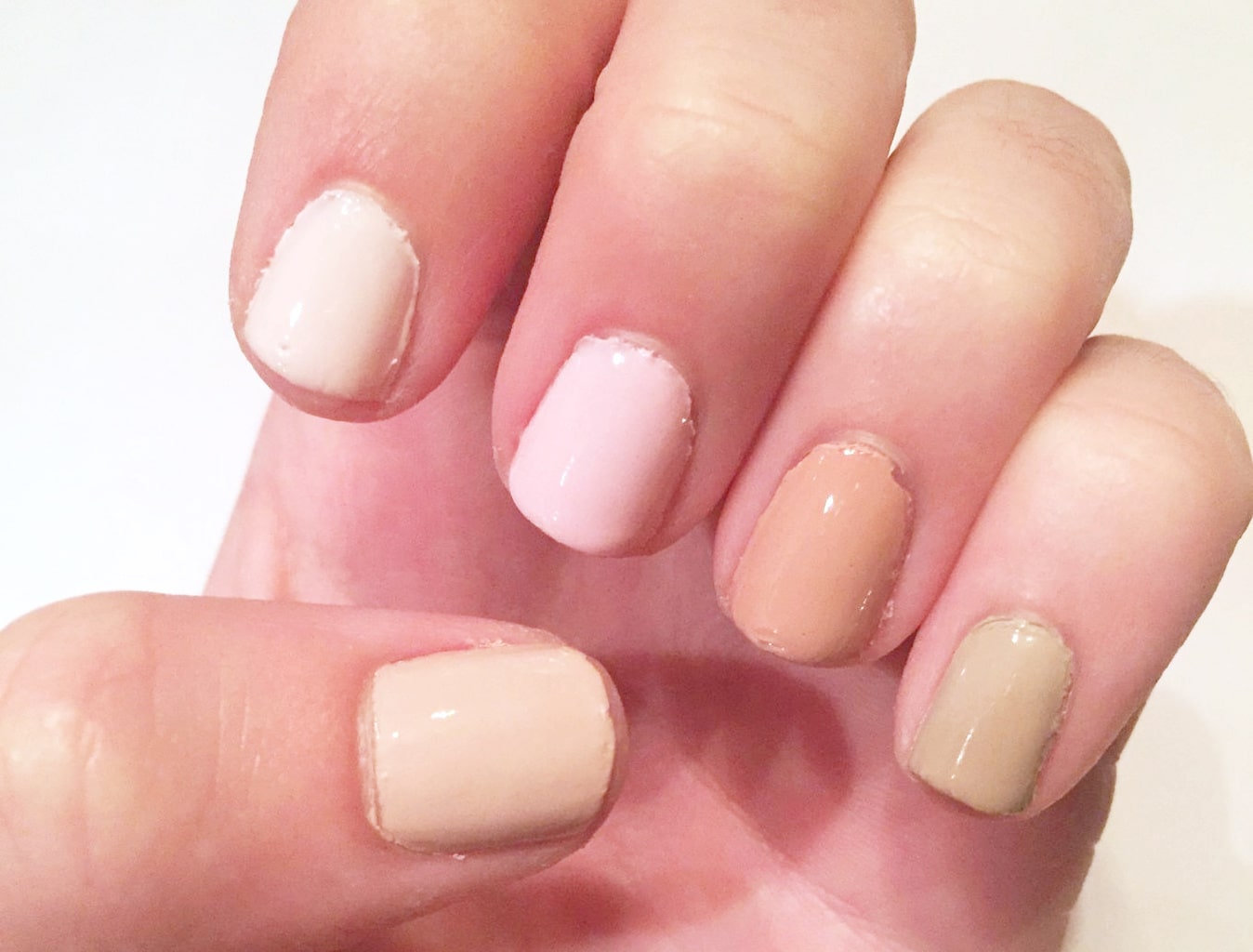 Topless and Barefoot – Classic Color (Thumb)
This is one of Essie's most popular nudes, considered one of the "quintessential" nudes from Essie. Compared to the other limited-edition colors I grabbed, I think Topless and Barefoot is still going to be one of my go-tos. (Though again, I was pleasantly surprised by Bare With Me!)
Round Two: Winning Streak, Chinchilly, Truth or Bare, Without a Stitch, and Wild Nude

Now for the darker colors. Again, I wasn't expecting most of these to be true "nudes," if we're defining nude as matching one's skin color, as I know my skin is pale.
These would be truer nudes for those with darker complexions; they're merely neutral on me.
Winning Streak – Wild Nudes 2017 (Pinky)
Obviously the darkest of the set! I did like Winning Streak. On me, however, this would be too dark to wear in a business professional setting.
A lot of older employers/customers still have a firm "black is for punks" expectation, and this is dark enough to trigger that response. Boo.
So, in terms of a neutral-ish color for wearing in the regular world and academia, this is a nice choice. If you're working at a bank, in politics, in medicine, or in some other fairly formal setting, I would recommend against it.
Also, if you have much darker skin than me, this would blend in much better and wouldn't look too dark, and therefore might be appropriate – so YMMV.
Chinchilly – Classic Color (Ring finger)
I like this soft grey. Again, I probably wouldn't wear it in an extremely formal setting, but shiny grey nails always scream "mod" to me and I like the classic/cool mix.
Truth or Bare – Wild Nudes 2017 (Middle finger)
I hated this one. Part of it is obviously that I'm pale, and it doesn't go well with my skin color (so take my review with a grain of salt if that doesn't describe you!)
However, I just don't like the brown nail polish thing. It looked nice in the bottle but when I see it on my nail, it just makes me think of being a lumberjack. No, I don't know where that image came from, but no, I'm not taking it back.
Without a Stitch – Wild Nudes 2017 (Index finger)
I wasn't as into this color as I was Chinchilly. It might look better when you have it on all your nails instead of just one, but it seems a little too light to do the mod thing.
I'd probably skip it and just go straight for a white.
Wild Nude – Wild Nudes 2017 (Thumb)
Wild Nude is a nice one. I'd recommend it for girls with a skin tone that's a little darker than what's matched by Topless and Barefoot.
I messed up painting my nail, so it looks a bit blotchy, but if you're able to apply it smoothly I think it would work as a really nice nude.
Other thoughts:
It became apparent during the writing of this that I wasn't not 100% sure what a nude is supposed to be. Does it match the nail bed? Does it match your skin color? Upon googling, all the results that came up were light pinks. What does this mean? I am not sure.
What do you think? What colors might you try? Do you know what a nude is? Can you tell me? Please? Put it in the comments if you can!