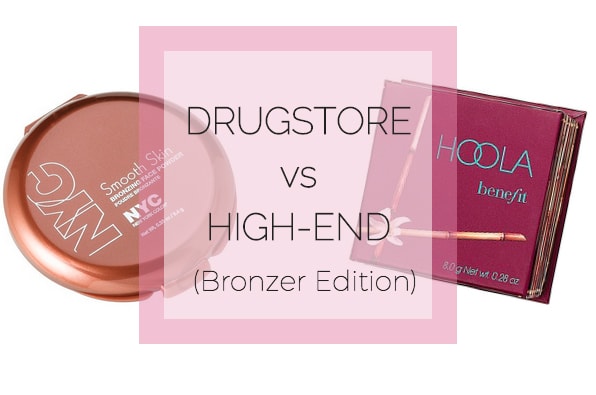 Bronzer is a staple in many of our makeup routines, and whether you use it to get a healthy summer glow, add a little definition to your features, or work a full-on contour, finding your perfect "everyday" product can be tricky.
That's where these two bad boys come into the picture: Benefit's "Hoola" and NYC's "Sunny" are two awesome matte bronzers that are blendable, compact, and flattering on a variety of different skin tones and complexions.
Keep reading to see who wins the Battle of the Bronze!
In this corner: NYC Smooth Skin "Sunny" Bronzer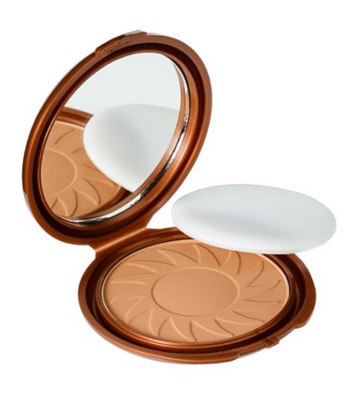 Price: Around $3
This bronzer is one of my all-time favorite drugstore dupes because it's unbelievably affordable for such a high quality product. A lot of other drugstore bronzers have shimmery or glittery finishes, which is fine for adding a glow to your complexion, but not exactly ideal for contouring purposes. This product from NYC, however, is 100% matte.
The color has a bit of an orange undertone, but still looks very natural on a variety of complexions. It can be worn as a light powder or you can easily build it up for a more dramatic contour if desired. This is the perfect bronzer for those who are just getting started with makeup or tend to go for a more minimal daily look.
(I also think the packaging of this bronzer is much more convenient and practical than the bronzer from Benefit since it comes in a sturdy compact with a decent mirror rather than a cardboard box.)
And in this corner: Benefit Hoola Bronzer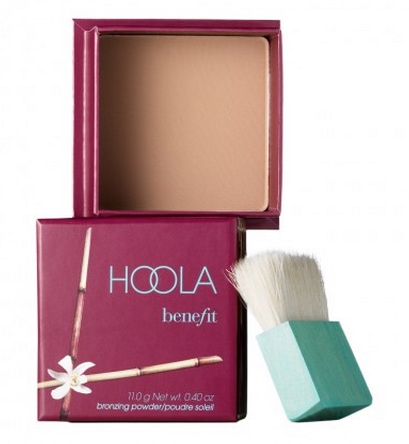 Price: Around $28
This award-winning bronzer from Benefit is one of the most popular bronzing products in the high-end makeup arena, and it's definitely easy to see why. Amazingly enough, this powder bronzer is so finely milled that it feels almost creamy as you blend it into your skin, giving you a "your cheekbones but better" effect without making you look muddy or splotchy.
While the "Sunny" bronzer from NYC has orange undertones, "Hoola" has more of a soft brown/olive finish to it, which makes it a great fit for those with olive complexions or yellow undertones. It's also slightly more pigmented than NYC's bronzer, which can be a pro or a con depending on your personal preferences.
Swatches:
Here's what both bronzers looked like against my skintone. On the left is Benefit's "Hoola" bronzer; the right swatch is the NYC "Sunny" bronzer.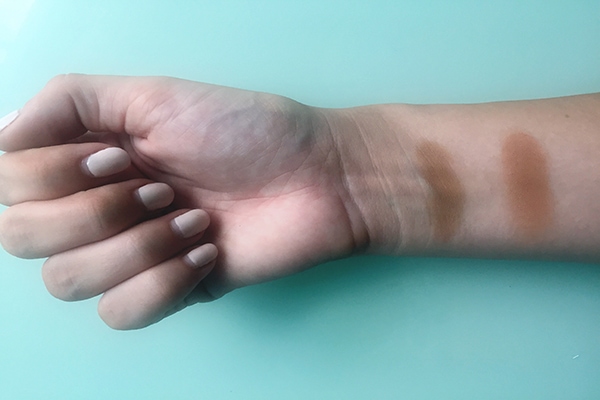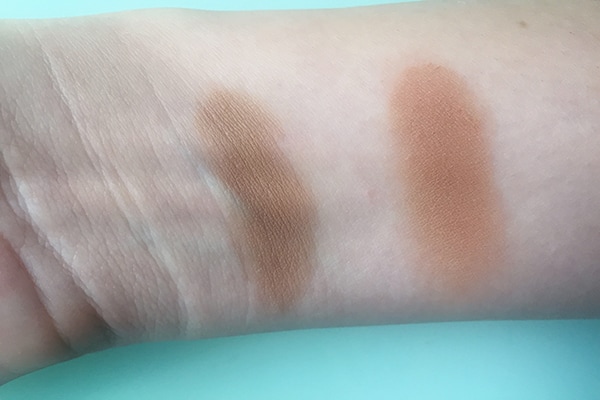 The Champion: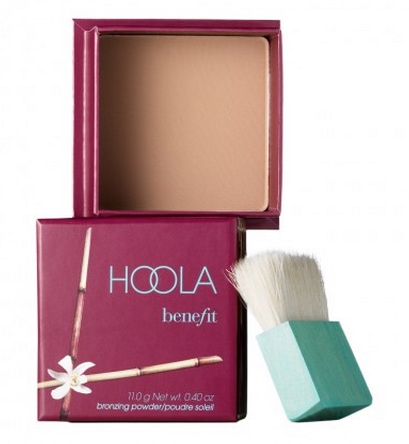 Personally, I prefer the "Hoola" bronzer because of its texture, staying power, and finish. It's the perfect contouring product when paired with the right brush, and even though I'm not a huge fan of the packaging, it's still very compact and travel-friendly.
If you're a makeup fanatic like me, you won't regret investing in this bronzer. Plus, even though it's significantly pricier than the drugstore alternative from NYC, it's still much more affordable than a lot of other high-end bronzers.
As I stated earlier, NYC's "Sunny" bronzer is still a fantastic product. If you prefer a more natural and minimal look and are looking for something to warm up your complexion a little without doing a full blown contour routine, this is definitely the bronzer for you!
Thoughts?
Have you tried either of these products? If so, what was your experience with them? Leave a comment below to share your thoughts, and be sure to check back next week for another Drugstore vs. High-End beauty battle!