This post may contain affiliate links, which means we may receive a commission if you purchase through our links. Please
read our full disclosure here
.
I'm a big fan of skincare, and I'm a firm believer in the idea that it's way better to invest in skincare than makeup. After all, if you have a good base, even the cheapest makeup can look great on the skin.
Before I get into what my favorite products are, let me tell you about my skin. I have combination-dry skin that is acne prone. Because I am prone to breakouts, I always assumed I needed to use heavy-duty acne treatments. Little did I know, I was only making my skin worse.
Typical acne products aren't necessarily bad, but many are formulated for people with very oily skin and can be overly drying for someone like me. Drying out my skin only ever led to flakiness and even more acne.
Over the years I realized I needed gentler products that moisturized my skin instead, and let me tell you, it has worked wonders. For those of you with a similar skin type, here are my top three Holy Grail skincare picks:
1. Garnier SkinActive Micellar Cleansing Water

Garnier SkinActive Micellar Cleansing Water – $6.99
Every night I make sure to remove my makeup using micellar water. Micellar water is great for removing makeup because it is both hydrating and extremely good at breaking up stubborn makeup.
If you don't remove your makeup before washing your face, you aren't really cleansing your skin. Instead, you are only removing some of your makeup. Don't believe me? Skip removing your makeup, wash your face, and wipe your skin on a white towel. See all that residue? That's your makeup.
When I go through my nightly routine, I take off my makeup with micellar water, wash my face, and then go over my skin again with another cotton pad soaked in micellar water. This way I am ensuring that every scrap of makeup is off my face and my pores are truly clean. Trust me, I know it seems like a lot, but I have seen a HUGE improvement in my skin from following this routine.
2. Mario Badescu Enzyme Cleansing Gel

Mario Badescu Enzyme Cleansing Gel – $14
I adore this cleanser because it's so gentle on the skin. I personally feel like gentler cleansers work better for me than rather than scrubbing my pores with medicated cleansers and microbeads every day. (Over-exfoliation is a thing, guys!)
I have noticed my skin looks and feels calmed and refreshed after using this product, whereas some of the cleansers I used to use would leave my skin red and dry.
I also love this cleanser because it's amazing for getting of any makeup my micellar water may have missed, thus resulting in fewer breakouts. (Yay!)
3. Mario Badescu Drying Lotion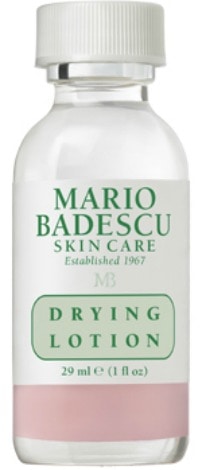 Mario Badescu Drying Lotion – $17
Okay, okay, I know I've been saying to use hydrating products rather than drying ones, and while that has helped prevent most of my acne, sometimes I still get a zit or two that needs to be dried up. That's where this product comes in.
This drying lotion is great because it is meant to be applied with a q-tip so you only apply it to the zit itself, not the area around it. This way, the only thing that gets dried out is the zit and not your whole face.
An added bonus is the calamine lotion in the product, which helps to reduce redness and calm the inflamed skin. However, because this product has calamine lotion in it, it does make you look like you have chicken pox because you will have pink dots all over your face. Because of this, I recommend only using it at night or when you are just having a day at home.
What do you use?
Now that you've heard what my picks are, what are yours? Remember these are just a few of the things I swear by, and I also include things like moisturizer and SPF in my daily routine, but is there anything else I should try? Leave your recommendations in the comments below.