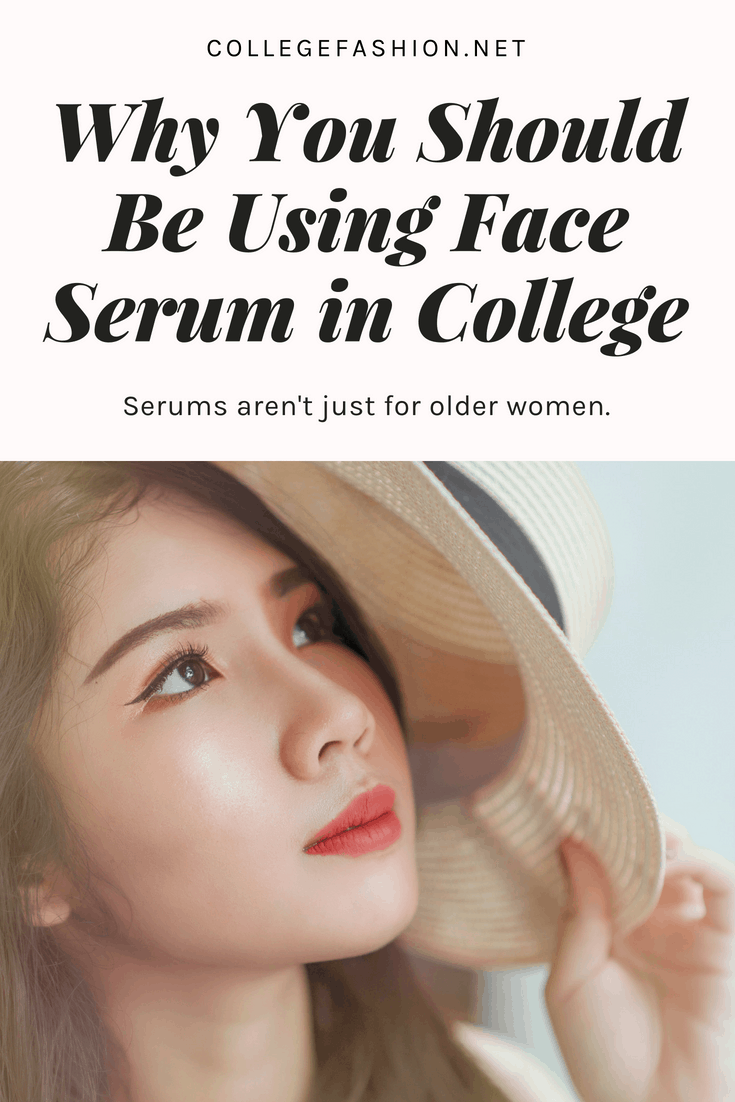 If you're like most college girls, you probably take for granted that your skin is going to look young forever. Why should college students bother thinking about anti-aging now — isn't that something for 30 and 40 year olds?
In fact, as some of you may know, the best way to have awesome skin in your 30s, 40s, and beyond is to start using preventative products now, while you're still in college. You probably know about cleansing, toning, and moisturizing, but you might not be familiar with face serums — and those are the products that will really take your skincare routine to the next level.
Today we've partnered with the skincare brand Formulyst to review the benefits of using a face serum while you're still in college. If you don't have one of these in your routine yet, you need to get familiar. Here's why:
1. If you review the active ingredients per ounce, serums are more potent than other skincare products.
According to Formulyst, serums offer higher concentrations of active ingredients than other skincare products, ounce for ounce. While this is not true 100% of the time, it's very often the case, making a serum your best bet for getting the largest amounts of active ingredients onto your skin.
2. They're great for oily skin.
Many college students struggle with oily skin, and serums are the perfect choice for people with this skin concern.
Since many serums are water-based, rather than oil-based, they won't clog pores or add additional grease to the skin. This is a major benefit if you're someone like me who is constantly blotting or touching up your makeup throughout the day.
3. Serums can actually be a better value for your money than other products.
Once you start shopping for a serum, you might get sticker shock when you find that they're priced higher than typical moisturizers or toners. However, serums actually give you an incredible bang for your buck as you typically only need to apply a few drops for full benefit. Most serums will last you months with regular use.
Though the up-front cost is high, serums can actually save you money in the long run, as you're getting higher amounts of beneficial skincare ingredients per ounce.
4. They're crazy simple to apply.
Typically, serums are applied twice daily as part of your normal skincare regimen. So if you already cleanse, tone and moisturize (or if you're like me, just cleanse and moisturize), just massage your serum in after your cleanser and toner and before moisturizer. Easy and simple, even for busy girls.
5. If you're going to add something extra to your routine, a serum is going to make the most difference.
Forget all the other pricey products you've heard about (derma rollers, specialized eye creams, watery essences) — if you're going to buy something extra in addition to a cleanser, toner, and moisturizer, a serum should be your #1 pick. According to WebMD, "Everyone is doing their skin a disservice if they don't have a great serum."
Want more on serums?
If you'd like more info on the benefits of serums and what ingredients to look for in a face serum, check out Formulyst's blog post on the subject. There, they explain which ingredients you should seek out depending on your skin type and goals.
Formulyst is launching in July.
Now we want to hear from you — do you use a face serum? If not, are you going to consider one now? If you do use a serum, which one is your favorite? Let us know by leaving a comment.
Disclosure: This post was sponsored by Formulyst. The opinions, as always, are our own. For more information, please see our Disclosure page.