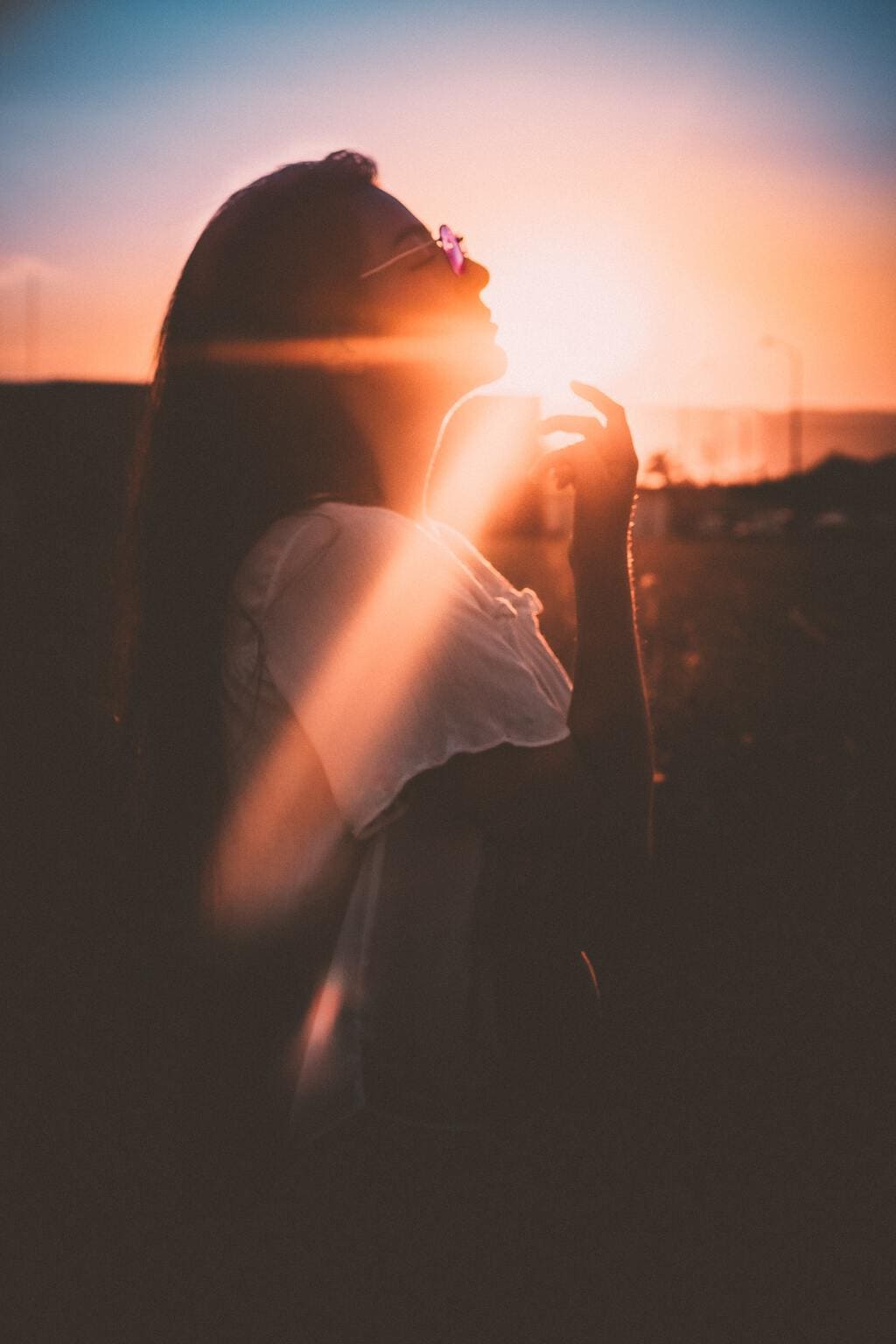 This article was inspired by a recent comment I received on the article Sun Safety: 5 Essential Facts About Tanning:
"Great tips–but what are some of the best self tanners? I get really tan easily in the summer, but in the winter, i am white as a ghost. I tried using dove, but it left streaks! I was wondering how you know when to stop using the tanners? Are you suppose to continue use one you get the desired shade? Or is that what causes streaks? Please write an article about this."
Self tanners are a lifesaver for pale or medium-skinned ladies who want a pretty summer glow without ruining their skin by tanning the old fashioned way. I think we can all agree – long-term wrinkles and possible cancer aren't worth a temporary tan!
The problem with self tanners is that they're a little more involved than typical tanning – you have to find the right formula, get your body ready for the tanning process, make sure you apply it right, and use it on a pretty regular basis.
All of the above can get really confusing – how is a girl to know what to do, which ones to use, and how to use them?
Never fear – I have your answer! I've experienced the ins and outs of the sunless experience, and have learned which products are best for a natural glow, and how to apply them for the best looking tan. Read on to see my tips and learn how to sunless tan yourself.
CF's Picks For the Best Self Tanners
1. TanTowel Plus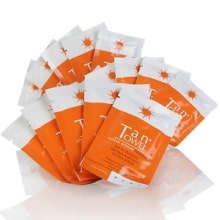 This brand makes my favorite self-tanner, hands down. I really love TanTowel Plus!
While they are a little bit harder to find and pricier than your drugstore variety, it's well worth it if you can get your hands on some of these.
My favorite type of Tan Towel is the "Plus" kind, also known as the "Deeper Darker" variety. While I'm pretty pale normally, (I wear the 3rd lightest shade in most foundations in summer), these worked great on my skin and didn't make me orange or give me a fake-looking tan. I wasn't too dark, but I was noticeably bronzed.
If you're going to buy Tan Towels, I recommend that you buy the small towels. The large ones dry out too fast to use all over, so if you buy the small ones, you can use two – one for the upper half of your body, one for the lower half.
2. Loreal Sublime Bronze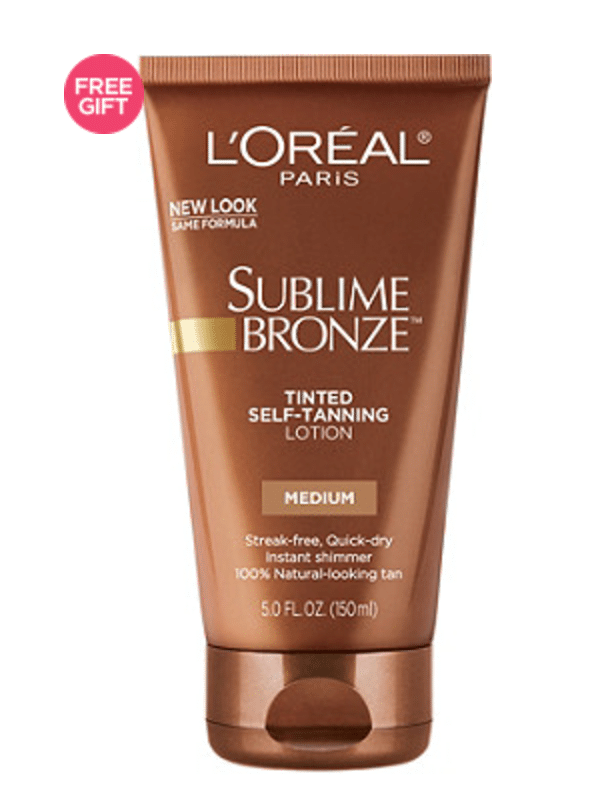 My pick for the best of the drugstore brands, L'Oreal Sublime Bronze Lotion is a great inexpensive self tanner that works well and doesn't leave you orange or streaky.
I'm also a fan of the Sublime Bronze spray self-tanner that they make – it's really easy to use, and is pretty much idiot-proof, which is a nice bonus. Oh, and it costs $5.99!
One thing to remember: this review is for the Sublime Bronze LOTION or SPRAY. I'm NOT talking about the Sublime Bronze tinted self tanning gel that has bronzer and sparkles in it! My sister and I both tested it out, and found it way too streaky and fake looking. Read the labels carefully before you buy to make sure you are getting the good stuff.
How To Use a Self Tanner
Wondering how to self tan now that you have your sunless tanning product? Worried about streaks or turning orange? Keep reading for the steps to a perfect sunless tan.
1. Set some time aside
This is the most important step. While self-tanning is a fabulous alternative to real tanning, it takes a little more time and effort. Plan to use your tanner on a day when you have a good hour or two to stand around naked and wait for it to dry.
Another option is to apply your self tanner before you go to bed. I don't do this myself, but if you aren't worried about possibly messing up your sheets, it could be a good option for you.
2. Shower, shave, and exfoliate.
This is the first thing you HAVE to do before you use any sunless tanner if you want to avoid streaks and blotches. If you have any rough areas on your body or dirt/grease, that sunless tanner is not going to go on evenly.
When you shower, make sure to get really clean, shave, and use a loofah and/or body scrub to exfoliate your whole body and remove dead skin. This will leave your skin super-soft and make the self tanner go on smoothly.
3. Moisturize
If you have any dry areas on your body after you shower, use a good body lotion on them. It's always a good idea to get your knees, ankles, and elbows with a coat of body lotion before you tan.
If you have naturally dry skin, I recommend using body lotion all over before you self-tan. This will help even out the texture of your skin so the tan won't be uneven.
4. Wear gloves!
One of the worst self-tanning side effects is the dreaded orange palm syndrome. It's a telltale sign that your tan is fake, and not to mention that it looks ridiculous. Don't let this happen to you!
Always wear plastic or rubber gloves when you tan, or in a pinch, put plastic bags over your hands and secure them with elastics.
After you've applied your tanner to your body, take the gloves off, rub a little bit of tanner on the backs of your hands and quickly go wash your palms off with soap!
4. Apply the self-tanner
After you've done all of the above steps, it's finally time to start applying your tanner.
If you're using a gel or cream formula, rub it onto your body in a circular motion. Be sure to focus on one part of your body at a time, and unless you're using an extra-quick dry formula, take your time and make sure you get every spot evenly. Don't apply too much to your elbows, ankles, or knees.
If you're using a spray formula, spray yourself all over as evenly as you can, then rub it in lightly. This will prevent you from looking speckled, and create an even tan.
If you use Tan Towels, use two small towels – one for the top half of your body, and one for the bottom half. Be careful not to miss ANY spots. Go over all the same places twice if you have to. Since the formula isn't tinted, it can be easy to miss places the first time you use them. If a towel dries out, just wet it again with water.
5. Let dry
Depending on the formula that you choose, drying times may vary. Some take only a few minutes, others can take about an hour!
My best advice on this: hang out in front of a fan for as long as you can, until you feel like your whole body is dry. Even then, be really careful to only wear dark clothes for most of the day – self tanners can often stain white clothing.
Extra Self-Tanning Tips
After self tanning, wait at least 4 to 6 hours before swimming, showering, or sweating a lot. Otherwise, you risk washing away your tan!
If after 24 hours, you still want a darker tan, apply your self tanner again to build the color. You don't need to shower or exfoliate the time – doing so would actually make you lighter.
For a more subtle glow, or to make a sunless tanning lotion less intense, just mix it with regular body lotion before you apply it.
Tanning Mishaps
In the very unlikely even that you followed all the steps above to a T and still ended up with streaks or a fake-orange tan (it can happen if you used the wrong product), what should you do?
Fixing a messed up fake tan isn't as hard as you might think, and there are many quick remedies that use products you already have at home. Fashionista has a great guide here to help you fix a messed up fake tan.
Your Thoughts?
Now that you know how to achieve a perfect sunless tan, I want to know what you think. What are your favorite self-tanners? Do you have any tips for minimizing streaks or getting the best results? I want to hear from all of you in the comments section!