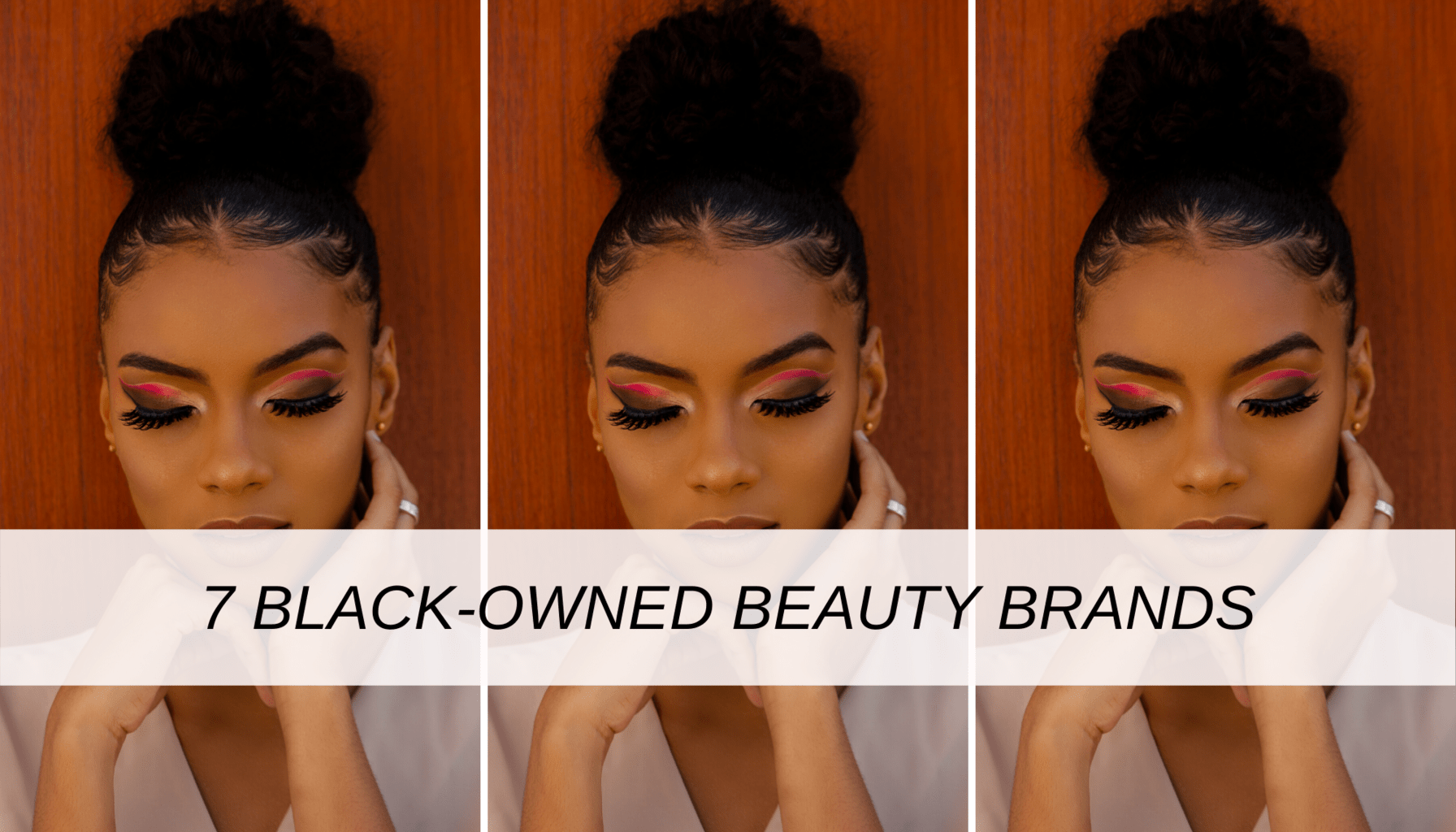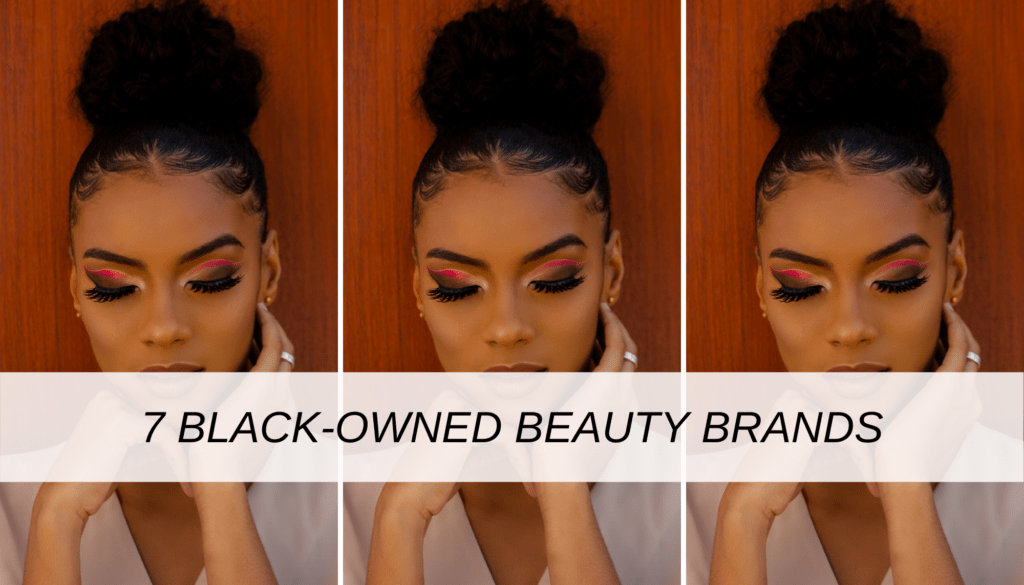 In the time since George Floyd's death at the hands of the Minnesota Police force, the Black Lives Matter movement has been on the forefront of everyone's minds. Some of us are protesting, but if you are unable or just want to do more, there are other ways to help support the movement.
One of the best things that we can do right now to lift up the black community is to donate and help support small, black-owned businesses! Many towns and cities have lists of black-owned restaurants to buy from during this time, but there's plenty to be done when shopping online, too.
For my fellow beauty fanatics, I've compiled a list of my favorite black-owned beauty brands so that we can get our beauty fix while doing our best to stimulate black-owned businesses. (See our list of BIPOC accessories brands to follow, too, and don't miss our black owned gift guide!)
While there are always the classic black-owned beauty brands that we know and love, like Pat McGrath Labs and Fenty Beauty, today I wanted to feature some smaller brands and businesses! Read on to check them out.
Epara Skincare
Finding good skincare products for melanated skin tones has been a historical struggle for black women. This brand aims to help.
Born from the need to protect dark skin from the sun and take care of dryness and blemishes that present differently for black women, Epara Skincare addresses these concerns directly.
Skin cleansers, moisturizers, and skin serums are just a few of the products that Espara Skincare offers. These products are meant to treat and heal dark skin affected by sun damage, acne scars, and the signs of aging.
Made by black women for black women, Epara Skincare encourages clients to treat their own unique skin type instead of settling for products designed for other skin types.
Interested? You can get Epara Skincare products on their website.
Juvia's Place
Juvia's Place has always been my go-to for bold and bright eyeshadow palettes with pigmentation that truly beats any other brand.
I love the variety that each palette has so you're never stuck with the same color scheme or boring eyeshadow look.
Not only does Juvia's Place have beautiful palettes, but they also have foundation, concealer and other base makeup in a very wide range of shades.
It can be difficult for black women to find highlighters, for example, that work well with dark skin tones, but Juvia's Place has every shade under the sun! Their products are sold exclusively through their website.
Jade & Fox Co.
Although they are closed right now for the pandemic, once they open back up Jade & Fox Co. is one beauty brand you won't want to miss.
Jade & Fox Co. is a skincare brand that carries skin products for all different shades and tones. From body oil to face scrubs, these formulas are made without harsh ingredients to ensure your skin is getting the treatment it deserves.
Aside from their wonderful product, Jade & Fox Co. has the most beautiful packaging that shows off their colorful formulas and the ingredients that inspire them. I mean, look at those bottles above. Who wouldn't want to have those on their counter?
On their Instagram, they also give tips on how to use their products and they explain why taking care of your skin is important.
Posting about how to best use the product is a great way of helping customers and guiding them on their skin care journey, perfect for beginners or seasoned skin care fanatics!
Get their products on their website once they reopen.
Beauty Bakerie
Beauty Bakerie is an amazing makeup brand that has gained a lot of traction in the beauty world!
In case you haven't heard the hype (we featured them a while back in our article on makeup for dark skin), Beauty Bakerie has eye, lip, face, and other products to fit a wide variety of skin tones and the products are made to last. Oh, and many are scented to remind you of your favorite baked goods!
One of my absolute favorite things about this brand is their dedication to the unique needs of every skin tone. On their website, they sort products for you based on your shade and skin undertones to assure that you have a foundation, concealer, and other makeup products that will perfectly match your skin – no matter what shade!
Not only are their foundations sorted to match, but their makeup products are shown on different skin types so you can be assured they'll look good on you before you buy.
You can find their products on their website or on Ulta's website.
Briogeo Hair Care
Briogeo Hair Care has a variety of products for maintaining curls of all types, and taking care of your scalp. Their products are meant to rejuvenate your hair and scalp by using ingredients that are gluten-free, cruelty-free, and (mostly) vegan.
The Briogeo Hair Care website is easy to use for hair of all types – they have an online quiz to determine your hair type and what products will work best for you. Their products are made to help all women achieve healthy hair and healthy scalps.
Additionally, all of the natural ingredients are listed clearly for each product so you'll know exactly what you're putting in your hair!
Can't wait to shop? You can get Briogeo Hair Care products on their website!
Zodiac Freak
As an astrology enthusiast, I LOVE Zodiac Freak.
This brand combines beauty and skincare products with astrology and spirituality to create a wholesome self-care experience.
From oils to bath salts to planners, Zodiac Freak goes above and beyond the average beauty brand by caring for both the mind and the body.
With cute care packages and a wide selection of smudges, you can dive into your spiritual side or just get introduced to holistic wellness and relaxation through a variety of products!
You can buy from Zodiac Freak at their website.
Coloured Raine
Coloured Raine is another brand with gorgeous and bright eyeshadow palettes with colors that work well on so many different skin tones.
Unique lipstick colors, lashes, and beautifully arranged eyeshadow palettes are just some of the products they offer!
Above and beyond their product, this brand also features many black makeup artists on their Instagram page so that they can gain visibility. This also helps because Coloured Raine's customers get a good idea of how the product will look on their skin tones.
You can find their collections and various makeup products on their website.
What is your favorite black owned beauty brand?
Psst: If you want to keep supporting black women, be sure to #diversifyyourfeed by following these 9 amazing black influencers for college women.
What is your favorite black-owned beauty brand or small business? Which one of these brands are you excited to try out?
Let me know in the comments!