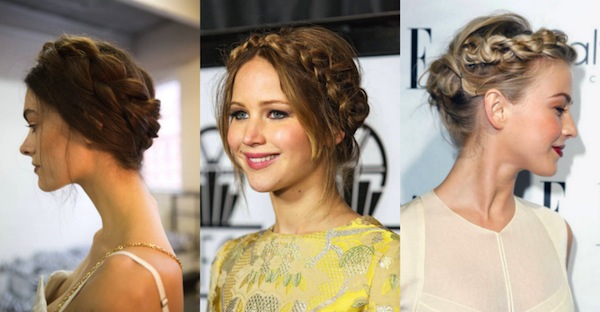 All photos courtesy of ELLE: 1. Alice & Olivia, 2. Jennifer Lawrence, 3. Julianne Hough
If you watch Game of Thrones, you are likely obsessed with braided hair. Even if you aren't a fan of the show, you probably know that braids have been in fashion for quite a few seasons now. Milkmaid braids – or braids that wrap around the top of your head – in particular, are crazy popular. Of course, your friends may tease you with "Swiss Miss" references, but the fact remains: milkmaid braids are really in right now.
Although they look incredibly difficult, milkmaid braids are surprisingly simple to master. These braids are great for those days when you want to look chic and polished without having to put a ton of effort into your look.
If milkmaid braids are something you're dying to try out, we have compiled an easy how-to guide, in order to help you recreate the look yourself:
How to make milkmaid braids:
Spritz a little bit of dry shampoo or the styling product of your choice into your hair to give it some grip.
Part your hair down the middle.
Divide your hair into two sections. Leave some wispy strands in front for an easygoing look.
Braid both sides of your hair. Wrapping the strands loosely will give you a thicker, chunkier braid.
Pull your braid from one side across the top of your head and behind the opposite ear. As you do this, use bobby pins to keep the braid in place.
Repeat step 5 on the other side.
Secure with extra bobby pins and hairspray. Keep in mind this look is best done messy, so don't worry about it looking perfect!
Got it down? Try these modifications:
Weave a piece of fabric or feathers into your braids.
Try out this look with fishtail or another kind of braid.
Would you wear milkmaid braids?
Or is this look not your style – or is your hair too short? Which shot above is your favorite? Would you wear this look to class or out? Leave a comment below and let us know!