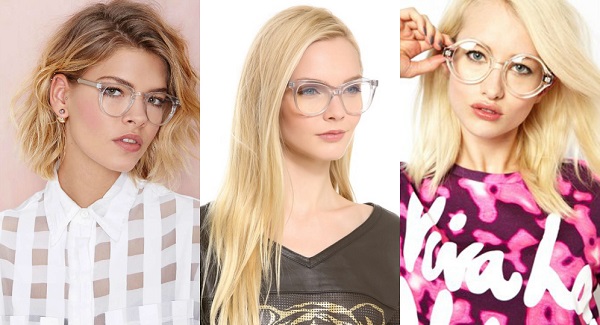 Product Information: Nasty Gal, Shopbop, ASOS
Breaking news from the land of Geek Chic: clear framed glasses are a thing.Run, skip, hop on a sailboat – do anything but walk to get a pair of your own. Whether you have 20/20 vision or are nearly blind is of no matter when it comes to this trend. If you don't want to invest in a prescription pair of your own, there is no shame in owning fashion glasses.
There's also no need to make this trend your everyday specs if you aren't sold on them. A pair of clear frames would be great option if you want to switch up your glasses game occasionally. Interested in budget-friendly styles? Look no further, we've picked out three of our favorite clear framed glasses.

Left to Right: 1 – Amazon, 2 – Coastal, 3 – Warby Parker
What do you think of clear frame specs?
Do you love these bold glasses as much as we do? Would you wear these every day or only to switch up your look? Do you ever wear non-prescription glasses? Leave us a comment below because we are dying to know your thoughts!