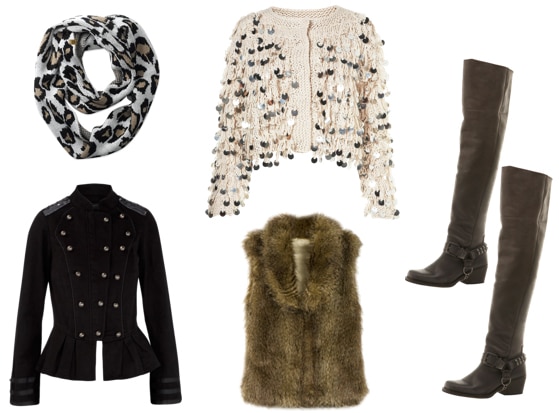 Product Information: Roxy Infinity Scarf, Nordstrom. Knitted Loopy Sequin Jacket, TopShop. Black Sequin Jacket, Dorothy Perkins. Faux Fur Vest, Fred Flare. Over-the-knee Boots, TopShop.
Every season has its defining styles and trends. From a certain genre (bohemian or menswear, anyone?) to specific pieces like the ones highlighted in this post, there are always certain looks that can immediately take us back to seasons past. Depending upon where you live, however, some seasonal trends may be obsolete or simply unwearable due to weather conditions.
Lucky for all you cold-weather fashionistas, Winter 2009 is a great season for you–it's filled to the brim with fashions that are both totally adorable and warm! Here are a few of the hottest trends for Winter 2009 that we'll surely remember in future years.
Infinity Scarves
Infinity scarves, single circles of continuous knit fabric, are popping up everywhere this season, and with good reason: not only are they a great option for layering and adding extra warmth, they're also totally fun and cute.
An infinity scarf is more than just an accessory: it can truly be the cornerstone of your look. A bright scarf, for example, paired with a white tee and jeans is a low-maintenance look that still packs a serious style punch. Another great feature of the infinity scarf is its versatility. You can bunch your scarf up and completely cover your neck, pull its sides over your shoulders to create a faux jacket, leave it hanging loose, or pull one section over your head and leave the rest draping on your neck.
These scarves provide so many looks in one and mix fashion with function. That's why they're a true winter 2009 must have.
Hot Options

Product Information: Small Infinity Scarf, Spiegel. Mysterious Scarf, Roxy. Brazen Fringed Infinity Scarf, Nordstrom. Black Partial Lace Knit Infinity Scarf, Oak.
Thigh High Boots
Over-the-knee and thigh high boots are likely the defining trend of winter 2009. We've seen them on Serena in Gossip Girl, featured in all of our favorite fashion glossies, and on the legs of some of our favorite celebrities. But are thigh high boots wearable in real life? Especially for college girls? I think YES. When worn correctly, thigh-high boots can make a huge impact, but still leave you looking chic. To keep these sexy shoes from looking trashy, consider these tips:
Go for flats. Flat boots much easier to wear than their stiletto counterparts, but they also take some of the grittiness out of your look. The cut of these boots is hot enough–you don't need a high heel!
Avoid shiny styles. Unless you're trying to channel Julia Roberts in Pretty Woman, patent leather thigh-highs are to be avoided at all costs. Instead, try boots that have a natural leather or suede finish – they'll work better as part of a more classy, fashion-forward outfit.
Never wear with bare legs. This is probably the most important tip to keeping your look classy. If you're going to wear thigh-highs, always wear them with skinny pants, tights, or leggings. Anything less (unless it's Halloween and part of your costume) is overexposure!
Hot Options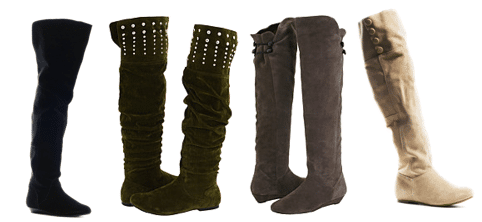 Product Information: Report Harper Boot in Black Suede, Zappos. Gabriella Rocha Olivianne Boots in Olive, Zappos. Steve Madden Blondee Boots in Grey Suede, Zappos. Chinese Laundry Tripin Thigh High Boot in Toast, Zappos.
Faux Fur Vests
Thanks in part to Rachel Zoe, faux fur vests are a definite winter 2009 trend.
Cozy, warm, and animal-friendly, a faux fur vest is a great piece to try if you want to instantly update your wardrobe with something extra trendy and chic. Since faux fur is currently so ubiquitous, you should have no problem finding vests of all colors and lengths at every price point. No matter how you wear it, whether it's with skinny jeans and a black top, leggings and a tunic, a flowy dress, or simply belted at the waist, a faux fur vest will add luxury to any look.
Hot Options

Product Information: Faux Fur Rachel Vest, Fred Flare. Silver Faux Fur Gillet, Debenhams.com. Black Faux Fur Vest, Charlotte Russe. Rachel Zoe Faux Fur Vest in Red Fox, QVC.
Military Jackets
Military-inspired fashion was big this fall, and by the looks of things, it seems as if it's here to stay. Think of a sharp military jacket as your go-to alternative of everyone's favorite boyfriend blazer. These structured, sophisticated jackets definitely have rock star edge and should be the focal point of your outfit.
Since the cut of a military jacket is sharp and somewhat masculine, it can be helpful to wear one with body-conscious clothing for a more feminine look. For classic style, military jackets look great with skinny jeans. If you're going for something unexpected and extremely fashion-forward, try wearing your jacket with a dress, shorts with tights underneath, or a high-waisted skirt. It's not likely that this trend will be around next year, so if you're into it, go for it now!
Hot Options

Product Information: BB Dakota Battalion Jacket, Chickdowntown.com. Grey Jersey Military Jacket, Dorothy Perkins. Military Uniform Jacket, Forever 21. AE Sergeant Jacket, American Eagle.
Sequins
Perfect for adding some shimmer to your holiday outfits, sequins, on everything and anything, are a key element of this season's ideal winter wardrobe.
For nighttime looks, metallic sequin-covered dresses and skirts are trendy, eye-catching picks. Traditional shift dresses look amazing when bedazzled with sequins of all colors, but the trendiest of this season, and possibly the most wearable, are deep jewel tones and black.
Dresses aren't the only way to wear sequins this season, however! Sequined tops and leggings are also great ways to try this look. Of course, if you're feeling less than daring, there are always adorable sequin-covered shoes or accessories to give you a little taste of this trend!
Hot Options
Product Information: Bianca Chiffon & Sequin Dress, Missguided. Sparkly Sequin Beret, Forever 21. Purple Sequin Waistcoat, Miss Selfridge. Studio 54 Sequin Skirt, Nasty Gal.
What do you think?
What's your favorite fashion trend this season? Are loving or hating any of these? Which do you wear most often? Let me know with your comments!