This post may contain affiliate links, which means we may receive a commission if you purchase through our links. Please
read our full disclosure here
.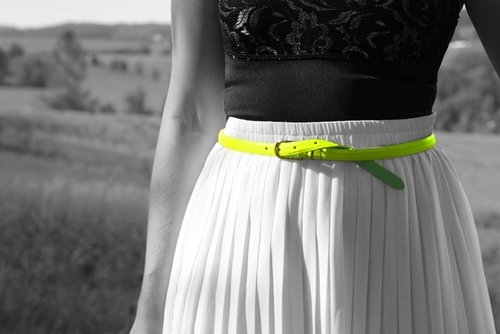 Here at CF, one of the reasons we love summer is because it's all about bold, fearless, and fresh fashion choices. We've all seen more than enough dark wintery hues and textures for the past few months and now it's finally time for floaty silhouettes, sheer fabrics, and bright colors to take center stage!
The neon and neutral trend, which was heavily featured in Burberry Prorsum's Spring 2011 collection, totally embodies our love for spirited summer looks. Already popular with designers, celebrities, and bloggers alike, this trend is also totally college-girl friendly! Read on to learn how to rock it!
Why We Love This Trend
It's fun, flattering, & perfect for summer. Both neons and neutrals look great against a summer tan (or faux tan!). Bright, bold colors make a perennial appearance in stores around this time of year, so take full advantage.
It's easily dressed up or down. Since this trend is color based, you can incorporate it into just about any outfit – from super casual to quasi-red carpet. There's no easier way to add a trendy touch to your favorite summer-night-out outfit than by adding neon accessories.
Can be worn on a small or large scale. We love versatility in our trends — it makes them more wearable and budget-friendly! So, if you're unsure of this trend, start small! Incorporate neon into your beauty routine by sporting bright nail polish a la Rihanna or try a colorful feather hair extension or neon hair streak. Take risks with apparel when you're feeling more dramatic!
Tips for Rocking the Neutrals + Neon Trend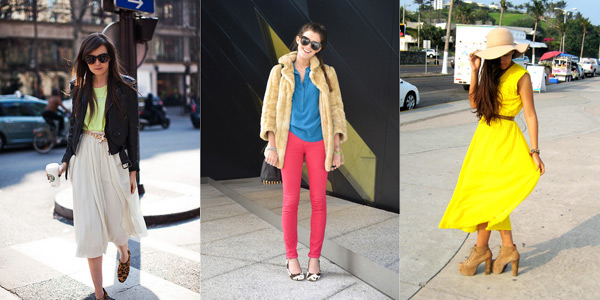 Get great neutrals. Though other neutrals can work in a pinch, shades of tan, taupe, beige, and brown are best for recreating this ultra-trendy look. The contrast between neon and white can be a bit jarring, and neons and black can look halloween-y, though these hues can look great with neon with a little planning (see here and here for inspiration). Avoid the aforementioned issues by picking a neutral shade that's either a universally flattering warm sand (neons look great against this background!) or one that's close to your natural skintone to really make your neon accents pop!
Choose a single shade to start. While we all love our bright colors for summer, this trend is easiest to get "right" when only one neon is used per outfit. Avoid looking like a glow stick groupie by picking a single bold color to work into your look. Right now, the trendiest hues seem to be neon yellow-green and orange, but shades of electric pink, turquoise, and purple can work, too. Pick your favorite and go from there!
Don't over do it. Since ultra-bright colors can walk a thin line between eccentric and costume-y, it's best to keep the rest of your look simple and classic. Think of using color as a statement piece: A great neon bag adds an unexpected touch of glamour to your basics, but hot pink shoes, jewelry, and lipstick together are over-the-top.
Reverse it. If your style leans towards a more daring aesthetic, rocking a primarily neon outfit with neutral accents could be the perfect way to make this trend work for you. Neutral accessories are especially "in" this season — celebs are loving beige and brown sunglasses — so throw on a colorful dress, neutral sunnies, skintone-matching pumps, and a matching belt and you'll be good to go. By simply reversing the "dominant" color in your outfit, you've got a whole new trendy look! It couldn't be easier to go from bold to demure and back again.
Outfit Inspiration
Wild Child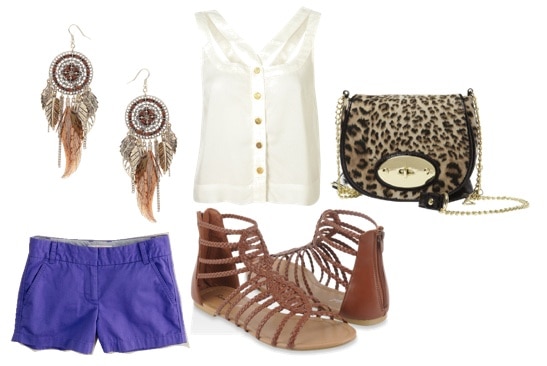 Product Information: Earrings, Shorts, Top, Sandals, Bag.
Neon + Neutral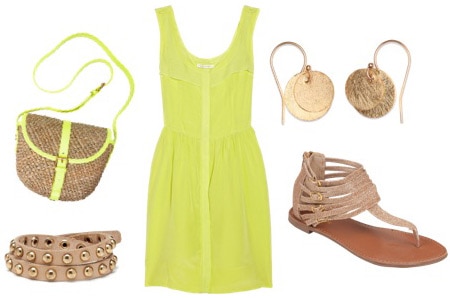 Product Information: Bag, Bracelet, Dress, Earrings, Sandals.
Multi-Color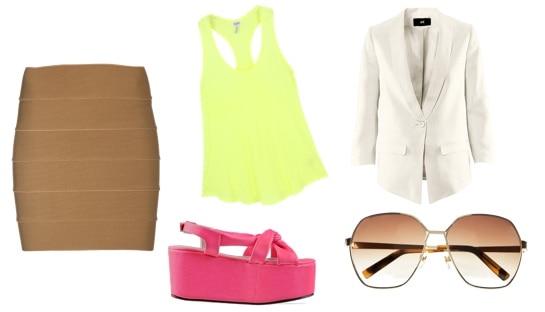 Product Information: Skirt,Tank, Platforms, Blazer, Sunglasses.
Tell us what you think!
Will you be adding bright colors to your summer looks? Which neon is your favorite? Any other summer trends you'd like us to cover? Leave a comment and share your thoughts!