This post may contain affiliate links, which means we may receive a commission if you purchase through our links. Please
read our full disclosure here
.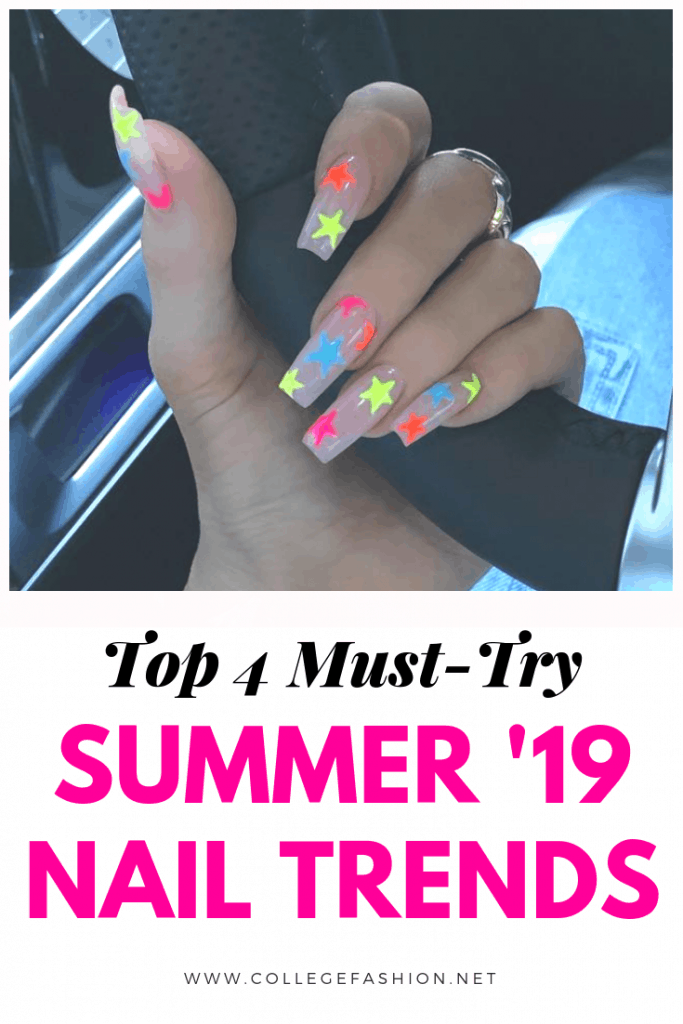 It's officially sandals season which means it's time to start upping our mani/pedi game! Out with the dark and neutral colors that come with the colder weather and in with the bright, cheery colors of summer.
This is the time to try bold colors and creative designs!
If you're stumped for an idea or just want to switch it up this summer, here are the summer 2019 nail trends to know. Whether you go to a salon or paint your own nails at home, these nail designs are going to set you apart!
Neon/Star Nails
We cannot get enough of the neon trend right now! Neon pairs great with a (hopefully faux) tan. It gives you the perfect Summer time glow! Stars are also extremely on trend, not only for the 4th of July, but all season long. They are big, bold, and fun!
I'll warn you though, once you try star nails, you will want them every time you get your nails done.
Kylie Jenner killed both of these trends recently with her neon star nails. She added even more flair by using negative space as a base as opposed to using a different color. Try styling your nails this way!
Kylie's nails were so cute that this Youtuber wanted to replicate them. Above is a tutorial for how to paint your star nails at home.
Fruity Nails
Okay, well these nails just look delicious!
Summer is known for being the season to sit by the pool (or your preferred body of water), hang out with friends, and snack on all the yummy fruit. These nails are dedicated to just that!
Have a favorite fruit? Now's the time to style your nails around it.
Want to see some fruity nail examples? Check out the video above for your next fruit nail design inspiration!
Animal Print Nails
It's no question that animal print is on trend! You can find cheetah, leopard, snake, and zebra prints just about anywhere!
Can't get enough? You will never go wrong with putting an animal print on your nails. For a little extra flare, try a different colored animal print like pink or blue.
Here's a simple leopard nail tutorial. Give it a try and all your friends will be asking you to do their nails too!
Rainbow Nails
Can't decide on one color? Why not wear them all?!
This is one of my personal favorite styles because walking in to get my nails done only intensifies my indecisiveness! So rainbow nails are my solution.
Rainbow is also really in right now, so this is a great twist on it. With this nail look, you can do a mix of shades, such as every finger a different shade of blue, a mix of pastels, neons, or primary colors. Trust me, this one is guaranteed to get you compliments!
I want to hear from you!
How do you typically like to paint your nails? Have you tried one of these styles? Which one is your favorite? Leave a comment below!