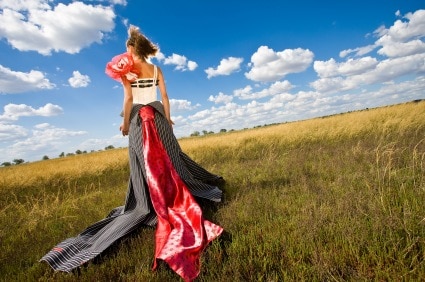 Yet another one of this year's many spring trends is a repeat from last year. Long dresses were a huge hit last summer, and the trend is sticking around for Spring '09.
I've received a bunch of emails from readers wanting to know if the maxi dress will still be hot this season, and if so, how to wear it. I thought I'd answer you all with an article. If you love this trend, keep reading to learn the best ways to wear it this season.
First of all, yes, the maxi dress will be back for spring 2009 and summer 2009. It's a trend that will definitely stick around through the summer, although it's probably going to be less popular this year than it was last year.
High End Inspiration
Here are some amazing maxi dresses from high-end designers to get your inspiration going!

From Left: Philosophy Di Alberta Ferretti, Emilio Pucci, James Perse, Alice + Olivia, Chris Benz, Missoni, Roberto Cavalli. All are available at Net-a-porter.
Budget-friendly Options
On the other side of the price spectrum, here are some maxi dresses that are just as cute for way less money.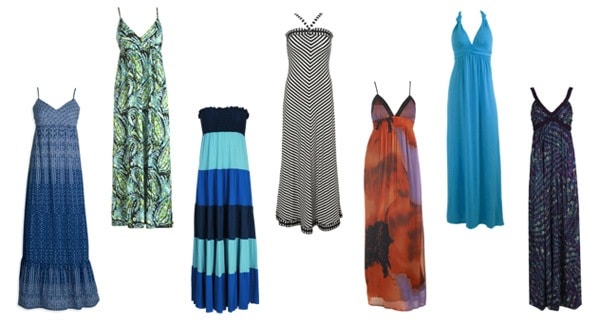 From Left:AE Maxi Dress ($44.50), Wet Seal Boho Print Maxi Dress ($26.50), Forever 21 Color Block Maxi Dress ($27.80), Kate Moss for Topshop Stripe Maxi Dress ($125), Arden B Abstract Print Maxi Dress ($68), Wet Seal Empire Waist Maxi Dress ($26.50), Forever 21 Breezy Maxi Dress ($29.80)
How to Wear a Maxi Dress
These can definitely be tough to wear, no doubt about it! While maxi dresses are more flattering than mini dresses for a variety of figures, they can sometimes overwhelm petite figures. How to combat this problem? Here are my tips for wearing the maxi dress right.

Let the dress be the focus.
Maxi dresses are statement making pieces all on their own. You don't need to do too much else in the way of an outfit here. Add some shoes (I like sandals or wedges best), a few pieces of jewelry, and you're set to go. If it's cold, you could easily pair a maxi dress with a basic cardigan.

Stick to form-fitting styles if you're short.
If you're more on the petite side, you need to be really careful with these dresses to avoid being swallowed up in fabric. An empire-waist style that flows away from your body with lots of ruffles is not your friend. Stick to basic, form-fitting styles that accentuate your waist and don't have too much excess volume.

Have fun with your footwear.
Maxi dresses work best with gladiator sandals, flip flops, espadrilles, or high-heeled sandals. They're very summery, and therefore don't look as good with anything that has a closed toe. If you're tall, wear a maxi dress with sandals for a comfortable, easy look. If you're on the shorter side, go for the highest sandals you can find to add height – no one will see them under your dress!
For more tips on how to wear the maxi dress trend, see my article Summer Fashion Trend: Long Dresses.
What do you think?
Now that maxi dresses are coming back for spring 2009, I want to know what you think of them. Are you a fan of the long dress look, or do you prefer a shorter hemline? Leave a comment….