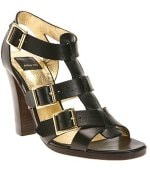 Gladiator Heel by Dolce Vita
Okay, let me just start by admitting that I was really not into this whole trend until very, very recently. It took me a little while to stop thinking of these shoes as, for lack of a better word, fug, and start embracing their adorable-ness.
But now that I've seen the light, it's safe to say that I'm obsessed with them, and I think you will be too!
So what are gladiator heels? They're just like gladiator sandals, only with a wedge or high heel attached. They usually have fairly thick straps and a T-strap that goes over the center of your foot.
If you're not sure about this trend, I've included some photos to get your fashion inspiration going! Seeing the way other people wore them is what got me into the trend in the first place.
Celebrity Inspiration
I don't look to celebrities for fashion inspiration most of the time, but my love of these particular shoes definitely grew from watching the famous wear them! Sometimes you can't help but see a photo of a celeb and think, "wow, she looks fabulous!" Their stylists get paid for a reason!
Case and point: check out the photos of Mary-Kate Olsen in her gladiators below. I'm not a MK worshipper by any means, but I have to admit, sometimes she gets it totally right. Those Balenciaga gladiator heels on the left are so edgy, yet in a very classy way. Tough to describe, but I'm sure you know what I mean!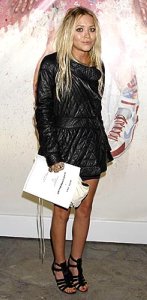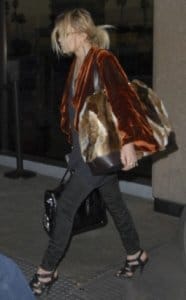 Here are some more pictures of celebrities and fashion editors alike rocking their gladiator heels. Mary-Kate's sister Ashley Olsen is on the left, followed by Carine Roitfeld, the editor of French Vogue, Gwyneth Paltrow, and Naomi Campbell. All but Ashley chose to pair their gladiators with a dress. Wearing them that way is a great choice because it really shows the shoes off!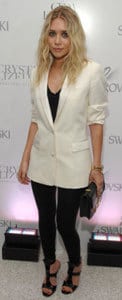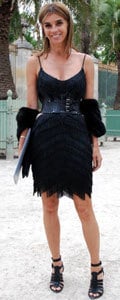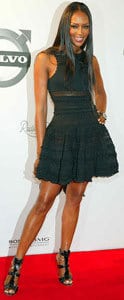 Runway Inspiration
Gladiator heels, like most of the trends we're seeing today, began their life on the runways! (Are you really surprised?) They were a popular trend at the Spring 2008 Ready-To-Wear shows, where Versace, Givenchy, Hermès, and Lanvin all did their own versions of the gladiator heel. Here are some pics of the runway looks to get you inspired!
Versace: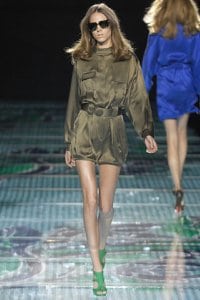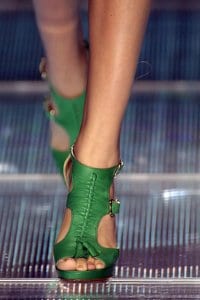 Versace's gladiator heels were super-trendy and gorgeous in bright, shiny emerald green. Paired with a simple satin shirt dress and sunglasses, the technicolor shoes became the focus of the outfit. If you have an amazing shoe like that, it makes sense to show it of!
Givenchy: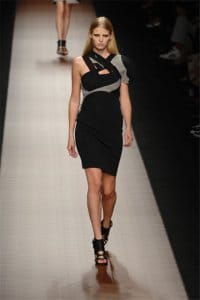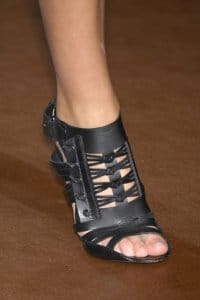 Givenchy did a few different versions of the gladiator heel at their Spring 2008 Ready-To-Wear show, but the above were my favorites. They almost look like peep-toe ankle boots, but the exposed sides and sneaker-inspired top of the shoe make them totally unique. What I wouldn't give for a pair of those!
Hermès: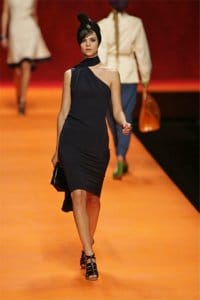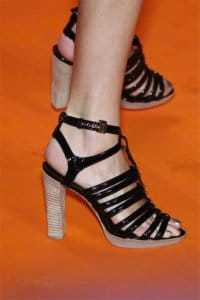 Always classic and chic, Hermès incorporated their signature style into a simple version of the gladiator heel with patent leather and a wooden platform. Adding the hard black heels to a soft and simple all-black ensemble made for a look that was understated with a powerful edge.
Lanvin: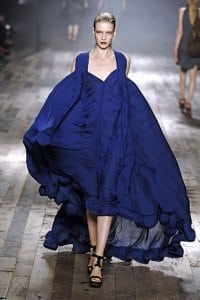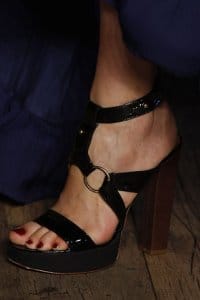 Lanvin made a simple platform version of the gladiator heel for their Spring 2008 Ready-To-Wear show. A super-high stacked heel, shiny black patent leather and metal ring detailing added a rocker-chick feel to an otherwise basic dress sandal. Paired with a long flowy dress, the look was very "I'm a gorgeous goddess, but I can still kick your ass."
Gladiator Heels Under $100
If you're in love with these heels as much as I am, but can't afford Givenchy or Versace on a college student budget (and really, where would you wear those heels in college anyway?), don't worry! There are tons of inexpensive versions of these high-fashion heels!
I searched all over and here are the best gladiator heels for under $100! Who says you have to be Olsen-twin rich to dress just as well?
Black Gladiator Heels: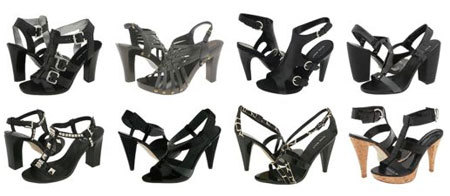 Top Row From Left: Nine West "Gaulla"($93), Jessica Bennett "Bistro" ($98.10), Nine West "Sulliban" ($93), Nine West "Oswalda" ($83)




Bottom Row From Left:Yellow Box "Heaven" ($64), Nine West "Dollface" ($83), Nine West "Doubts" ($83), Chinese Laundry "Bobbi" ($73)




Brown Gladiator Heels: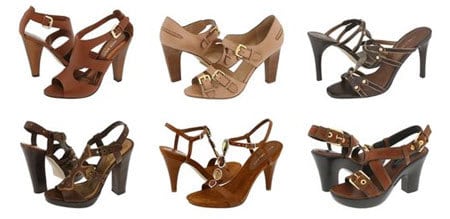 Top Row From Left:Nine West "Zanja" ($93), Nine West "Eriley" ($93), Nine West "Thorana" ($83)



Bottom Row From Left:MIA "Worship" ($92), Bandolino "Paradisa" ($73), Tommy Hilfiger "Chase" ($69)



Metallic, White & Brightly Colored Gladiator Heels:
Top Row From Left:Bouquets "Sady" ($67), Kenneth Cole Reaction "Chipper" ($93), Jessica Simpson "Jinkx" ($93)



Bottom Row From Left:Chinese Laundry "Pause" ($73), Kenneth Cole Reaction "Know Way" ($73), Bandolino "Emmelia" ($73)



Gladiator Wedges:

Top Row From Left:Bandolino "Mixa" ($69), Annie "Sandy" ($51), Nine West "Heech" ($93), Matisse "Holland" ($59)




Bottom Row From Left:Bandolino "Gilmore" ($74), Madden Girl "Brandyy" ($56), Fitzwell "Delina" ($69)



What Do You Think?
Now that you've heard all about the latest shoe trend, are you loving gladiator heels like I am, or are you not so crazy about them? Will you be rocking them this season or are you waiting for the trend to pass?
Click the comment link below & post your thoughts, opinions, questions, whatever! I want to hear from you! Also, take the quick poll if you have a second – I'd like to know what the consensus of CF readers is on gladiator heels.
[poll id="16″]