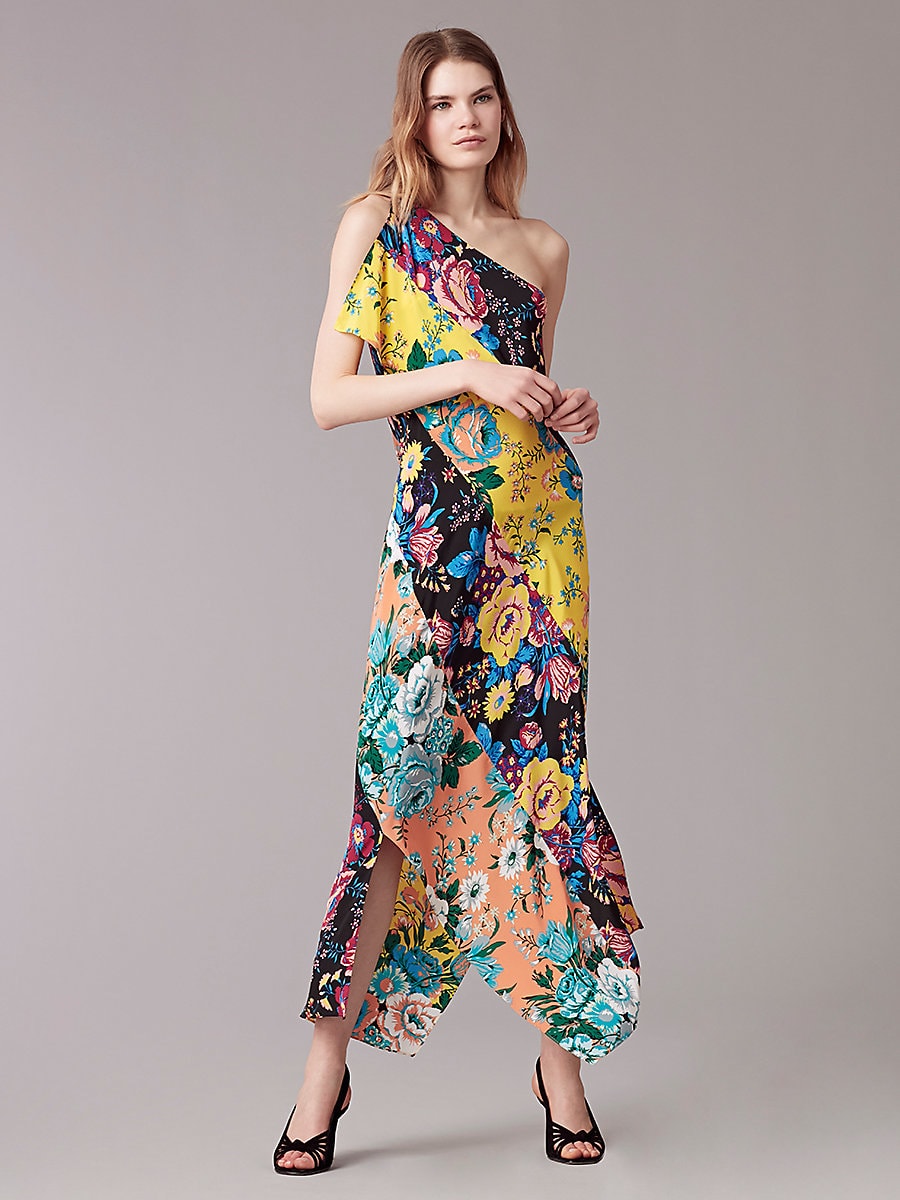 Remember back when you went homecoming dress shopping in high school and the hottest dress on the market was a bright purple, sequined, one-shoulder number? And when you actually went to the dance, girl after girl wore a variation of that one dress?
Okay, maybe that was just my school but I sure do remember the one-shoulder dress trend. It was huge and though my homecoming dresses weren't *quite* up to par with that purple one, I remember envying the girls who found that perfect one-shouldered dress.
In my opinion, one-shoulder dresses kind of fell off the market after our homecoming days passed. I saw them here and there in stores, and perhaps an occasional celeb rocked the look, but in general, one-shoulder dresses seemed to fall by the wayside.
This is why I am pleasantly surprised to see one-shoulder dresses coming back again! Etro has a one-shoulder printed dress in their Fall/Winter 17-18 collection, Proenza Schouler has a unique one sleeve open shoulder dress and even Project Runway season 15 winner Erin Robertson has a one shoulder bodycon dress available at JC Penney.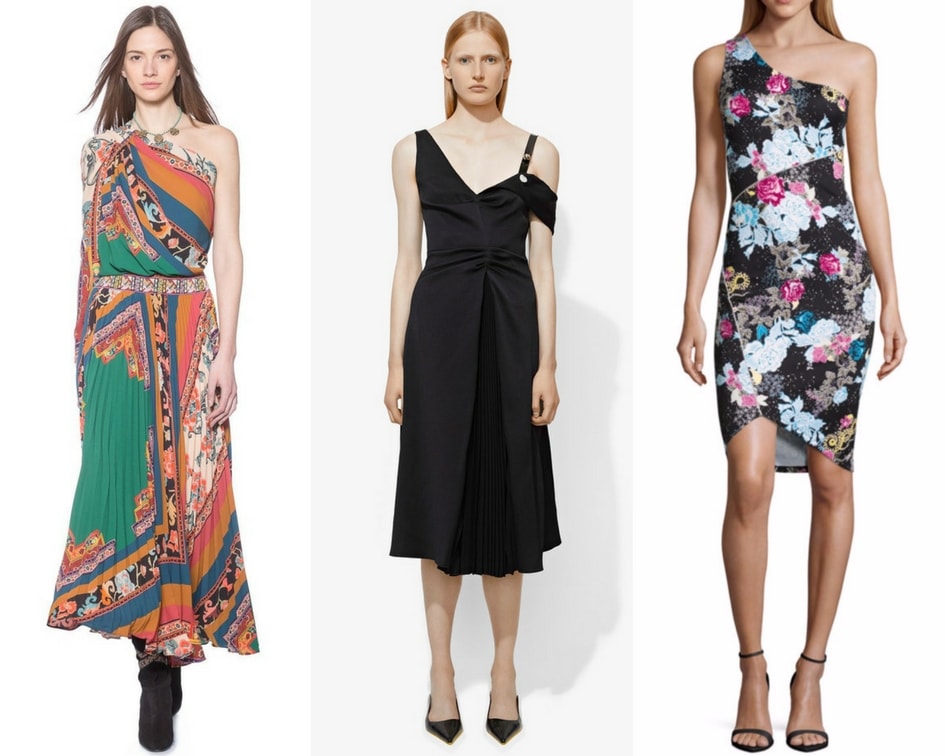 Products: Etro, Proenza Schouler, JCPenney
One-shoulder dresses are back and more stylish than ever. Below I'm going to show you 3 one-shoulder dresses and how to style them for the upcoming holidays. It's almost 2018, ladies, and that means another year of trendy opportunities (take advantage of this one!).
One-Shoulder Dress 1: For Holiday Meals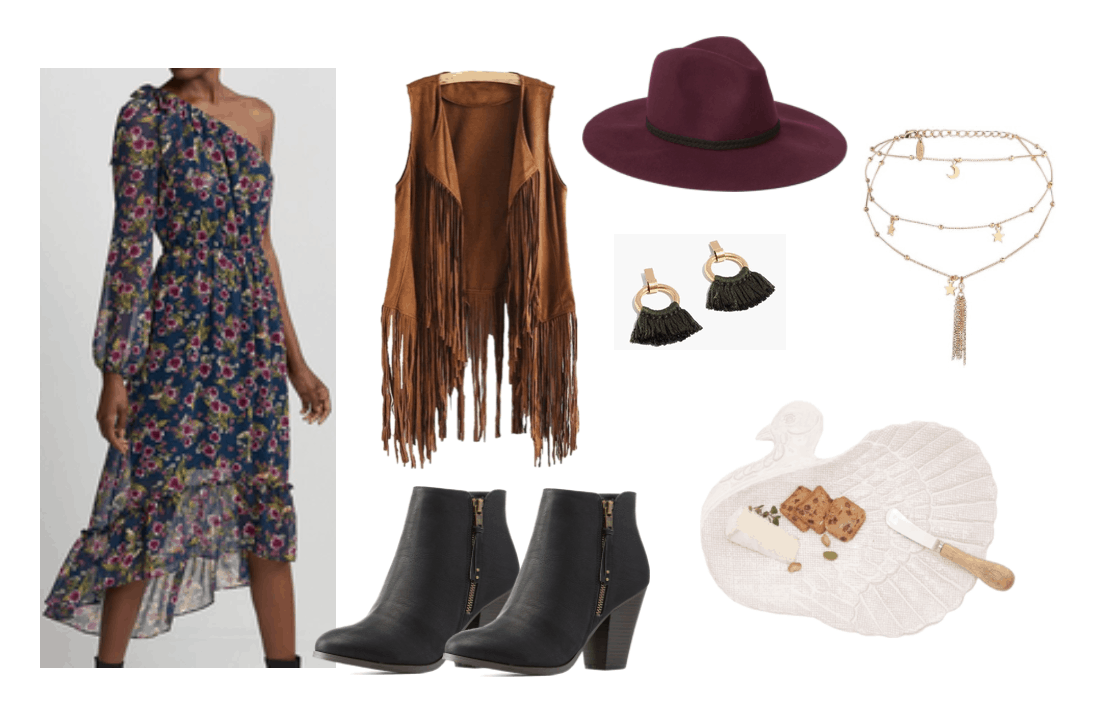 Products: Dress – Express, Booties – Charlotte Russe, Vest – Amazon, Fedora – Gap, Earrings – Madewell, Choker – Nordstrom, Platter – Wayfair
We've shown you a million and one ways how to dress for and survive Thanksgiving, but with the holidays approaching, you'll have lots more dinner opportunities to dress for.
This sheer floral one-shoulder dress is perfectly dainty and sweet while still being on-trend. Not only is it going to be insanely comfortable, but since it's not so tight, it will hide the inevitable food baby from a super yummy dinner. Pair this lovely number with black ankle booties and a brown fringey vest.
To accessorize, add a burgundy fedora (but take it off at the dinner table!) over curled locks. Pop in some black and gold fringe earrings and add a gold layered choker necklace for the final flourish. Serve your guests some cheese from that turkey platter — I mean, c'mon, how cute is that?!
One-Shoulder Dress 2: For Christmas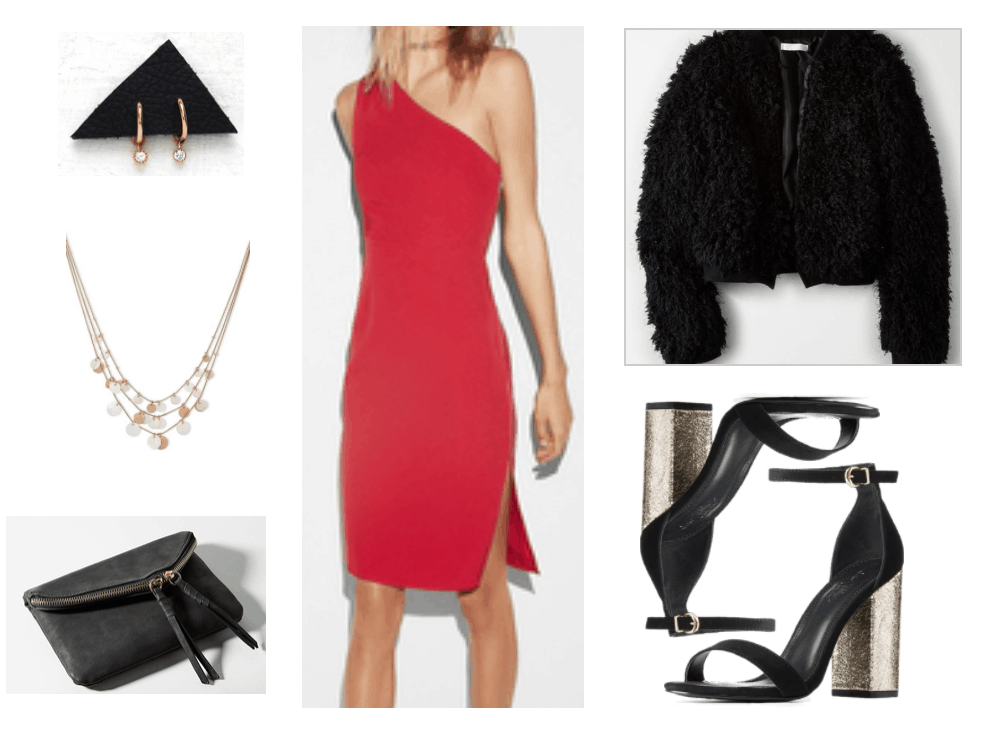 Products: Dress – Express, Coat – American Eagle, Sandals – Charlotte Russe, Clutch – Anthropologie, Earrings – Etsy, Necklace – Lord & Taylor
In less than a month, it will be the most joyous time of the year: Christmas time. Some people think it's too early to be thinking about Christmas, but flat out: They're wrong.
As you sing along to Silent Night, wear this beautiful red one-shoulder sheath dress. "Sheath" means it's a bit more conservative in nature and will hang off you just right (as opposed to a bodycon dress). The full-side zip is a unique addition to an already gorgeous dress.
As for accessories, grab a fuzzy black sweater to throw over your shoulders and slip your feet into black and gold glittery sandals. Gold earrings and a layered necklace will complement the sandals beautifully. Finally, sweep your hair into a high bun and carry all your needs in this simple black clutch. Let it snow! (Or whatever).
One-Shoulder Dress 3: For New Year's Eve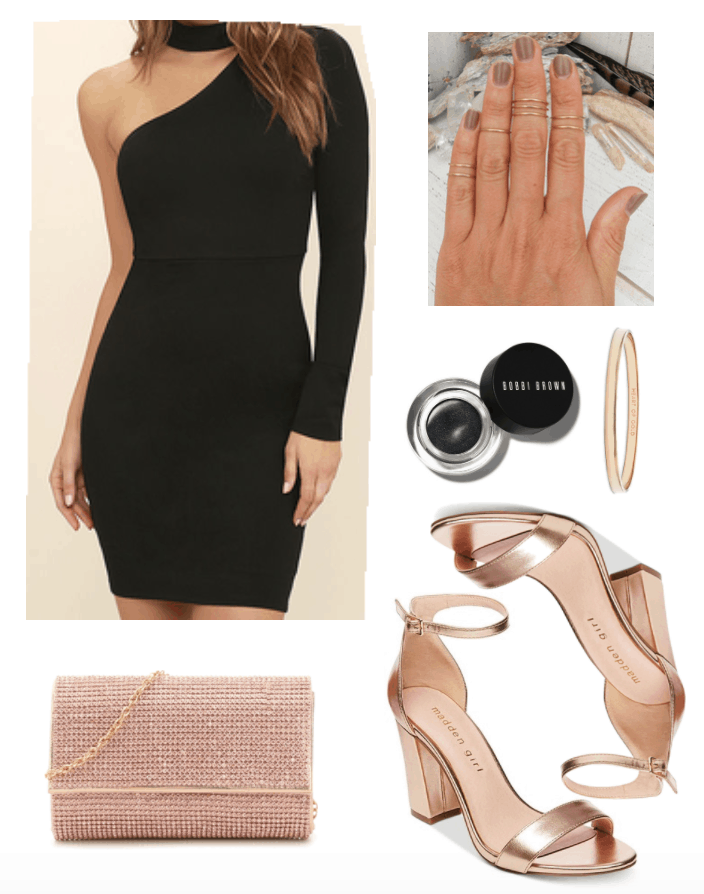 Products: Dress – Lulu's, Sandals – Macy's, Clutch – DSW, Bangle – Kate Spade, Ring Set – Etsy, Eyeliner – Sephora
Alright ladies, get your sparklers ready: this black one-shoulder bodycon dress will be perfect for your New Year's Eve festivities. The sleek mock neck adds a bit of excitement to an otherwise classic dress.
This dress pairs perfectly with rose gold accessories — grab a pair of shiny rose gold sandals to start (maybe paint your toes a sparkly rose color, too!). Carry your phone and your extra lipstick in a rose gold sequined clutch, as well.
For a sweet and simple statement, grab this Kate Spade "Heart of Gold" bangle and a classic gold ring set. Finally, bring those cat eyes out with a swipe of black gel liner. You'll be the one to look at.
How do you feel about one-shoulder dresses?
Do you like this trend? How would you wear a one-shoulder dress? Which outfit is your favorite? Let me know down below!