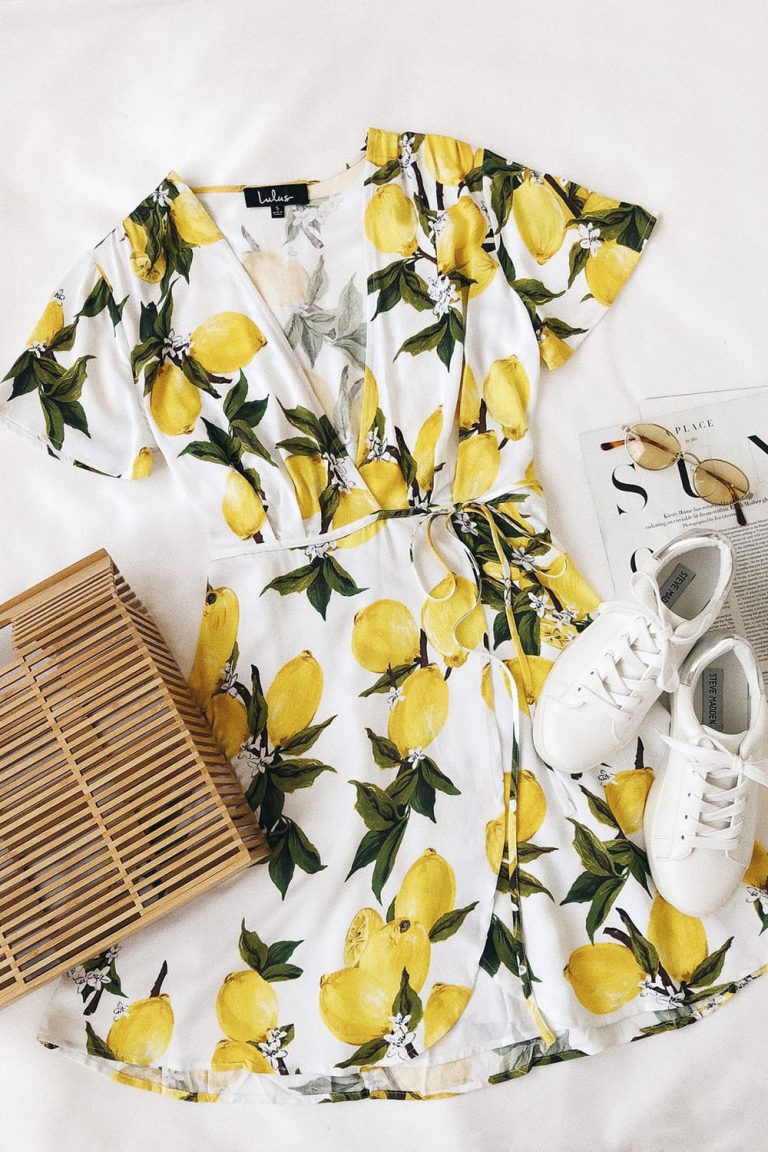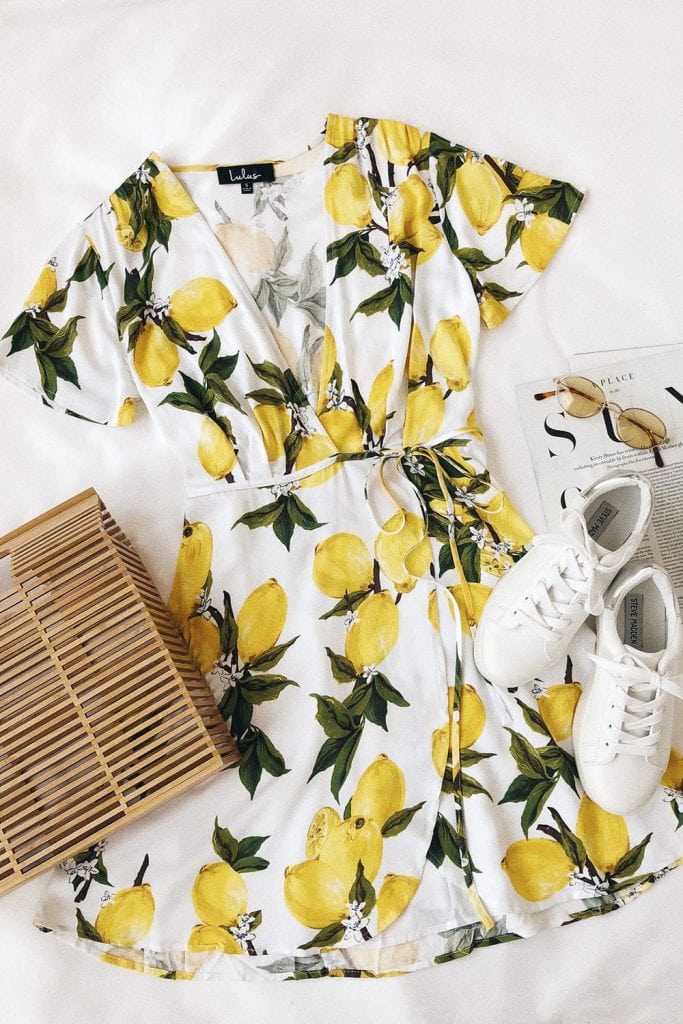 Summer 2019 has been a pretty good one for trends! No matter your style, you're bound to find something you love. In addition to bigger trends such as hair accessories and bike shorts, there have been plenty of cute, under-the-radar trends as well.
Case in point: lemon print.
While it might seem like a random choice, lemon print can instantly elevate any look from ordinary to fashion-forward!
And, although this quirky print might seem difficult to incorporate into your look, it's actually not that different from wearing more "mainstream" patterns like florals or polka dots.
So, if you're looking for inspo on how to wear lemon print this summer, just keep reading. You'll be surprised at how simple it is to pull off!
Lemon Print Outfit #1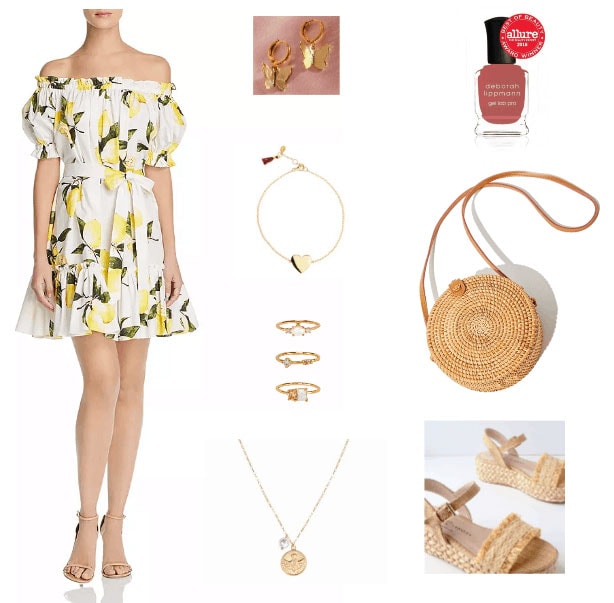 Products: Dress – Bloomingdale's, Earrings – Frasier Sterling, Bracelet – Shashi, Ring Set – Revolve, Necklace – Shashi, Nail Polish – Deborah Lippmann, Bag – Urban Outfitters, Sandals – Lulus
This fun and feminine look is not only super on-trend right now; it's also perfect for transitioning from day to night!
To get it, begin by putting on a pretty, off-the-shoulder lemon print dress.
Next, add some delicate gold jewelry. Here, I chose a pair of small butterfly hoops, a heart bracelet, a stacking ring trio, and a coin necklace with an elegant pearl accent.
A round woven bag and flatform sandals both allow you to get in on the straw accessory trend. (And, since the pieces aren't situated close together, they won't clash with one another.)
Lastly, this modern muted coral nail polish by Deborah Lippmann adds an extra pop of color to the ensemble.
Lemon Print Outfit #2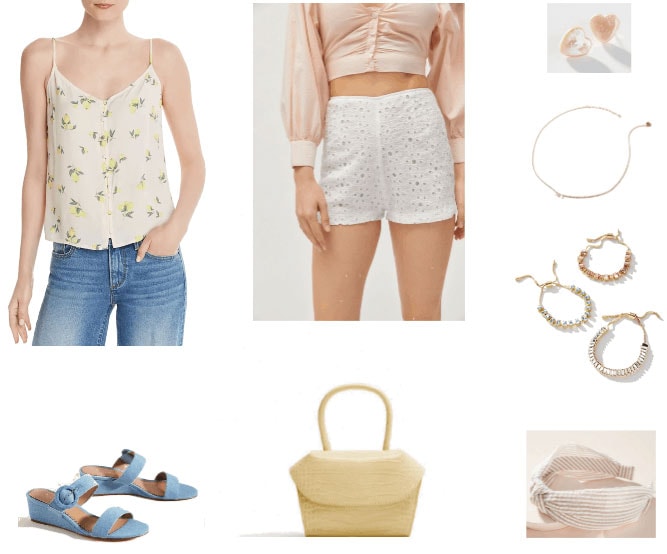 Products: Camisole – Bloomingdale's, Sandals – Anthropologie, Shorts – Urban Outfitters, Bag – Mango, Earrings – Anthropologie, Necklace – Anthropologie, Bracelet Set – BaubleBar, Hairband – Anthropologie
For the second outfit, I was inspired to create a soft and romantic look that would still work for every day. Here's how to copy it for yourself:
First, put on a breezy button-front lemon print camisole. I love how this one's pastel yellow background softens the print to give it a slightly vintage look!
After that, add a pair of adorable high-waisted eyelet shorts for even more vintage vibes.
A pale yellow mini bag is an on-trend and non-bulky way to carry around your essentials. Meanwhile, these sky blue denim wedge sandals look especially lovely with the soft colors present in the outfit.
Next, put on some dainty, girly jewelry, such as pink pearl heart stud earrings, a barely-there necklace, and several sparkly bracelets.
Finally, a seersucker hairband is a stylish way to keep your hair out of your face on steamy summer days.
Lemon Print Outfit #3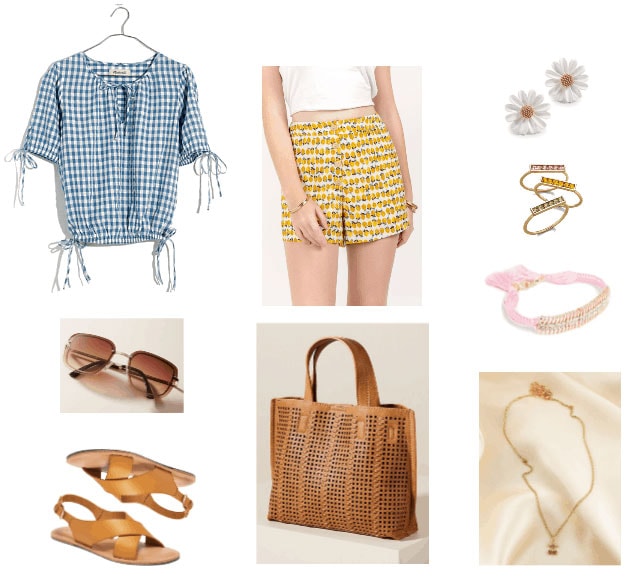 Products: Top – Madewell, Sunglasses – Anthropologie, Sandals – Old Navy, Shorts – Francesca's, Tote – Anthropologie, Earrings – Shopbop, Ring Set – BaubleBar, Bracelet – Shopbop, Choker – Frasier Sterling
I decided to switch things up just a touch with this casual-chic, mixed-print look for Outfit #3. (P.S.: It's ideal for wearing to summer classes!)
To re-create it, start off by pairing a sweet gingham short-sleeved top with some quirky lemon print shorts.
After that, put on simple faux-leather flat sandals, and grab a perforated tote bag.
You can't go wrong with cute, eclectic jewelry! So, add some fun daisy stud earrings, multi-colored stacking rings, a sparkly friendship-style bracelet, and a retro-inspired cherry choker.
For the finishing touch, grab a pair of classic rectangular sunglasses (which look great on all face shapes, btw). Now you're good to go!
What do you think?
What's your opinion on the lemon print trend? Do you currently own any lemon print pieces? If not, has this article inspired you to go out and buy something lemon printed?
Let me know in the comments!