This post may contain affiliate links, which means we may receive a commission if you purchase through our links. Please
read our full disclosure here
.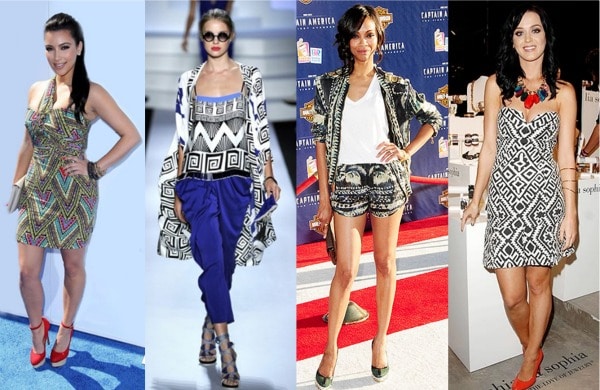 Lately, it's been impossible to walk into the mall without being completely bombarded with tribal and Aztec-inspired prints — and I'm not just talking about throw blankets or ponchos. From accessories to sweaters, dresses to tights, there is nothing that you can't find in these prints. Tribal print dresses in the summer are a no-brainer, but I'm LOVING that this print is transitioning to cooler weather clothes as well. Bold prints like these give winter ensembles a rustic vibe that reminds me of log cabins, curling up by the fireplace, and sipping hot chocolate.
As with any other trend, it can take a while to get a firm grasp on the proper way to style it. Here at CF, we believe that fashion rules are made to be broken — but wandering around in the dark or depending on runway models for guidance can be a little difficult.
On board with the trend, but need a little style inspiration? Not to worry, CF is to the rescue!
Tips and Tricks for Rocking Aztec and Tribal-Inspired Prints
Practice moderation. Tribal motifs look awesome alone or with one other loudly printed piece. However it's important to wear them moderately (and respectfully), by not pairing them with moccasins, feather earrings, a fringe vest, and/or a turquoise statement necklace.
Mix prints. Maybe I'm crazy, but I've seen tons of fashion bloggers mix tribal motifs with plaids and stripes and I think it looks AMAZING! Keep the rest of your outfit simple to avoid an overload.
Look to the streets. Street style blogs have been featuring this look for years now. Blogs like Lookbook and the Sartorialist are two great places to scope out for inspiration.
Wear them with boots. Accentual the rustic vibe of these prints by pairing them with combat, leather, or Sherpa boots.
Add texture. Aztec-inspired and tribal prints look amazing with (faux) fur, leather, and suede.
Accesorize. As with any other trend, try this look out by sampling a scarf or bag in a tribal print to see if it works for your style. I recently purchased a tribal print scarf from Forever 21 and I absolutely love it — it's large enough to double as a blanket at chilly football games, or wrap around myself and belt.
Outfit Inspiration
Look #1: College Cozy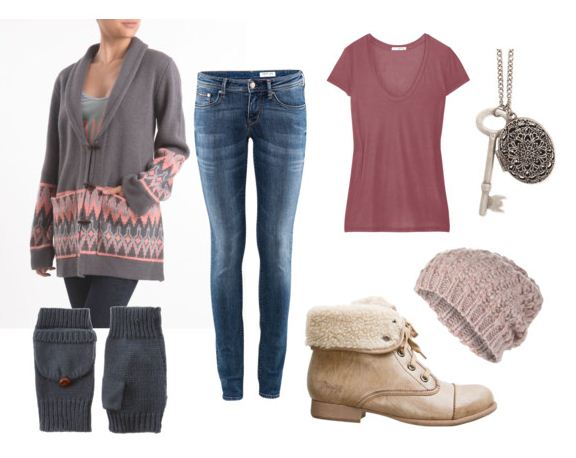 Sweater, Jeans, T-Shirt, Gloves, Shoes, Beanie, Necklace
An oversized tribal print sweater is perfect for lounging around the dorms, hitting the books at the library, or trekking to class in the beautiful fall weather. Just add a basic t-shirt and your favorite pair of skinny jeans, your warmest pair of boots, a simple necklace, and cute fingerless gloves and a beanie to complete the look.
Look #2: Mixed Prints
Coat, Jeans, Tank, Shirt, Shoes, Earrings
This look might be a little too loud for some of you, but if you have a more daring sense of style, it'll be right up your alley! Start with a tribal motif base, and layer your favorite flannel shirt on top. Leave it unbuttoned to feature more tribal print, or button it halfway for just a peek. Add your favorite pair of skinny jeans and a military anorak for an uber-trendy look. Finish with simple shoes and cute earrings.
Look #3: Trendy Night Out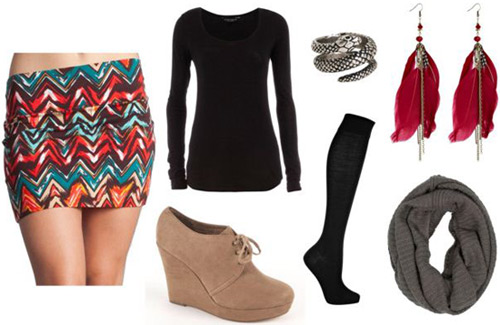 Skirt, Sweater, Socks, Shoes, Scarf, Earrings, Ring
Tone down a colorful printed skirt with a basic black sweater — then up the style by adding a pair of knee-high socks and desert sand wedges. Finish this fierce look with an infinity scarf, feather earrings, and a serpent ring.
Look #4: Street Inspiration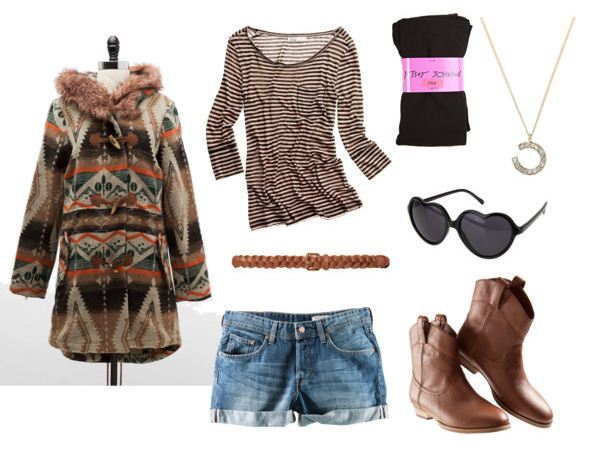 Coat, Shirt, Shorts, Belt, Boots, Sunglasses, Tights, Necklace
True life: I just ordered this coat, and I have been pacing around my mailbox waiting for it to arrive ever since! Once it finally gets here, this is how I plan to style it. A brown and creme striped shirt goes nicely with the coloring of the coat, and denim shorts with tights and boots will given it some urban flair. Finish with sunnies, a basic belt, and a cute necklace.
Thoughts?
Have you bought any wintery tribal print pieces? What do you think about this trend? How do you plan on styling it? What other trends do you love, but are unsure how to style? Leave us a comment and tell us what you think!