When it comes to 2000s fashion trends, chances are that you have some pretty strong opinions, whether you participated in these trends or not. And, with nostalgia at a high point in the past few years, it's no surprise that some of these trends have begun to resurface.
While you might be thinking about revisiting some of your favorite 2000s trends, it's important to realize that the fashion climate has changed a lot since then, and that what looked good in 2005 might look dated today.
That's why I've come up with three cool looks that incorporate 2000s fashion trends in a non-cringe-worthy way, and that will fit right in with today's fashion landscape. Keep scrolling to see them!
Outfit #1: Velour Track Pants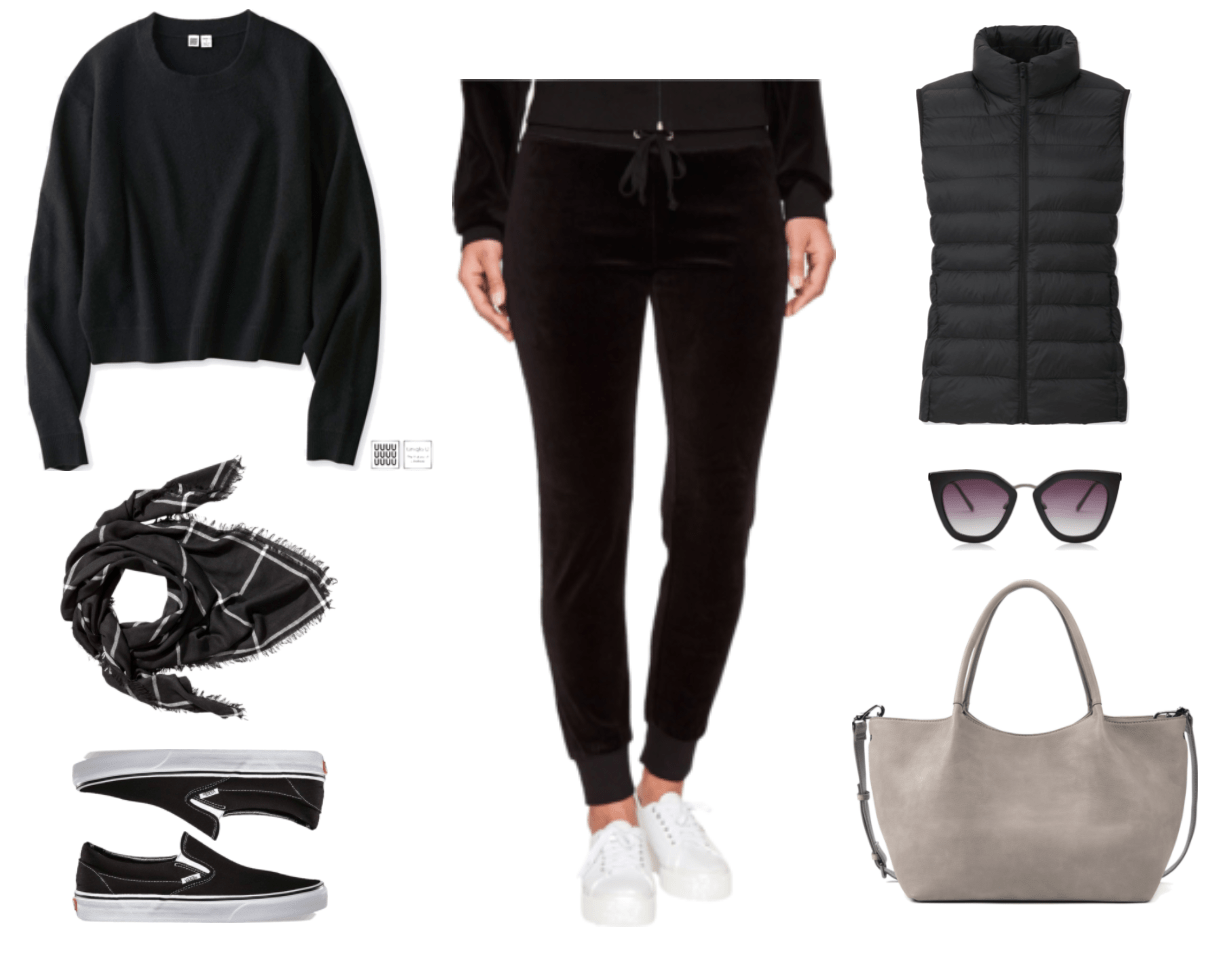 Products: Sweater – Uniqlo, Scarf – H&M, Sneakers – Vans, Pants – Zappos, Vest – Uniqlo, Sunglasses – Topshop, Tote – Sole Society
If you were a teen/pre-teen in the 2000s, chances are that you owned a pair of velour track pants.  And, whether they were the original Juicy Couture ones, or another brand, chances are that you loved how warm and comfortable they were, and kind of wish that you could still wear them today.
Well, what if I told you that you could?
This look, with its almost-all-black color palette and modern silhouette, is the perfect way to incorporate Juicy track pants into today's athleisure trend — without looking like you just rolled out of bed.
To start, choose a pair of velour track pants in a trendy jogger-inspired fit. Personally, I'd stick with darker, neutral colors, but you're more than welcome to experiment with these more adventurous shades if you feel confident that you can pull them off! Next, put on a cozy black sweater to add an element of sophistication to the look.
A classic pair of black Vans slip-ons will take any athleisure look up a notch, while a pair of cat-eye sunglasses is a great way to add an extra dose of style to the ensemble.
Put on a sleek lightweight down vest to give a nod to the puffer vests that were popular back in the 2000s, and add a checked scarf for warmth. Finally, pick up a slouchy light gray tote, and you've got yourself a look that would be just as much at home in the 2000s as it is today!
Outfit #2: 2000s Fashion Trend Outfit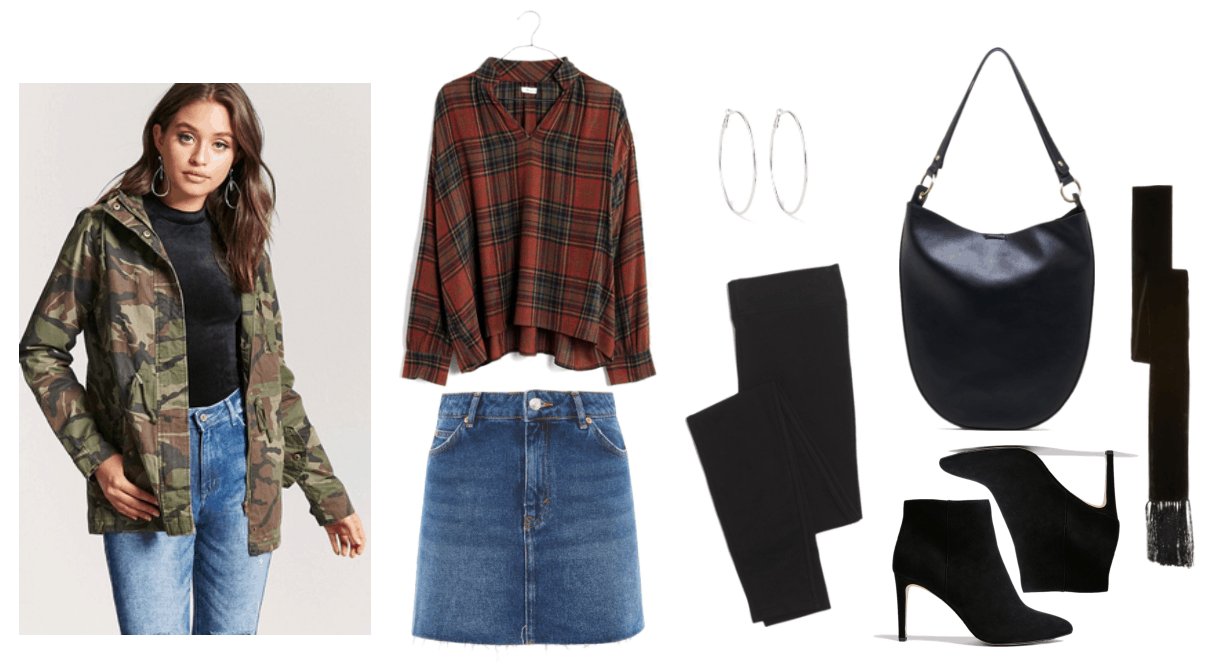 Products: Jacket – Forever 21, Shirt – Madewell, Skirt – Topshop, Earrings – Genuine People, Leggings – Madewell, Bag – Sole Society, Ankle Boots – Express, Scarf – Amazon
This look is all about incorporating six (!) of the biggest fashion trends of the 2000s into one wearable outfit that doesn't scream "fashion victim."
First, put on a cute plaid popover shirt with a denim mini layered over leggings (2000s fashion trend #1). Next, add a pair of large silver hoop earrings (2000s trend #2) — one of the jewelry staples of the 2000s .
Put on a pair of black pointed-toe heeled ankle boots (2000s trend #3) to dress up the look a little, as well as a hobo bag (2000s trend #4) that brings to mind the ones worn as part of the boho fashion trend, which was huge at the time.
Layer on a camouflage-print (2000s trend #5) jacket to mix things up a little and to add some edge to the look.
Finally, wrap a skinny scarf (2000s trend #6) around your neck to complete the look. Now, I know what you're thinking and I know that skinny scarves often get a bad rap nowadays. But, this one is not only made of velvet, one of the trendiest fabrics of 2017; it is also a lot subtler than the brightly-colored ones that you may have worn years ago.
Outfit #3: Cargo Pants Outfit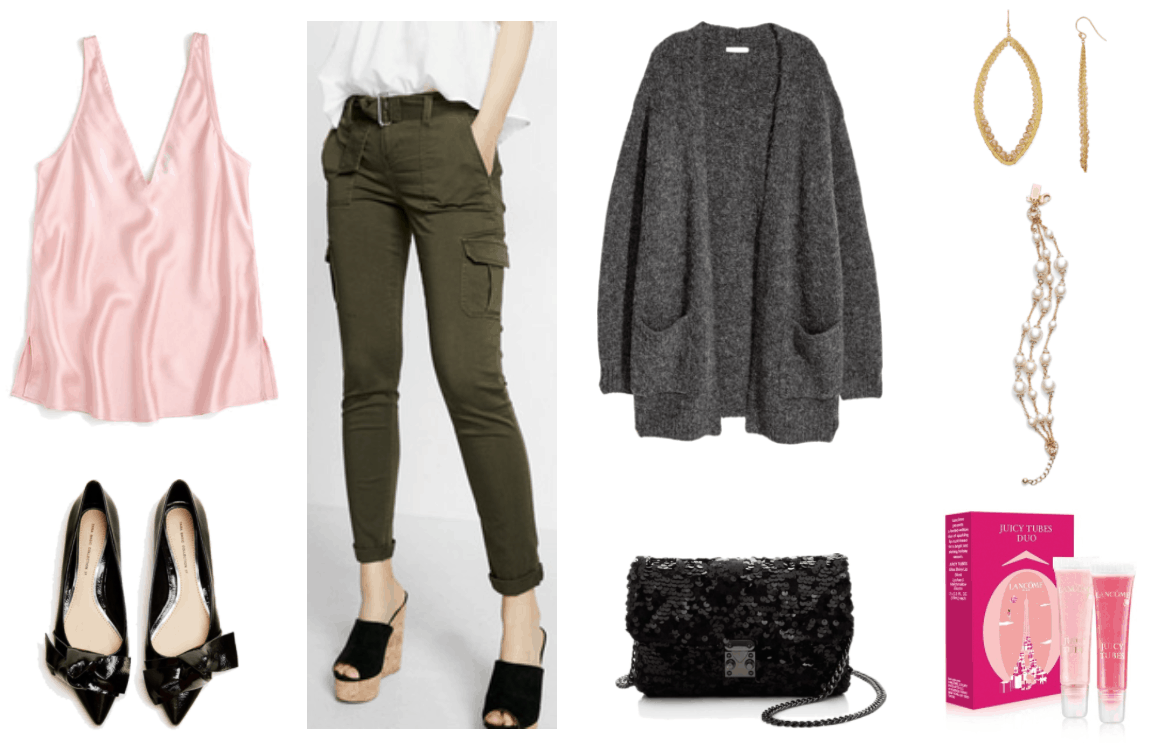 Products: Tank Top – J.Crew, Flats – Zara, Pants – Express, Cardigan – H&M, Bag – Bloomingdale's, Earrings – Bloomingdale's, Bracelet – Nordstrom Rack, Lip Gloss Duo – Bloomingdale's
The final look — and my favorite of the three — is styled around cargo pants, which were, as you may remember, one of the biggest 2000s trends. However, these skinny cropped ones are much more streamlined than the baggy ones of that time, and can be paired with many different things to create a variety of different looks.
Here, I decided to create a cute date outfit that incorporates elements from both masculine and feminine styles.
Start off by pairing the cargo pants with a pretty silk tank top. This one from J.Crew is actually called "The 2003 washed silk V-neck tank," and is a throwback to a style first designed in that year, so you know it's perfect for this look! Next, put on an oversized cardigan to give the outfit a slightly more casual feel.
This pair of pointed-toe patent flats reminds me of all of the chic pointed-toe shoes that were in style when I was a kid/pre-teen back in the 2000s, and seemed like a natural fit for this classy look.
Furthermore, sequined bags have a major nostalgia factor for me, as I remember wanting one so badly back in seventh grade; I like to think of this cool black one as an upgraded, more grown-up version of the pale pink one I finally ended up getting back then.
Add some more sparkle with a pair of elegant drop earrings and a sophisticated triple-layer bracelet, and complete the look by putting on some lip gloss — Juicy Tubes by Lancôme, naturally — and you've got yourself a look that harkens back to all of the best parts of the 2000s!
What do you think?
Did you wear any of the trends shown here back in the 2000s?  Would you wear them again today?  Which 2000s trends are/were your favorites?
Let me know in the comments!