Growing up in Los Angeles has taught me a few things:
1. Enjoy the weather because it is great 90 percent of the time. This is not the case everywhere.
2. Take advantage of all the (many, varied) activities there are to do.
3. Notice what people are wearing around you! They are setting the trends you'll see all over the country.
Lesson number three gives me all of my best outfit ideas. LA is a progressive, fun, and stylish city, and walking Hollywood Boulevard, Rodeo Drive, Melrose Avenue, and even Sunset Boulevard is like attending a fashion show. There are so many people wearing cute, unique outfits, so it's easy for me to pick out the trends just by observing.
Recently, I've noticed a specific trend: over-accessorizing. I absolutely LOVE this trend and have started doing it myself.
How I Over-Accessorize:
On average, I wear four necklaces, nine rings, four earrings, and one bracelet at once. I switch up my necklaces and earrings on a daily basis but always keep my rings the same.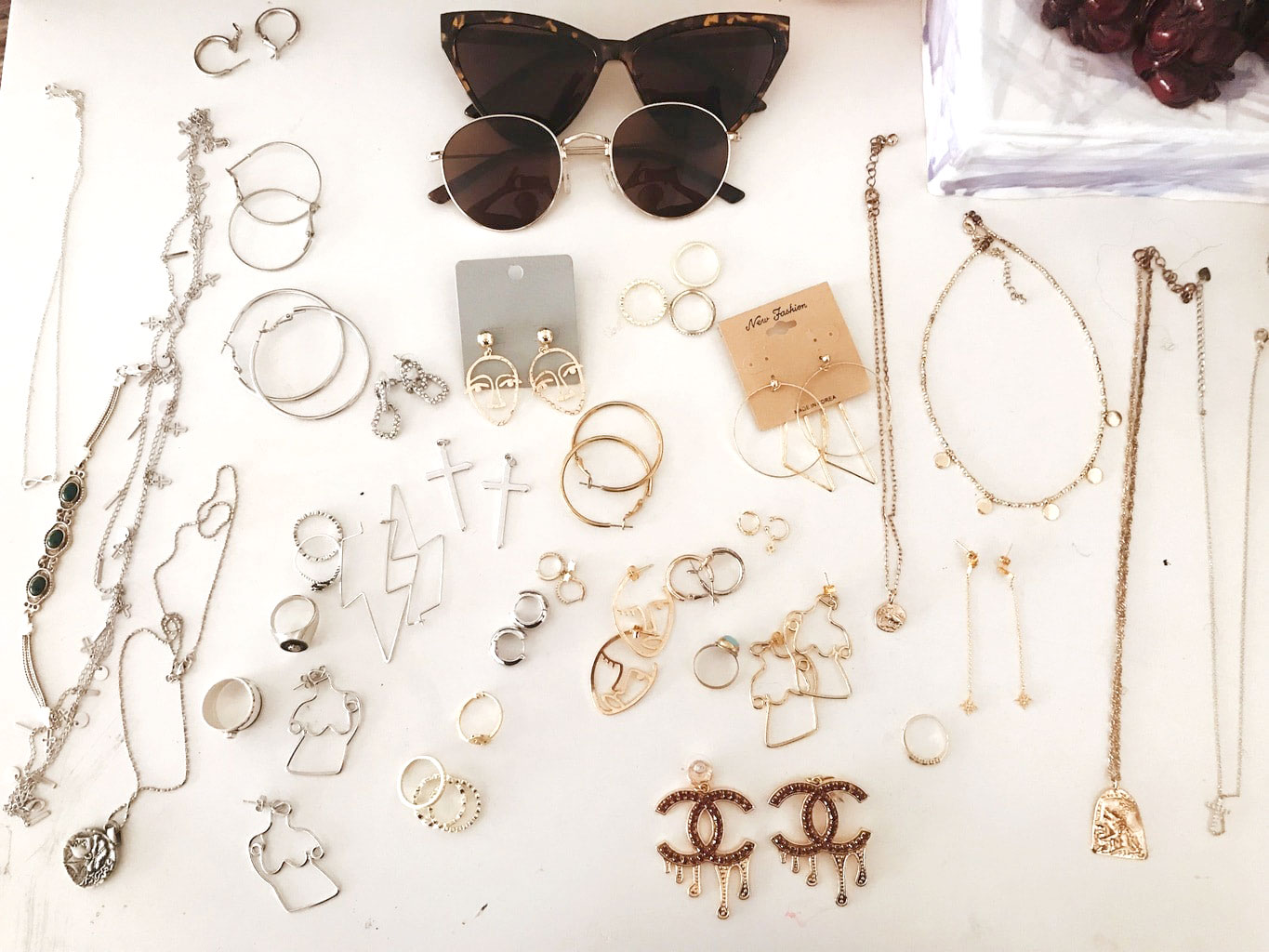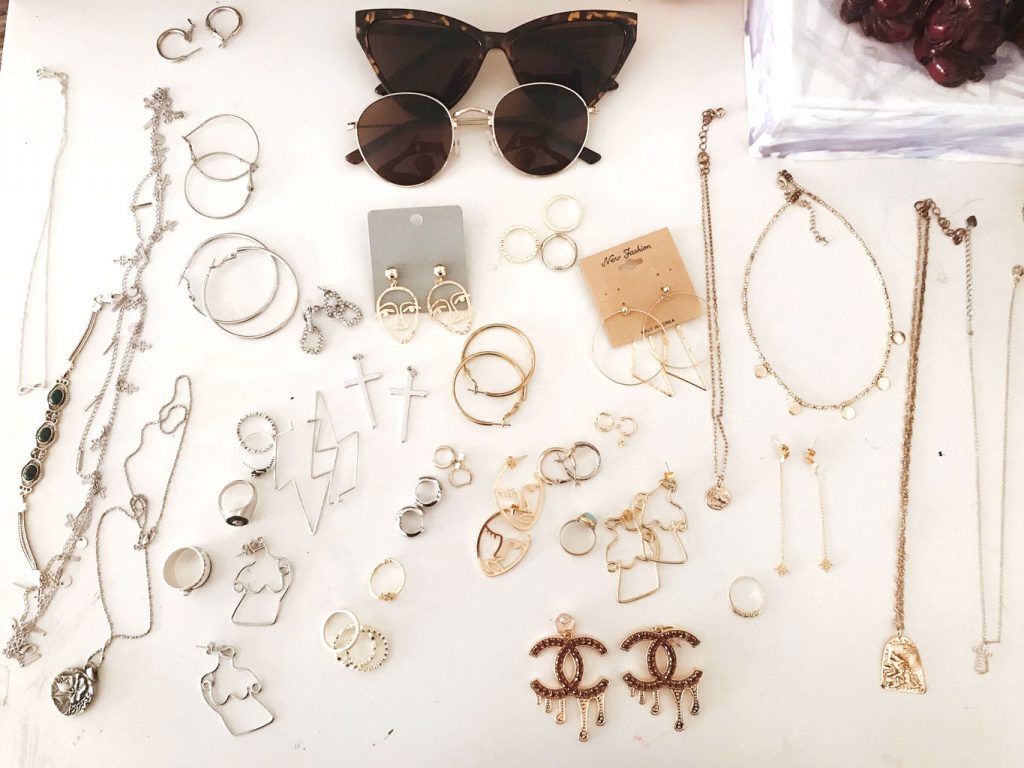 Above is a picture of almost all the pieces of jewelry that I choose from.
Yes, this might seem like too much. But I think once you try it, you'll be surprised at how "right" it can feel. I've noticed my friends trying the over-accessorizing trend as well as many Instagram influencers.
Want to give it a shot yourself but aren't sure where to start? I'm here to help! Here are some easy accessory combos to get you started. (And be sure to scroll to the bottom of this article for some influencer inspo!)
Gold Jewelry: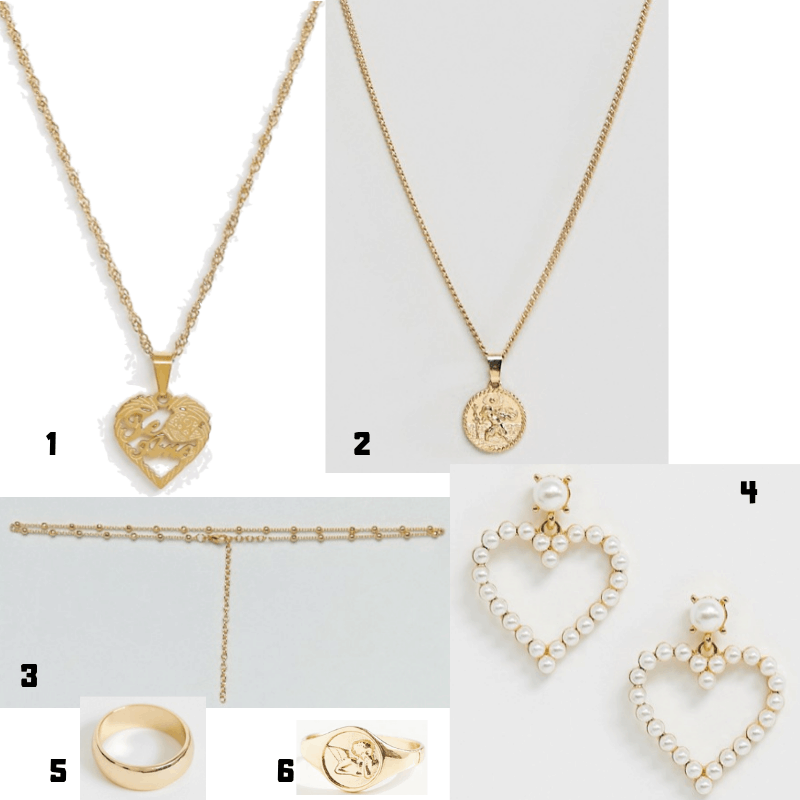 Necklaces: 1. ASOS, 2. ASOS, 3. ASOS, Earrings: 4. ASOS, Rings: 5. ASOS, 6. Urban Outfitters
I love all these gold pieces of jewelry that I chose. I would wear all of them tomorrow!
One simple trick to perfect layering necklaces is to make sure you wear necklaces of different lengths. That way all the necklaces can show off their beauty! These necklaces would pair together flawlessly.
Depending on if you wear earrings and how many you can wear, you can mix and match with hoops, studs, or dangling earrings. For our purposes, I included one pair of earrings, but you could definitely add more.
Silver Jewelry: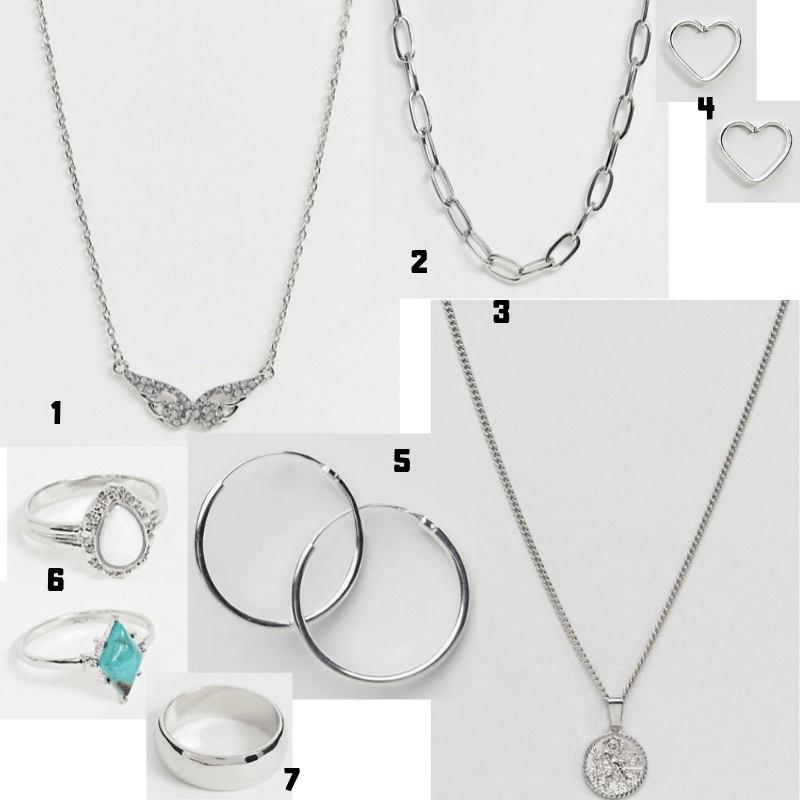 Necklaces: 1. ASOS, 2. ASOS, 3. ASOS, Earrings: 4. ASOS, 5. ASOS, Rings: 6. ASOS, 7. ASOS
I always change up the color of jewelry I wear. Some days I will wear all gold and other days I'll wear all silver. It depends on my mood!
I like to pair all of one metal together, personally. I think it makes over-accessorizing feel intentional, rather than haphazard.
I think silver looks best with black and denim! They go so well together.
More Over-Accessorizing Ideas:
If you are thinking about joining the trend of over-accessorizing, I would recommend that you start simple and add on as you get comfortable.
But beware, once you start doing it, you may never want to go back!!!! So be creative, have fun, and rock your multiple pieces of jewelry!
For some more inspiration, here are some of my favorite over-accessorizing looks from Instagram:
Would you try this trend?
Will you be giving the over accessorizing trend a shot, or do you prefer to keep things minimal? Let me know in the comments!