This post may contain affiliate links, which means we may receive a commission if you purchase through our links. Please
read our full disclosure here
.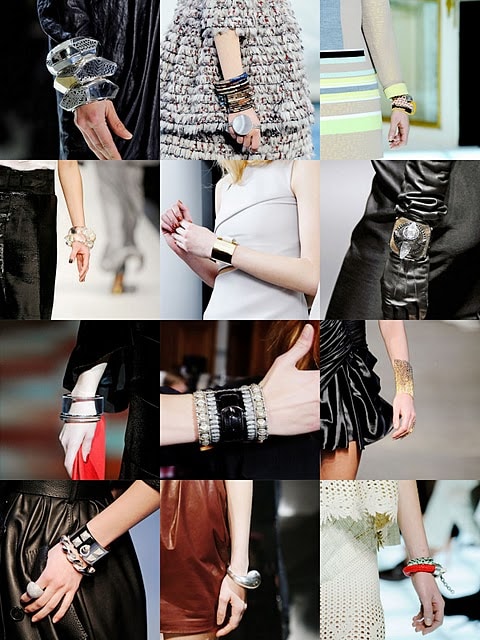 photo from fashion inquisitive
Fall/Winter 2010 was all about the understatement. While accessories provided interest, the clothes were truly the focus on this season's catwalks. Jewelry, layered on with reckless abandon in past seasons, was scarce on the fall runways. This minimalist attitude created one of the season's hottest trends: Wearing one standout piece of jewelry at a time.
Blame the recession if you want, but this season, it's all about wearing one standout piece of jewelry that complements but doesn't overshadow your outfit.
Want some tips on wearing this trend? Below, I have created four outfits, each one based around a standout piece of jewelry. Each outfit focuses on one statement piece- a large cocktail ring, a statement necklace, a chunky cuff, and bold earrings.
1. Statement Ring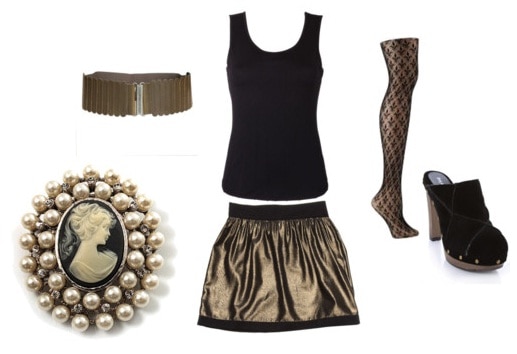 tank top/tights/shoes/ring/belt/skirt
For this first outfit, I chose a beautiful cameo ring adorned with pearls. I really wanted the ring's bronze-y hue to come to life, so I paired it with a shiny bronze skirt and just a simple black tank. It was a challenge to only use one item of jewelry in such a simple outfit, but I added interest to the look with these on-trend clogs and patterned tights.
2. Statement Necklace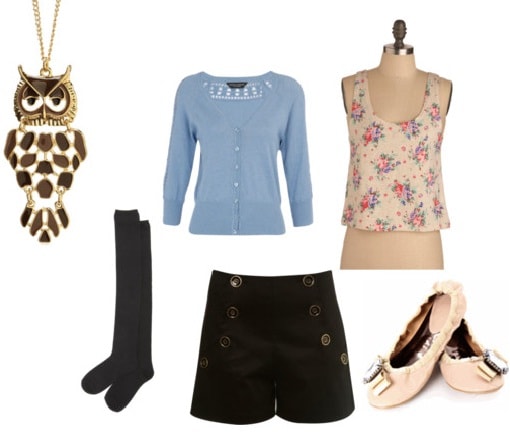 necklace/shoes/knee socks/shorts/cardigan/crop top
I wanted a vintage-inspired look to go with this adorable owl necklace, so I started this outfit off with high-waisted shorts and a pretty vintage-looking crop-top. Next, I chose a sky blue cardigan and a simple pair of cream flats to go with the top's lovely vintage-inspired off-white hue. Finally, I added trendy over-the-knee socks for a bit of extra interest and fun!
3. Statement Cuff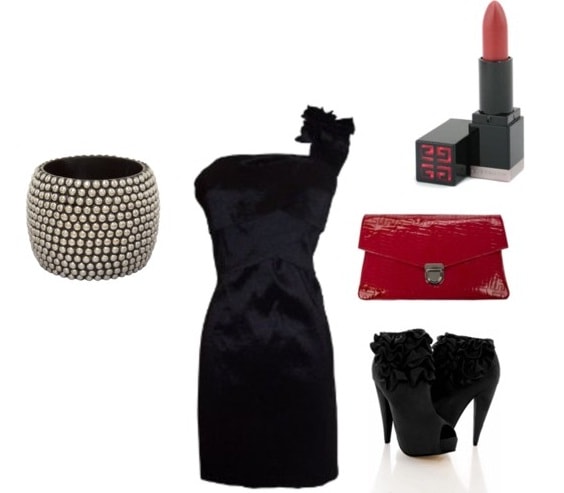 dress/booties/cuff/ clutch/ lipstick
To make this studded cuff really stand out, I paired it with a simple black dress. There is something so sexy yet effortless about a one-shoulder dress, and this one would be perfect for a night out with your girlfriends. Next, I added these adorable little booties; I think they're a perfect shoe for fall. I finished this look off with a bright red clutch for interest. Add a sweep of red lipstick, and all eyes will be on you!
4. Statement Earrings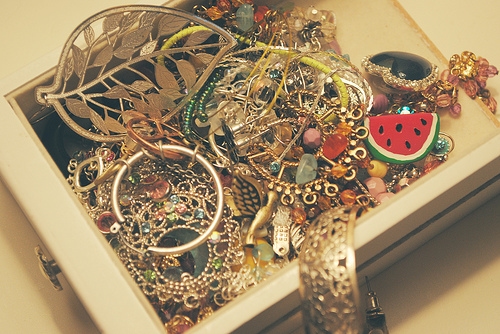 earrings/bag/converse/denim jacket/dress
I found these amazing blue and green statement earrings and immediately thought they'd go perfectly with a not-quite-fall-yet, daytime look. There's absolutely no reason to save your prettiest and boldest jewelry for evening; if you keep the rest of your outfit simple, statement pieces can make an impact any time of day.
The outfit I created above is a really girly yet casual look that I love for wearing to class or out with girlfriends on the weekend. The little dress is cute and simple, and I'm in love with denim jackets and converse for a retro feel. Overall, this outfit showcases a fun way to wear big, brash, statement earrings without feeling overdressed.
What are your thoughts on this jewelry trend?
What do you think of the simple jewelry trend for Fall/Winter? Will you be rocking a single piece or keeping your jewelry as bold as ever? What kind of jewelry are you wearing this season? Let us know in the comments!!