This post may contain affiliate links, which means we may receive a commission if you purchase through our links. Please
read our full disclosure here
.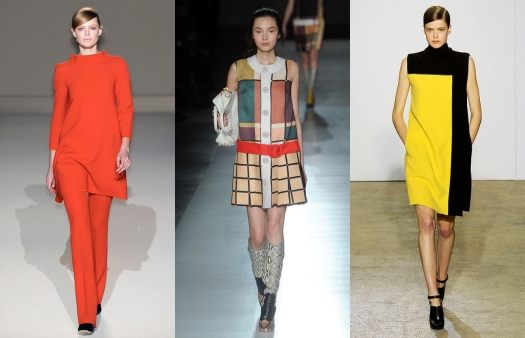 L to R: Alberta Ferretti, Prada and Costume Nation Fall 2011 RTW | Courtesy of Elle
While the '70s trend is still going strong, there's another decade that's currently making waves in the fashion world: the 1960s! The era that brought us Twiggy and Edie Sedgwick is more popular than ever and mod-inspired pieces are super-trendy this fall.
If you want to learn more about the mod trend, you've come to the right place. Scroll on down to read up on the basic elements of mod fashion, discover the essential '60s-era pieces you'll need and check out some retro-chic outfits for inspiration:
Mod 101 — The Basics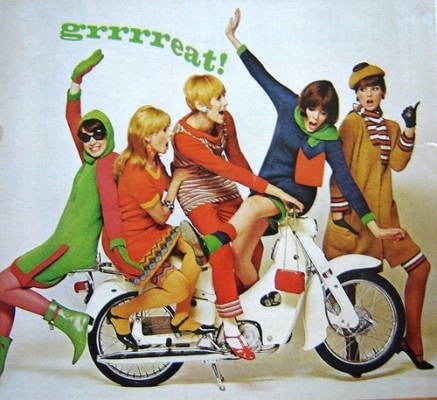 Geometric shapes and patterns. Look for pieces with interesting and graphic designs that really pop. Plaids, argyles, checks and gridlocks are all authentic mod-inspired patterns to try.
Clean lines. Ditch all those ruffled, laced, sequined and/or beaded items. Mod is all about crisp, clean and no-frills pieces. The more streamlined, the better.
Saturated colors. Don't shy away from bold and rich colors! Primary hues (red, blue and yellow) are always popular picks when it comes to mod. Start with one of those colors and you'll be good to go.
Short hemlines. In the '60s mod era, short skirts and mini dresses ruled, so show off those legs with modern day interpretations of those pieces. Just remember to add some tights in the winter to keep from freezing!
6 Key Mod Items
Now that you know a little bit about the fundamentals of this style, there are some specific items that can help you achieve that mod-inspired look. Whether you add one item or pick up all six, you'll be adding some essential mod to your wardrobe.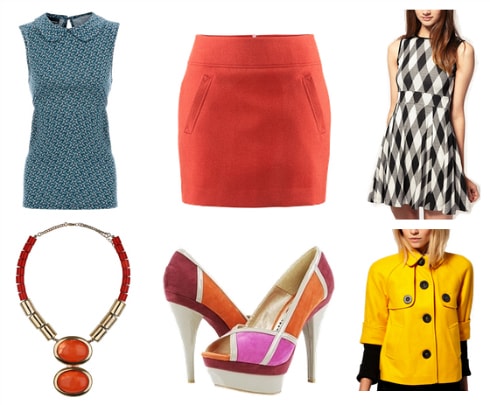 Blouse, Skirt, Dress, Necklace, Pumps, Coat
Feminine collars. Pick dresses, blouses and coats with dainty, Peter Pan-style collars. These rounded collars make a statement without looking too bold.
Mini skirts. Find a skirt that follows the basic style guidelines we talked about earlier. In this case, the skirt above has a standout color, clean shape and short hemline — perfect for a mod-inspired look!
A-line mini dresses. This type of dress is pretty much the epitome of mod. Plus, these frocks are flattering on all shapes and sizes and are super-easy to dress up or down. There are lots of options when it comes to colors and patterns, so you're sure to find one that matches your aesthetic and gives off a distinct '60s vibe.
Statement jewelry. Look for unique bracelets, necklaces and earrings with interesting shapes and styles. A great piece of statement jewelry can dress up the simplest of outfits or add that perfect finishing touch to a fashion-forward look.
Something color-blocked. This is a fun and easy way to add some mod to your wardrobe. Color blocking incorporates multiple colors and geometric shapes — both of which are elements of the style. If you aren't ready to rock a full-on color-blocked piece, try out accessories like jewelry, shoes or purses.
Boxy shapes. Loose-fitting and body-skimming pieces were all the rage during the '60s mod era, so look for modern interpretations of those shapes this fall. The cheery color, cropped sleeves and standout buttons make the coat pictured above a fresh and totally unfrumpy boxy piece.
Get the Look
Ready to add some '60s style to your wardrobe? Check out these three fall-appropriate outfits for inspiration:
1. Mod Squad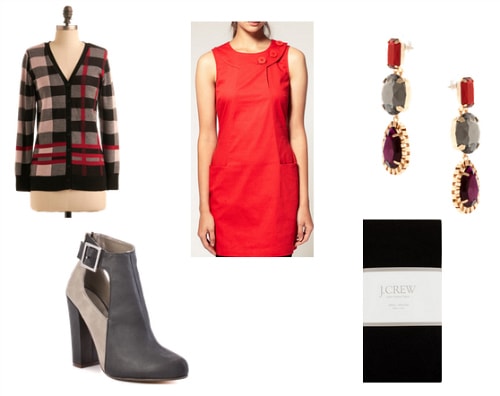 Product Info: Cardigan- ModCloth, Dress- ASOS, Earrings- ASOS, Boots- heels.com, Tights- J. Crew
2. Swinging Sixties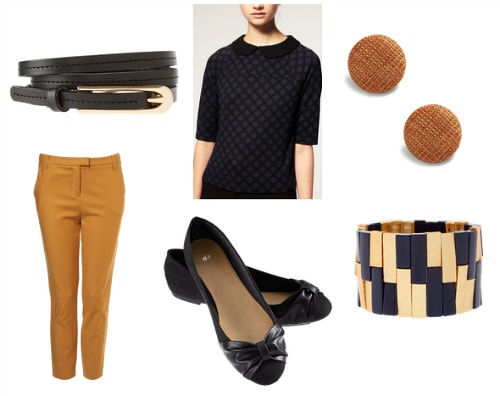 Product Info: Belt- Oasis, Blouse- ASOS, Earrings- ModCloth, Pants- TopShop, Flats- H&M, Bracelet- ASOS
3. Channeling Twiggy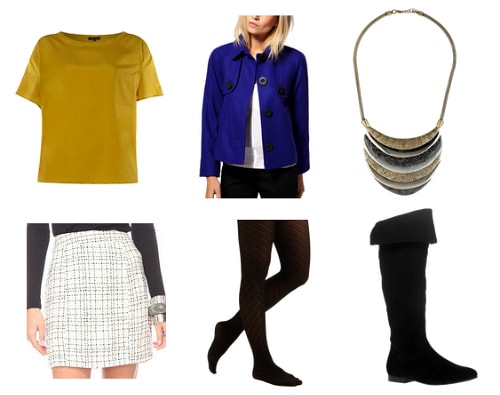 Product Info: Top- House of Fraser, Coat- ASOS, Necklace- TopShop, Skirt- Forever 21, Tights- ModCloth, Boots- ASOS
Are you mad for mod?
What do you think of this trend? Would you wear any of these outfits? Which piece is your favorite? Be sure to leave a comment below and let me know what you think!