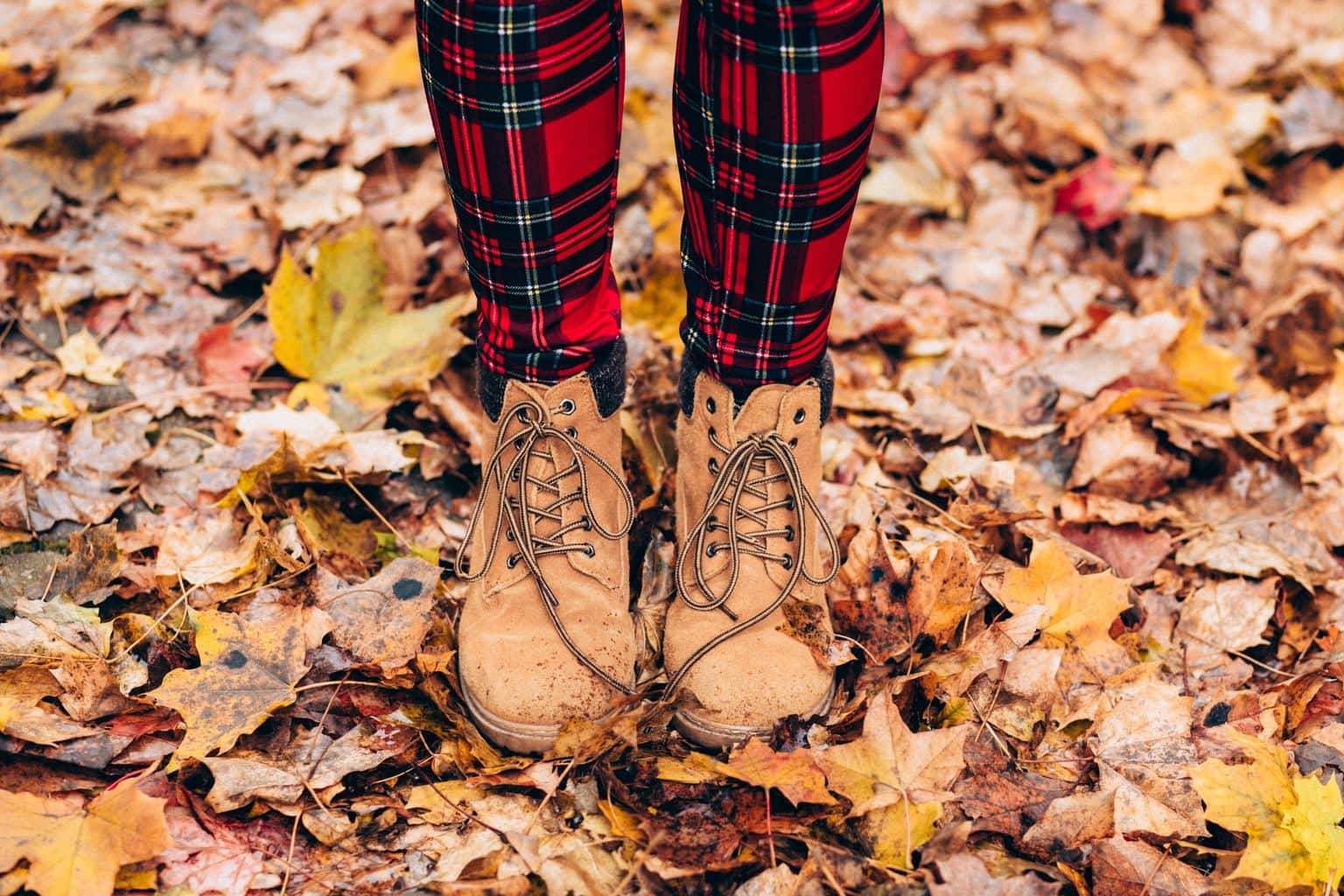 Ladies — boot season is here. Thank. God.
Put aside your slides, sandals, and slip-ons, dive into the depths of your closet's corners, and grab fall's favorite accessory. Whether your trusty pair are ankle booties, riding boots, or saucy knee-highs, it's time to lace 'em up and play in the leaves (and soon, the snow!).
Boots make any outfit look more put together and pristine. Your favorite leggings + comfy sweater combo thanks you, as does that beautiful burgundy dress + tights look you're saving for Thanksgiving dinner.
Now, your boot collection may not be looking so hot if last season's pairs took a beating at the hands of precipitation (*cough cough* blizzards, floods) or just plain old too much use. If this is you, you're in luck: Today I present to you a list of the best boots fall 2017 has to offer. You might just find your new favorite pair.
1. The White Pair
For the fearless fashionaholics who love to make a statement.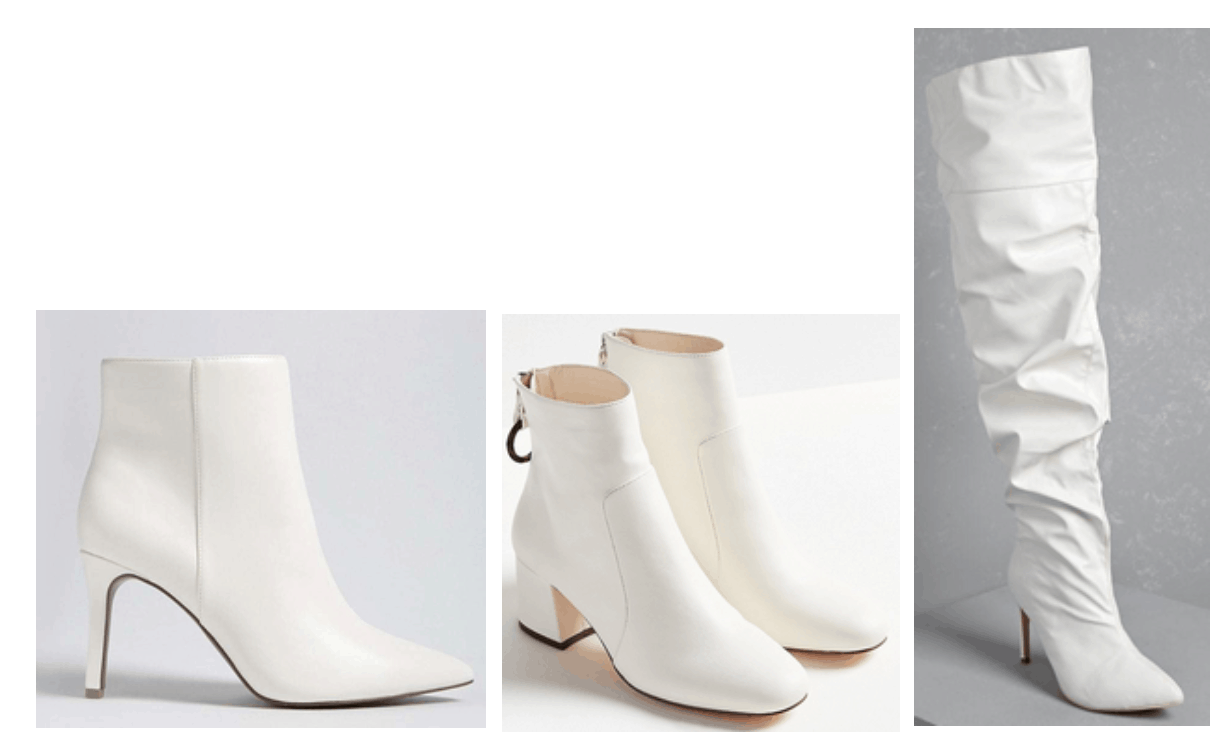 Boots: Stiletto Ankle – Forever 21, O-Ring Ankle – Urban Outfitters, Over-the-Knee – Forever 21
These boots are wicked cool — and are all the rage right now! Though they will get dirty much more easily than, um, any other color, their icy hotness will show passersby that you are a risk-taker and enjoy the spotlight. Their brightness will also contrast well with other colors, so both a simple black outfit and a fiery red dress will go perfectly with white boots.
2. The Velvet Pair
For the ladies who don't want anything TOO crazy, but still enjoy a little somethin' extra.

Boots: Blue – Target, Blush – Charlotte Russe, Dark Grey – Amazon, Burgundy – Charlotte Russe
A potential pop of color, a bit of texture…the velvet boot. These boots scream fall and feel like it too. We talk about velvet quite a bit here at CF and with good reason. Velvet is a luxurious fabric that instantly amps up the class and coolness of a look. And, having velvet don your feet, your confidence gets a major boost. I mean…look at you.
And though not as crazy as white boots, velvet boots are definitely up there as a trendy type (no typical beige ankle boot for you!), so fashionistas will love this boot type.
3. The Shiny Pair
For the days you don't want to try too hard but you still need a little sheen or sparkle.

Boots: Rose Gold Combat – Charlotte Russe, Glitter Ankle – ASOS, Navy Booties – Amazon, Black Sock Booties – Charlotte Russe
Ah, yes, the boots that glisten as you walk on by. Shiny boots are wonderfully versatile. Simple navy and black ones can be paired with just about everything and metallic-y silver or gold booties can be your party pair that you whip out on special occasions. They are great shoes for dressing up an LBD or giving your tried and true jeggings + V-neck a little shake up. We give these little guys a big thumbs up.
4. The Embroidered Pair
For a classy, feminine, interesting twist on the usual.

Boots: Black Pointed Toe – Charlotte Russe, Black Bright Floral – Lulu's, Black Floral Satin – DSW, Black Combat – Amazon, Brown Velvet – Lord and Taylor
As I'm sure you know well, embroidery is super in right now. Embroidered boots are no exception. A spin on the classic ankle boot gives your look a flash of something new and exciting. The dainty colors of some or edgy looks of others (i.e. the 4th combat boot above) can completely alter the aesthetic you are trying to convey. These boots are begging for a spot in your closet.
5. The Classic Pair
For your everyday needs. Yup – coffee dates, class, and work included.

Booties: Black Platform – H&M, Black Pointed – Lulu's, Taupe Wrap – Charlotte Russe, Olive Cut-Out – Charlotte Russe, Burgundy Chunky Heel – Charlotte Russe
These are the classic booties that you think of when autumn rolls around. They go with legit everything: jeans, leggings, skirts + tights, dresses, etc. You can fold down socks or go with the invisible secret socks. And though they appear in magazines and shops every year, I put them in this list because they never go out of style.
I predict the classic bootie will be around for many Falls to come precisely because of their versatility. Because of this fact, be sure to keep them looking like new with leather and suede protectants.
Thoughts?
So there you have it: Fall 2017's favorite boots (and maybe yours too!). Which boots are your favorite? What kind of boots are you looking to buy this season? Start the convo in the comment section below.