This post may contain affiliate links, which means we may receive a commission if you purchase through our links. Please
read our full disclosure here
.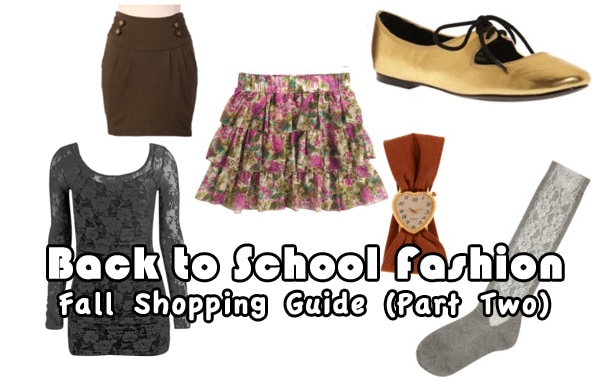 If you're still scratching your head, unsure of what you should be looking for on the racks this fall, worry no more because help is on the way!
Last week, I wrote part one of my Fall Fashion Shopping Guide, and now the wait is over for part two. With plenty of fall trends to go around, it was a snap to find four more hot trends you should consider rockin' this fall. Interested? Read on!
1. Lace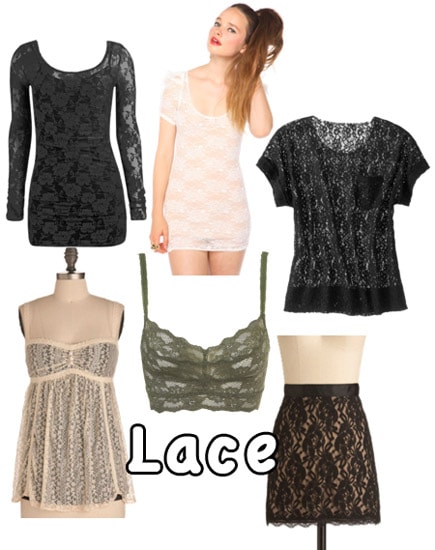 (Black Dress, White Dress, Black Top, White Blouse, Green Bra, Skirt)
Oooh lala, lace isn't just for your ladyparts anymore- far from it. Lace as outerwear was all over the runways for fall, creating a look that sizzles with sexiness.
Not sure how to work the trend? As with patterns, stick to an all-over lace garment (like a dress), or if you have a separate like a lace skirt or blouse, pair it with something a little more demure and simple. This will let the lace shine through as the focus and won't make you teeter on the dangerous line that is classy vs. trashy.
2. Knee Socks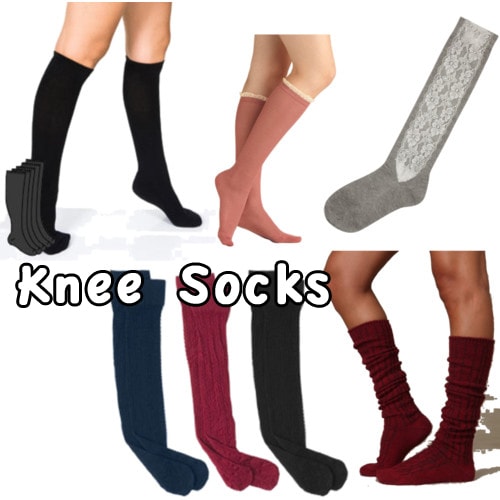 (Black, Salmon, Lace, 3 Pack, Burgandy)
If you're a street style fan like me, you've undoubtedly noticed these babies all over the blogs. Knee socks are the new tights this season and will keep your legs nice and toasty.
Not sure what to pair these with? Pull out your favorite oxfords or those winter boots you bought from last season and just pull them over these knitted wonders; you'll look fashion-forward and cute as a button.
3. Fifties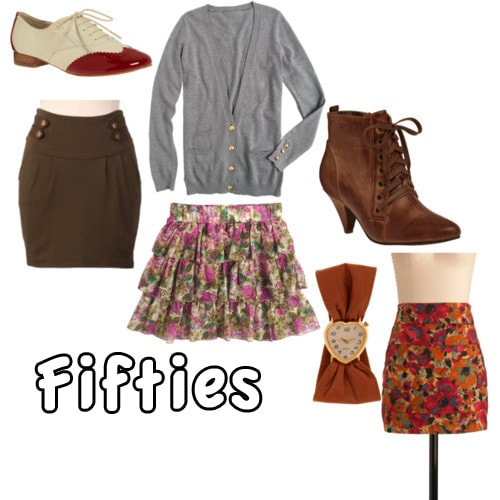 (Oxfords, Army Skirt, Cardigan, Ruffle Skirt, Booties, Watch, Skirt)
Fifties-inspired fashion has arrived! And with it comes plenty of Mad Men-style va-va-voom. Whether you're rocking body-con skirts with adorable floral print, preppy-chic cardigans, or fantastic lace-up booties, it's hard to go wrong with this era-driven trend.
Not sure what 50s-esque piece to try first? It's simple girls, just show off those curves your momma gave you! Fifties style is all about accentuating your goods and creating a womanly hourglass silhouette, so flaunt your shape with confidence.
4. Army Pants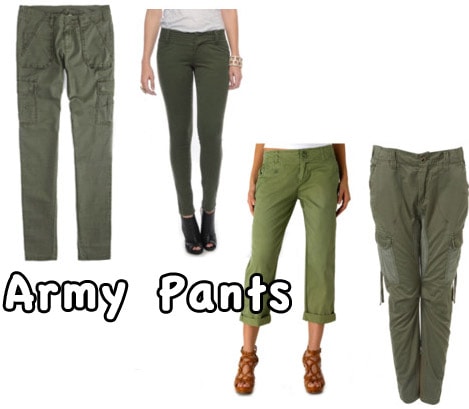 Stand at attention, girls because army pants are here! As I mentioned in my post on fall 2010 color trends, olive green is gonna be the "it" color this season, splashed across this season's hottest pair of pants, the army cargo.
When rocking army pants, the look you are going for is slim but loose. Similar to boyfriend jeans, but a little bit tighter, these babies can either be straight up green skinnies, or loose pants that still show off your figure. They're a great refresher for all of you who are sick of wearing those tired blue and black skinnies every day. So don't hesitate if you're debating those cute cargos you saw at the mall- grab those suckers for fall!
Thoughts?
How do you like part two of my list? Which trend is your favorite? What trends are you going to be going out and looking for this season? Do you usually rock a few trends? Whatever your thoughts, let me know in the comments!