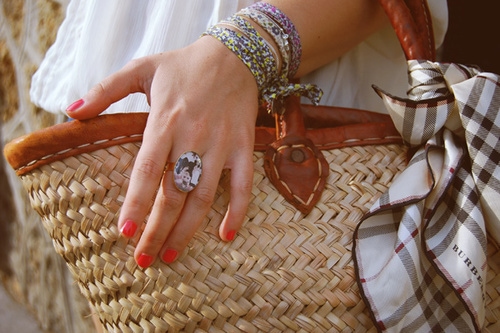 When it comes to summer 2011's trendiest pieces of apparel, we've already discussed the many benefits of strappy sandals, denim vests, and maxi-everything. However, every CF girl knows that taking the time to accessorize can completely change the look of any outfit – trendy or not.
Not to be outdone by their clothing counterparts, trends in summer 2011 accessories are many! Whether you're looking to update your summer wardrobe or just want to find out more about what's in this season, read on! In this post, we'll break down the 3 hottest summer 2011 accessories trends.
1. Hats, Hats, Hats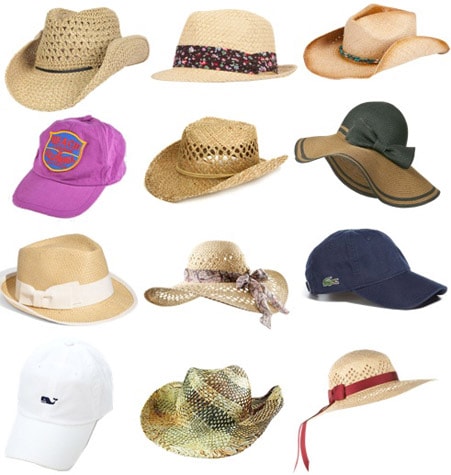 Products: (Top to bottom, left to right) 1, 2, 3, 4, 5, 6, 7, 8, 9, 10, 11, 12.
As we've recently stressed here on CF, hats are among your summer 2011 must-haves. Our favorite combination of fashion and function, these trendy toppers shield you from excess sun, keep your color from fading, hide bad hair days, and look hot! Read on for our faves!
The floppy hat. Currently the most high-profile style of the list, the oversized, unstructured, floppy sun hat, worn on summer days (and nights!) will almost instantly reveal you as a trend lover. In order to keep your look balanced, ditch any other oversized pieces in your outfit (with the possible exception of sunglasses!), keep the rest of your look simple, and pick a brim that is just the right size. Avoid anything too large, unless your goal is to cover up at the beach!
The cowboy hat. Almost universally flattering, if you don't have already have a cowboy hat in your wardrobe, get one now! Aside from its ability to create a last-minute, improvisational country girl costume, there's something extra summery about the combination of a classic straw hat, bikini, and sarong that makes us wish we could live in this season year-round.
The summer fedora. This summer's incarnation of the fedora trend calls for embracing lightweight, eco-friendly materials, namely straw. This hat's classic, sharp styling makes it perfect for more formal summer events or simply for non-beach, daytime wear. It's a super easy way to give new life to a basic outfit of denim cut-offs and a tank, or to liven up a solid maxi dress.
The baseball hat. Ideal for lazy summer days and post-beach stops at the frozen yogurt store, the baseball hat is perfect for the low-maintenance fashionista on the go. Just pull back your hair, style it into a messy bun or high pony, and wiggle it into the open space at the back of the hat and you'll be good to go. Oddly enough, the combination of a grungy hat with wild hair and large sunglasses can look quite glamorous and celebrity-inspired.
2. Statement-Making Jewelry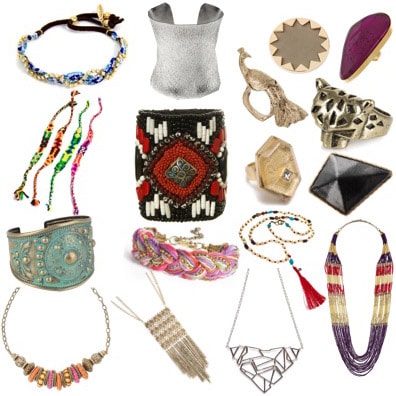 Products: (Top to bottom, left to right) 1, 2, 3, 4, 5, 6, 7, 8, 9, 10,11, 12, 13, 14, 15, 16, 17.
When it comes to jewelry, the themes for Summer 2011 are opulence and excess. Whether it's the use of eye-catching color, unexpected sparkle, or simply piling it on, summer jewelry is all about statement, statement, statement!
Bracelets: Neon friendship bracelets circa 1995 are making a comeback! Our favorite camp projects have gone glam with the infusion of stones and glittery tinsel, the brighter the better! Also hot: anything braided, oversized (think wide metal cuffs!), or stacked. In keeping with the summer's theme, why wear one bracelet if you can wear six?! The combination of kitschy friendship bracelets, a bangle or three, and last winter's boyfriend watch is glamorous and fresh. Eclectic fashion at its best!
Rings: If you live for cocktail jewelry, stock up! It's not at all unusual to see stylish ladies rocking multiple rings on a single hand! Double-finger connecter styles, animal-inspired, and mixed-media pieces are amongst the trendiest styles. Unsure of where to begin? Try wearing rings on your thumb and ring fingers. The end result is fabulously over-the-top, but the distance between your digits will keep the look uncluttered. Bonus summer tip: Invest in rings in many sizes. Not only can summer heat have an effect on your ring size, but having various options will allow you to wear your jewelry on every finger. We love the look of a single, especially chunky piece worn on the index finger.
Necklaces: When it comes to picking a trendy summer necklace, keep in mind that more is more! In contrast to previous seasons' dainty pieces, this summer is all about excess. From chains, to layers, to oversized gems, royal-inspired, extra large pieces are stealing the show. There's no better time to wear some of this eye-catching jewelry than in tank-top and strapless dress season!
3. Mixed Materials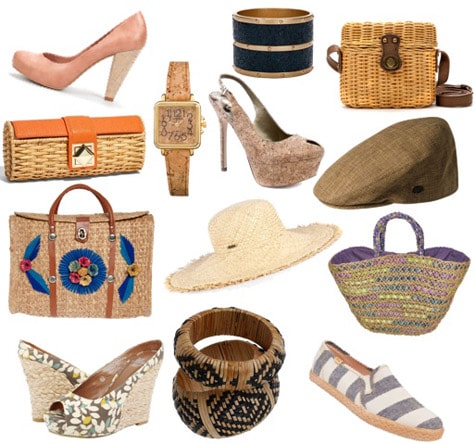 Products: (Top to bottom, left to right) 1, 2, 3, 4, 5, 6, 7, 8, 9, 10, 11, 12, 13.
"Material" is the key word when describing this summer trend! For an especially summery look, it's all about embracing the season's textures. The big three: Wicker, straw, and cork. Used as accents in footwear, handbags, and other accessories, these are practically a universal sign of summer!
For girls with more classic tastes, this is arguably the least "trendy" of the summer accessory trends! Think about it: Cork-heeled sandals, wicker beach bags, and straw hats have been around for.ev.er. When mixed and matched into a timeless wardrobe, none of the aforementioned pieces will scream "Summer 2011!" unless you'd like them to.
If you live for fad fashion, however, incorporating more than one of these summer textures into a single look or pairing a texture with another hot summer staple will keep you on top of your trend game.
Share your thoughts!
What are your favorite summer accessory trends? Least favorites? Have you worn any of the above styles? Leave a comment and let us know what you think!