Vintage-inspired fashion is definitely on the upswing. While many may consider skinny jeans, fringe, and leggings "new" trends, in reality they are simply reincarnations of looks from the past. Vintage-inspired is the new "new", and you can find these types of pieces everywhere, from stores like ModCloth to Lulu's.
So what is vintage-inspired fashion? There are two ways that something can be vintage-inspired: it can be a literal remake of a classic shape (such as the two dresses on the left above), or it can be an interpretation that, while maybe not exactly like its vintage parents, is a new way to look at that classic shape.
Fashion always has one eye on the past for inspiration. To help you stay a step ahead of the game, the vintage-inspired dresses featured here will help you stand out from the crowd, while still staying true to your personal style and giving a nod to the past.
Polamaloop dress, ModCloth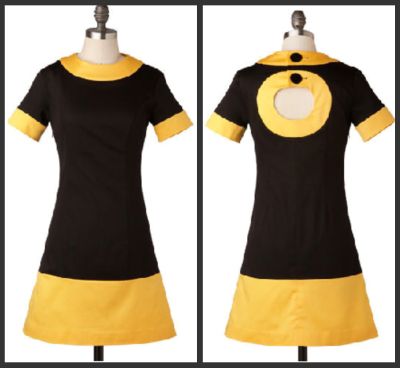 This adorable dress reminds me of something that a go-go dancer would wear: the shape is simple, the colors are simple, but the effect is definitely a dress that stands out from the crowd.
The back is especially beautiful because of the graphic detailing. I see this dress being paired with basic Mary Jane flats and a black leather bag – it would be a great, simple daytime look.
Gettin' Twiggy With It dress, ModCloth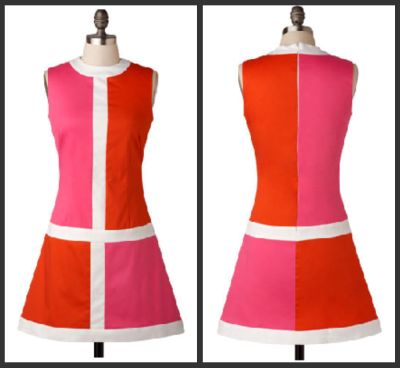 Another literal translation of the mod look, the vibrant block colors make this dress a little more difficult to pull off, but totally worth the challenge.
I see this dress with white tights and very simple shoes, such as red flats or a very low heel, as well as a large white bag to keep things modern. This vibrant dress would be a great look to wear out dancing or to a low-key party.
Tuxedo Belted Sleeveless Coatdress, Forever 21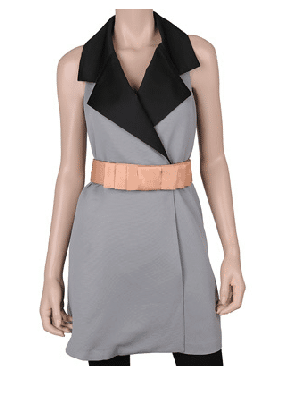 As you may have guessed, this is a reinterpretation of typical mod style.
It recalls the simple lines and delicate femininity of the previous dresses, while also containing modern elements, such as the collar and the belt. Again, the color palate is more muted than the other dresses, but just as simple. I would pair this dress with a brightly colored cardigan, black tights and very high heels for a date.
Native Silk dress, Forever 21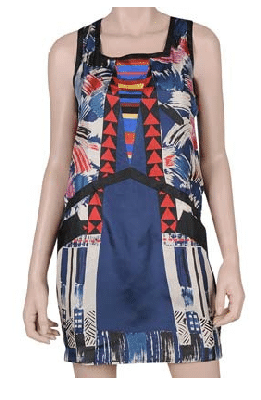 While this dress may appear to be as far from mod as you could get, the short, simple shape of the dress reminds me of a mod style dress, while the pattern feels very up-to-date and contemporary while still being colorful and fun.
I would pair this with a great bag in black or red and gladiator sandals for another great daytime look.
Tips to finding dresses like these in vintage and thrift stores
Look for simple shapes and simple color schemes. While a floral pattern could be pretty on these dresses, it can also look aging depending on the shape and length, so be careful. However, don't be afraid to try everything, because you never know what will really work until you try it on!
Have an idea of exactly what you want to look for. Vintage and thrift stores often have a lot of merchandise, so go in with an idea of what you want to find.
Try on the dress. Even if the store doesn't have a dressing room (many small vintage shops won't), ask if you can slip it on over your clothes. Look for a slightly loose fit in the waist and hips, a mid-thigh length, and a precise fit in the shoulders. (And remember, dresses can always be taken in.)
Check the dress for any stains or tears before purchasing. If you are sure you can remove the stain or fix the tear, ask if you can have a discount on the price.
To find good vintage shops in your area, do a search on Yahoo or Google and read any reviews. Then spend one day going through all the ones that look good. Note how well the store takes care of their merchandise: is it arranged or just sort of lumped together? Does everything seem clean and in good condition? Many vintage shop owners go through a lot of work to find great items and they take really great care of them.
What do you think of these vintage-inspired looks? Would you rather wear a literal interpretation or something slightly reinvented?