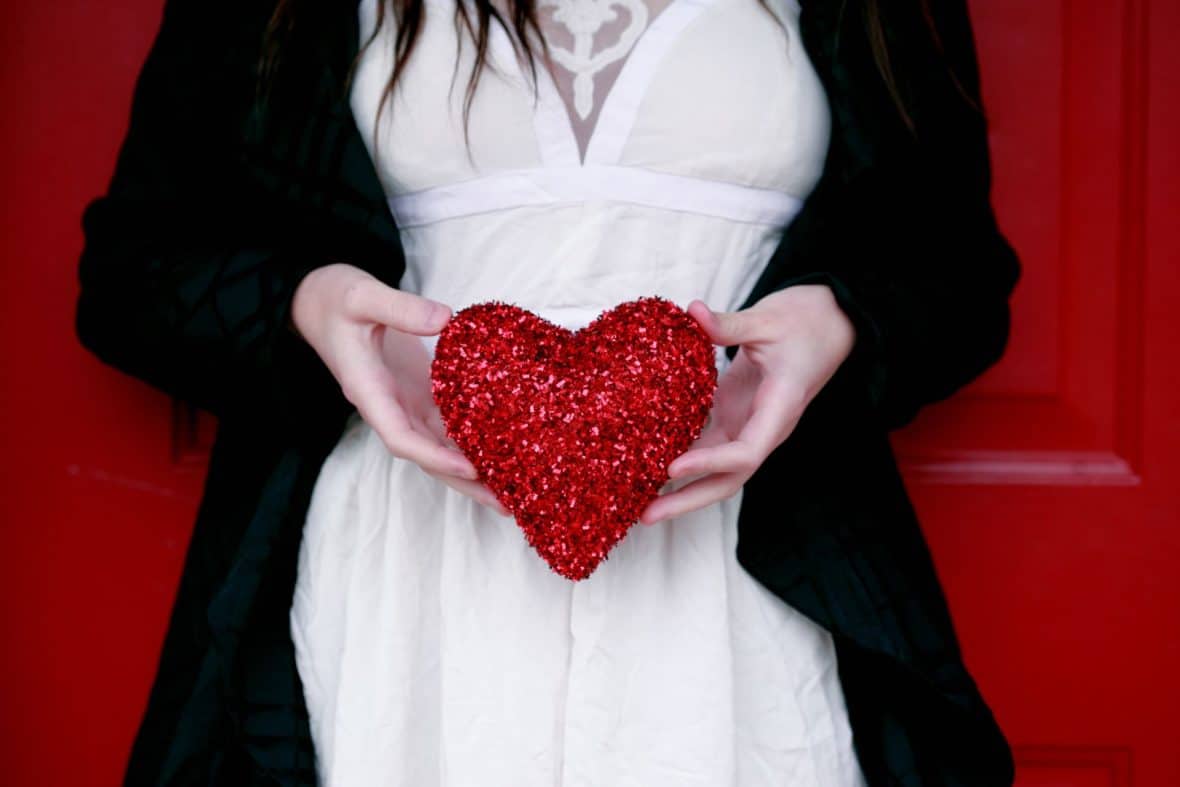 When you think of Valentine's Day, you probably think of hearts, flowers, chocolates, and perhaps even this.
Another thing that probably comes to mind is the traditional Valentine's color scheme of red and pink — colors that are meant to represent love, and that tend to appear a lot in fashion meant for the holiday.
While lots of people — myself included — love wearing these colors on Valentine's Day, you must admit that they're a little predictable at this point.
That's why I decided to challenge myself to see if I could come up with three cute and fun V-Day night-out looks that don't feature either red or pink at all, and that would still look appropriate for the occasion whether you're spending it with a date, a long-time significant other, or your best friends.
Want to see them? Just keep reading!
Outfit #1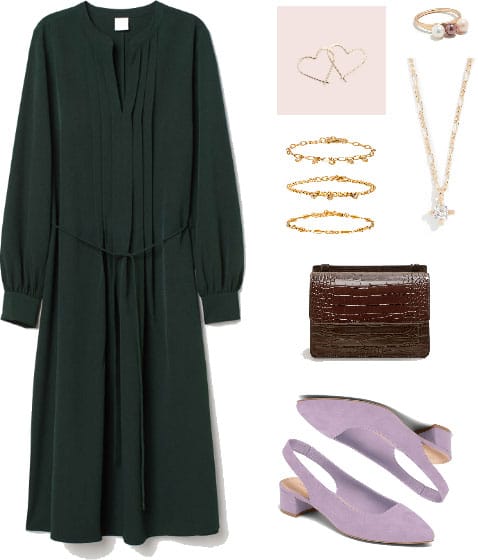 Products: Dress – H&M, Earrings – Erica Weiner, Bracelet Set – Revolve, Ring – Shopbop, Necklace – Shopbop, Bag – Mango, Heels – Old Navy
Although green is definitely not a color that we tend to associate with Valentine's Day, I couldn't resist this elegant forest green midi dress, as its silhouette is so classy and sophisticated, and would look lovely for a special V-Day dinner date at a romantic restaurant.
I decided to style it with a pair of chunky kitten-heel slingback pumps whose lilac color contrasts just enough with the dress's deep green hue to add an unexpected pop.
As well, I added a trendy brown croc-effect cross-body bag for a dose of texture that nicely complements the rest of the look.
Lastly, because every Valentine's Day outfit should have a bit of sparkle and shine, I decided to add a pair of adorable heart-shaped hoop earrings, a pretty bracelet set, a modern solitaire necklace necklace (on a super-cool chain, to boot), and a multi-colored pearl ring to complete this gorgeous ensemble.
Outfit #2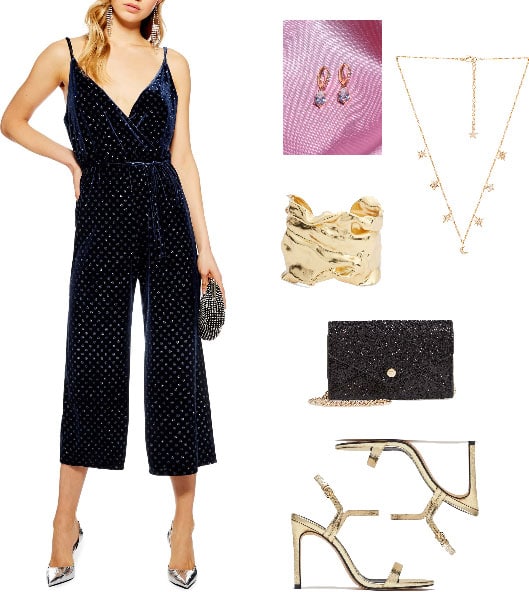 Products: Jumpsuit – Nordstrom, Earrings – Frasier Sterling, Cuff Bracelet – Nordstrom, Necklace – Revolve, Clutch – Nordstrom, Heeled Sandals – Zara
Like Look #1, Look #2 would be great for a more traditional Valentine's date; however, it would also work really well for a slightly less traditional V-Day activity, such as going out to a trendy party, bar, or club (if you're of age for the latter two) with friends.
As far as I'm concerned, jumpsuits are one of the most underrated going-out pieces; not only do they look fierce, they're also so easy to throw on and go! Plus, they always manage to make the wearer stand apart from the crowd in the best way possible!
Here, I've picked out a sweet-but-daring navy blue jumpsuit made from a velvety fabric and featuring a cute glitter dot print.
I decided to take the sparkly/shiny theme and run with it by adding a black glitter chain-strap clutch and a pair of glam gold heeled sandals.
To finish off the look, I added astatement cuff bracelet and a dainty moon-and-stars necklace, as well as a pair of small hoop earrings with dangly glimmering stones.
Outfit #3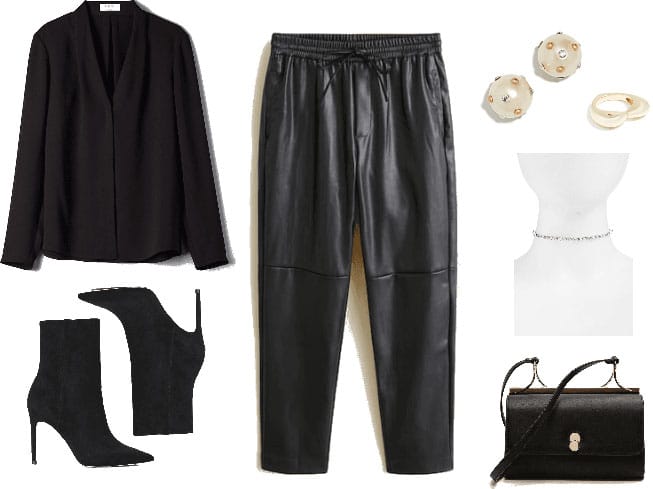 Products: Blouse – Aritzia, Ankle Boots – H&M, Pants – Mango, Earrings – Shopbop, Ring – Shopbop, Choker – Nordstrom, Bag – Mango
If your personal style is more edgy than sweet, you'll love this bold all-black ensemble with romantic details that aren't too delicate.
I created this outfit with a more casual aesthetic in mind, and I think it would be the perfect thing to wear for those who don't take the whole Valentine's Day thing too seriously.
Furthermore, while I primarily envisioned this look being worn for a night out with friends, it could be worn on a more laid-back date as well.
I chose to style a flowy long-sleeved blouse with a cool pair of leather pants next, I added a pair of pointed-toe, skinny-heeled ankle boots, which are the perfect 2000s throwback.
In terms of bags, I really like the cool metal details on this black crossbody style, as they add a little something different to the look.
Finally, for jewelry, I decided to go for a more romantic (but still edgy!) vibe with faux-pearl earrings studded with tiny gold-colored circles and crystals — as well as a chunky heart ring and a sparkly choker.
What do you think?
Are you planning on having a night out on Valentine's Day? If so, where are you going, what do you plan on wearing? Will it be something more traditional, or something a little different, like the looks shown here?
Let me know in the comments!