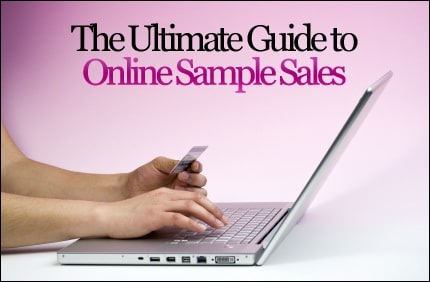 This is a post I've been meaning to write for a while, since I've had many of you email me asking questions about online sample sales – whether they're worth it, tips on shopping the sales, and which sites I recommend.
So here's the deal: I love online sample sales and shop at a few of the sample sale sites myself. And online sample sales are THE cheapest place to buy designer clothes online – there are some amazing bargains (we're talking 70, 80% off high-end designer clothes and accessories – better than eBay!) out there if you're willing to look.
How to Shop at Sample Sales
Before you shop at one of these online sample sales, you need to know what you're doing. They can be a great opportunity to save money, but they can also wreck your wallet if you aren't careful. Don't just rush in, credit card in hand, ready to buy everything up! You need to be strategic.
Here are my tips for making the most of online sample sale madness.

Make a list. – Go through your closet and know what you have and what you need before you shop. You might see an amazing designer black dress at 50% off, but if you already have five perfectly-good options in your closet, you probably don't need one more. It's so easy to fall into the trap of impulse-buying, so a list will help you combat the urge.

Set yourself a budget. – This is really helpful for me. If you give yourself a preset amount of money you're allowed to spend at the sale, you'll spend less and feel less guilt afterward. If something's over your budget, think it over HARD before you buy.

Know the designer. – Study up on the designer at hand before you shop their sale. Know their merchandise – what's a hot seller? What do they do best? Just like you wouldn't order pizza at a thai restaurant, don't buy jeans from a company known for its t-shirts or a dress from a denim company. It's common sense really – buy the things these designers are known for, don't pick up the sub-par afterthoughts just because they're "designer."

Understand fashion seasons. – Want to know the reason most pieces at sample sales are marked down? Because they're last-season. This obviously isn't true for all the items, but it is a general rule. If you understand how the seasons work in fashion, you can buy things that will be wearable both this season and next, as opposed to investing in something that's on its way out of style. Of course this isn't a rule that's set in stone – if you love something that's out of season, there's really no reason not to wear it if it fits with your personal style.

Be willing to walk away. – Shopping at sample sales can be like a competition – online sample sales always have limited amounts of items to encourage buying fast and get your adrenaline going. Don't engage in this mentality – it makes you buy things you don't even want. Have the attitude that you can take it or leave it – if you don't find something great, you won't buy anything. Let the competitive people go crazy and smile to yourself knowing they're probably in debt with a closet full of unwanted items.
The Best Online Sample Sale Sites
Now that you know how to work an online sample sale to your advantage, here's a list of my favorite sample sale websites. Most of these are invite-only and have a wait list, but don't worry – I have enough invites for all of you!
HauteLook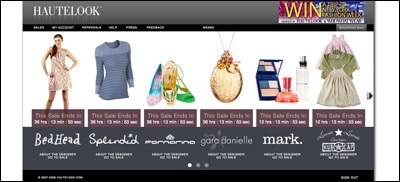 HauteLook is the first online sample sale site I joined and the one I shop at most often. They have tons of sales on every major and minor designer out there – from Marc Jacobs, Michael Kors, and Gucci to Elizabeth and James, Earnest Sewn, and Seven for all Mankind, HauteLook's sales are amazing! You have to join to see for yourself.
To join HauteLook, use this invite link to register.
Gilt Groupe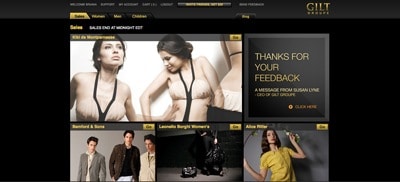 Another great sale site with a similar setup to HauteLook, Gilt Groupe is another favorite of mine. I've personally shopped here and the sales are amazing! A few weeks ago they had a HUGE sale on Christian Louboutins, with prices slashed up to 60% off! They add new sales almost daily and the prices are always amazing. Highly recommended!
To join Gilt Groupe, use the following link to register: http://www.giltgroupe.com/invite/collegefashion
Rue La La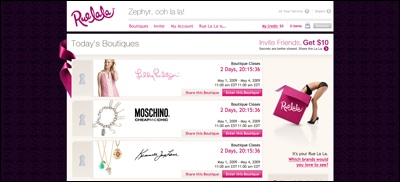 An amazing sample sale site that I just discovered – I had to edit this post to add it to the list! Rue La La is another popular sample sale site like Gilt Groupe and HauteLook, featuring designers like Calvin Klein, Lily Pulitzer, and many, many more! The sales are constantly updated, so there's always something new to look forward to. I haven't shopped at Rue La La yet, but I definitely plan to take advantage of their deals soon!
To join Rue La La, use the following link to register: http://www.ruelala.com/invite/collegefashion
Editor's Closet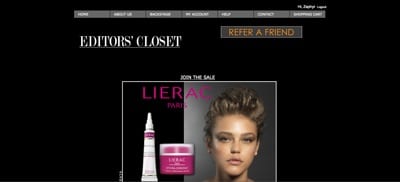 Editor's Closet features quality sample sales from brands like Marc by Marc Jacobs, along with plenty of "up and coming" designers as well. It's less popular than the other sample sale sites which means less competition for the hot items. Another one of my favorites.
To join Editor's Closet, use this invite link to register.
Juxzy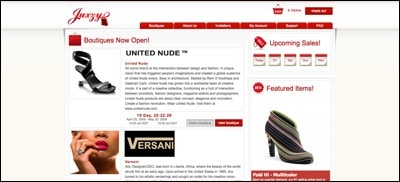 A new sample sale site that I just heard about recently. I haven't shopped this one yet myself but with sales from designers like Comme des Garcons featured, it's worth signing up. Again, this one isn't as popular as the others which means more chances for you to buy what you want with zero competition.
To join Juxzy, sign up here with the reference code f9fe9a.
Ideeli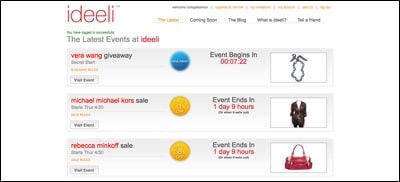 Ideeli is another sample sale site that I haven't shopped at personally yet, but looks like it might have some great deals. Ideeli is currently having sales on Valentino, Rebecca Minkoff, Escada, MICHAEL Michael Kors, and Vera Wang. They also offer lots of members-only giveaways of fabulous designer merchandise, so it's definitely worth joining.
To join Ideeli, use the following link to register: Join Ideeli
Your Thoughts?
Now that you know all about online sample sales, I want to know what you think!
Have you ever shopped at an online sample sale before? Did you find any good deals? If you've never shopped at one, would you ever do it? Do you have any sample sale shopping tips? Let me know in the comments section!