The "Fabulous Find of the Week" column gives you the heads up on all the hottest, most affordable items at your favorite stores!
Hey ladies! How are you? Can you believe more than half of February is already over? It's so crazy to think about how quickly the year has gone by. I hope everyone is doing well and keeping up with school work.
I know what you're thinking: another striped t-shirt. Really?
And you're right, they really are EVERYWHERE! But that's for a reason: because they're amazing.
The classic striped t-shirt is a timeless piece that really never goes out of style. For that reason it's definitely worth buying — in multiples.
For this week's Fabulous Find, we have a black and white striped t-shirt that is gorgeous, comfortable, and affordable. Then, we'll show you some striped t-shirt outfits. Check the shirt out below!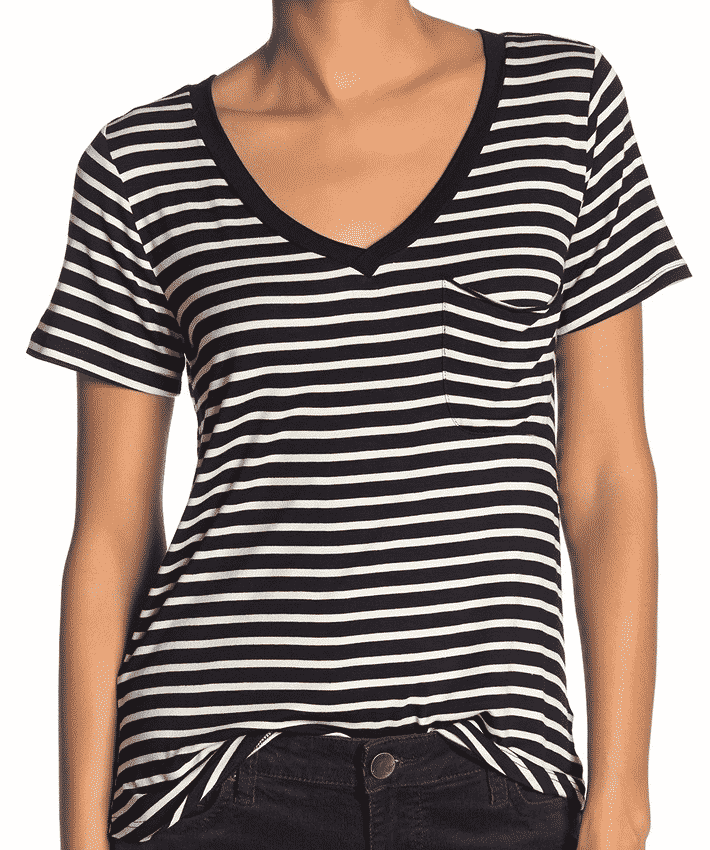 You can find this amazing shirt from Socialite at Nordstrom Rack. How much is it do you ask? Well, this could be yours for only $7.58!
This awesome staple has a great v-neck cut and the fabric is lightweight so it's super comfortable. What more could you ask for? (It's also machine-washable, which I always look for in a slouchy top — a lot of these slouchy tees aren't!)
So this shirt is pretty, comfortable and practical! And now I'll show you how to style it three different ways:
Striped T-Shirt Outfit: See You in Class!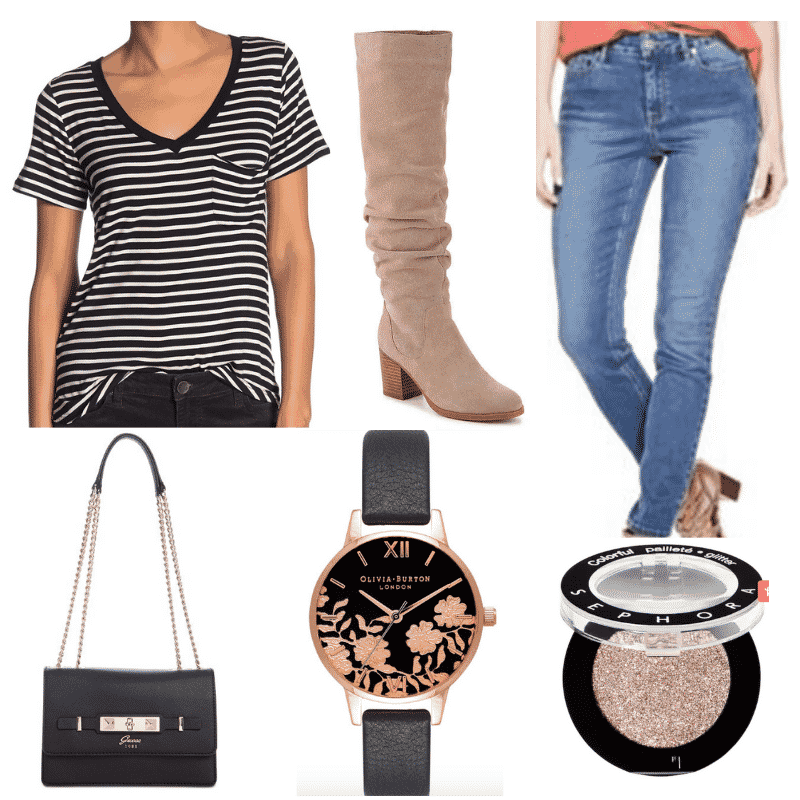 Products: Watch – Olivia Burton, Shirt – Socialite (Nordstrom Rack), Boots – Levity (DSW), Eyeshadow – Sephora, Jeans – Guess Factory, Handbag – Guess (Macy's)
This is the perfect outfit to wear to class or to grab a casual coffee with friends. The jeans and top will make sure you're super comfortable while looking cute.
The boots definitely add extra style points to the outfit. You get the effect of heels without the pain. It's a win-win!
When most girls I know go to Sephora, they usually purchase products from popular name brands. Few people take advantage of the amazing house brand products. Sephora's makeup is amazing quality but also super inexpensive. This eyeshadow is only $8 so you'll definitely want to get it in several different colors.
Striped T-Shirt Outfit: Pom Pom Pink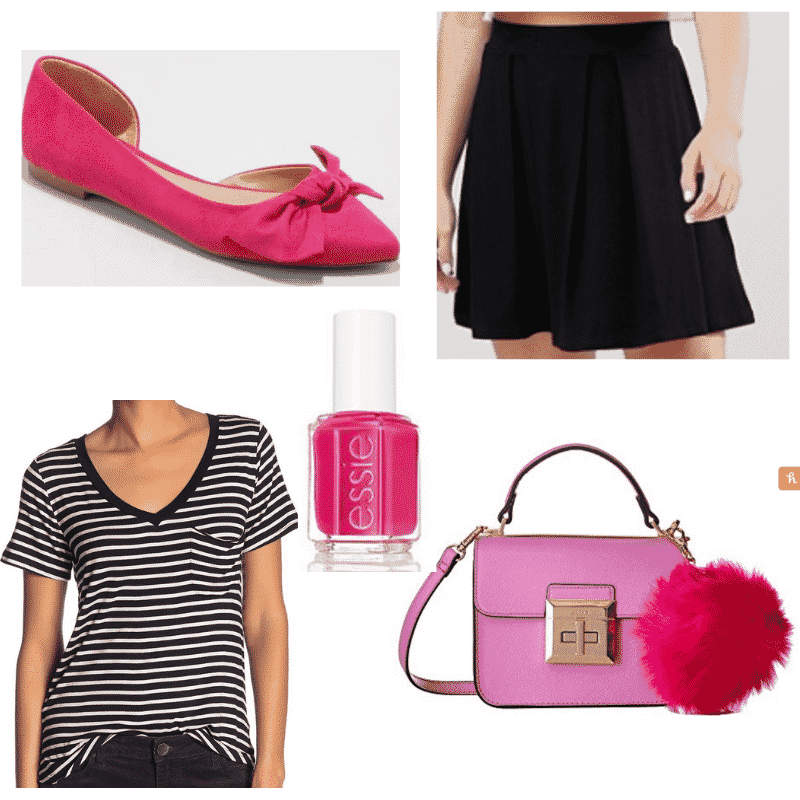 Products: Skirt – ASOS, Handbag – Aldo (Zappos), Ballet Flats – A New Day (Target), Shirt – Socialite (Nordstrom Rack), Nail Polish – Essie
This striped t-shirt outfit is perfect for brunch with friends in the springtime months ahead. I love the fun combination of the dark black with the bright pink — it's fun and bold.
I am obsessed with this Aldo bag! The satchel design is a classic every girl needs in her closet. But my favorite part is the pom pom! I love how it's almost as large as the bag itself and adds a fun twist to the timeless design.
Striped T-Shirt Outfit: Stripes and Faux Fur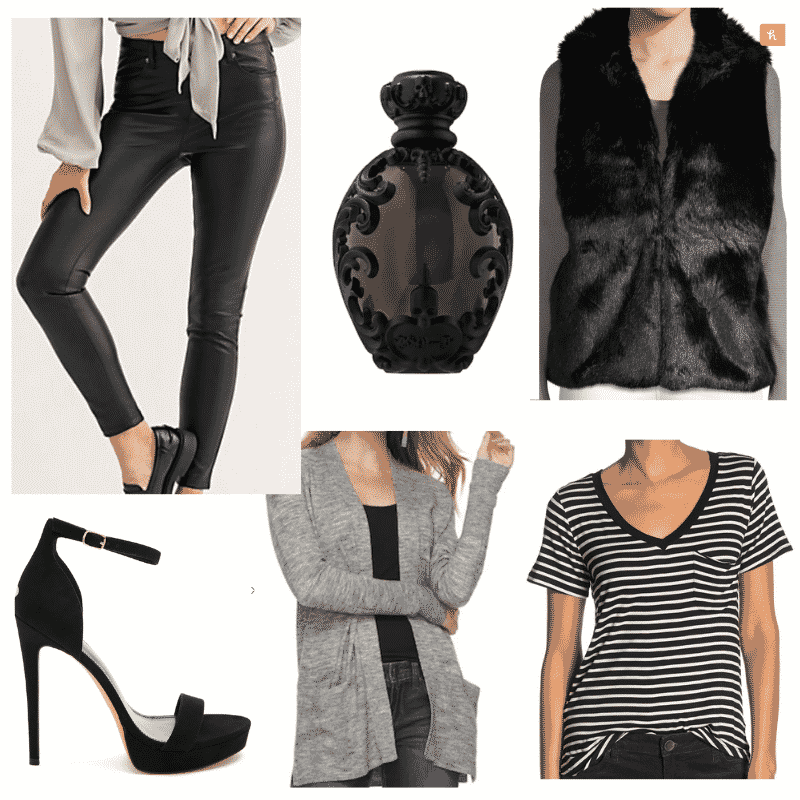 Products: Cardigan – Sonoma (Kohl's), Perfume – Kat Von D (Sephora), Shirt – Socialite (Nordstrom Rack), Heels – Forever 21, Leggings – Free People, Vest – Renvy (Saks Off 5th)
This outfit is perfect for going out to dinner with friends. It's very chic and sophisticated but also comfy. With three inner layers (plus your jacket), you'll be sure to stay warm for this last month of winter.
I also really love the vest and pants — both are vegan so they're animal-friendly while still being super stylish. Another win-win.
What did you think about this week's Fabulous Find?

Do you like this shirt? Are you a fan of Socialite or Nordstrom Rack? What are your favorite styles of shirts? What have been your favorite winter trends so far? Start the convo below!