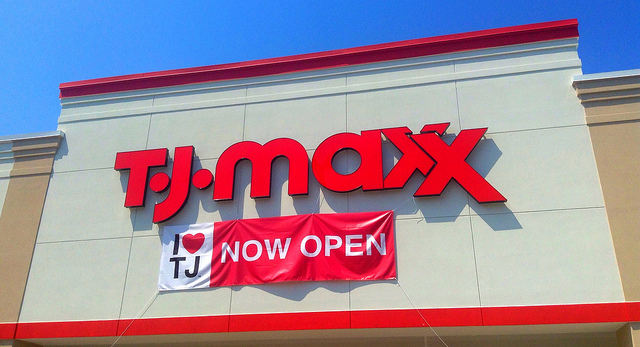 T.J.Maxx was first established in 1976 by Bernard Cammarata in Framingham, Massachusetts. T.J.Maxx is an off-price retailer, meaning it sells a wide variety of name brand and designer fashion items at discounts, sometimes up to 60% below regular department store prices. T.J.Maxx has over 1,ooo locations across the United States and is now a part of TJX Companies, which is composed of HomeGoods, Marshalls, and T.J.Maxx.
In September 2013 T.J.Maxx launched its online retail shop, allowing Maxxinistas everywhere to shop for unique pieces on the go. Their online store is awesome and is definitely one of our online shopping go-tos here at CF.
Now Available in T.J.Maxx's Online Store: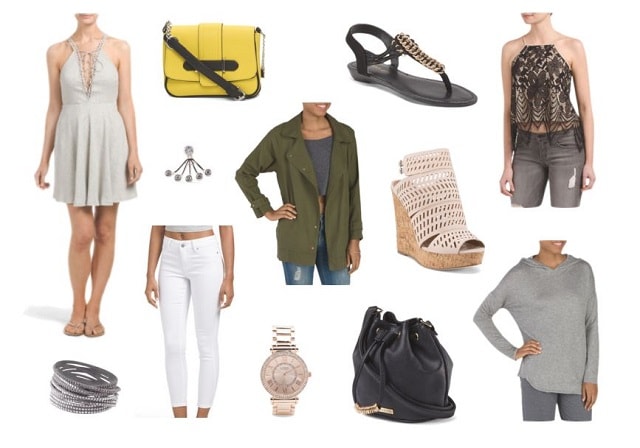 Products: Dress, Crossbody Bag, Sandals, Lace Top, Earrings, Coat, Wedges, Bracelet, Jeans, Watch, Bucket Bag, Pull-Over
Tips for Shopping at T.J.Maxx:
1. Look for the yellow price tag.
Yellow price tags indicate the final markdown on an item. If something you like has a yellow tag, nab it, because it won't be around for long!
2. T.J.Maxx doesn't offer price adjustments.
Since merchandise moves through the retail chain so quickly, they do not offer price adjustments if a piece is discounted after you buy it.
3. Don't be afraid to haggle.
If an item is slightly damaged and does not have an as-is price tag on it you can sometimes get 10%-20% off the piece. Don't be afraid to ask – the worst you'll get is a no!
4. Online is NOT necessarily in store.
The inventory offered online is very different than what is offered in store. Definitely check out the online shop but be sure to check the physical store as well to see the widest variety of brands.
5. Sign up for email alerts before you make your first online purchase.
When you sign up for the email list on their website you get free shipping on your first purchase. Don't miss out on this easy way to save!
6. Check back regularly.
We love T.J.Maxx because they always seem to have something new. The problem? Quantities can be very limited! So check their website and your local store regularly to score the most amazing finds.
Are you a "Maxxinista"?
If so, what are your go-to items to pick up from T.J.Maxx? Let us know in the comments!