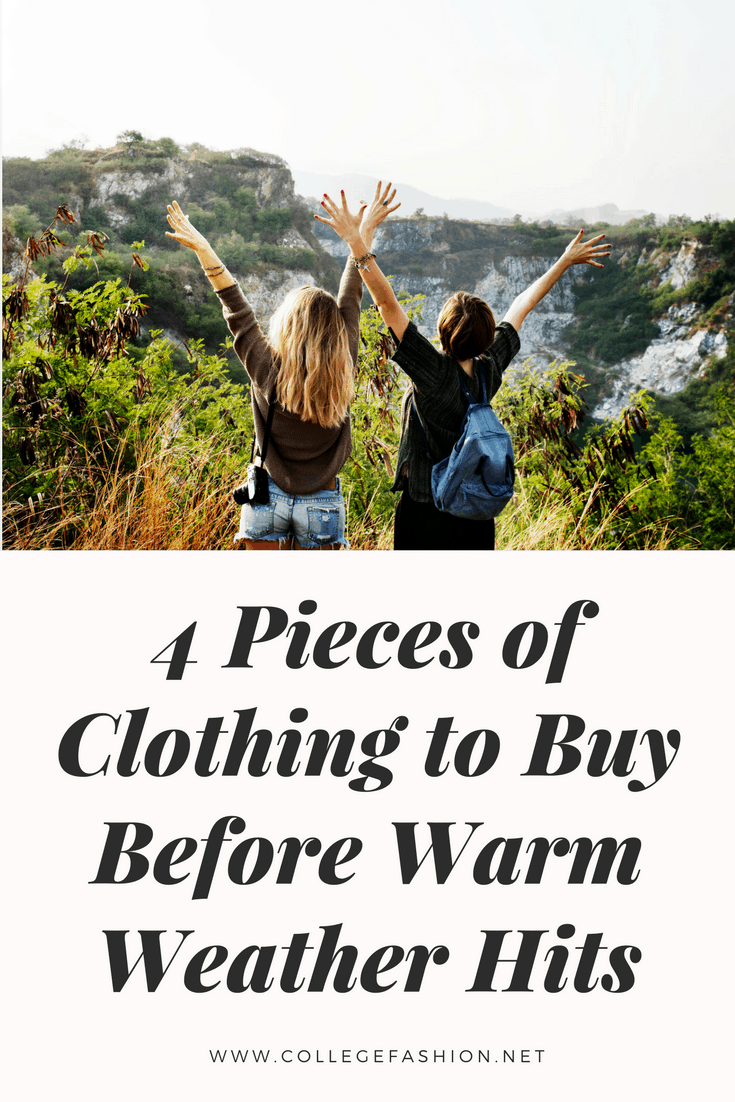 Spring is finally here, which means warmer weather is returning to our lives (along with high pollen counts — sigh, can't win 'em all).
Despite my allergies going haywire, I'm so excited to invest in some new spring clothes for the season! And I'm being strategic about my purchases.
If you want your wardrobe to be ready for spring, there are a few items I recommend you grab right now. You'll thank me when the temperatures rise! So, below are the best clothes to buy for spring to ensure you'll be ready for the sunny days ahead:
1. Patterned Crop Tops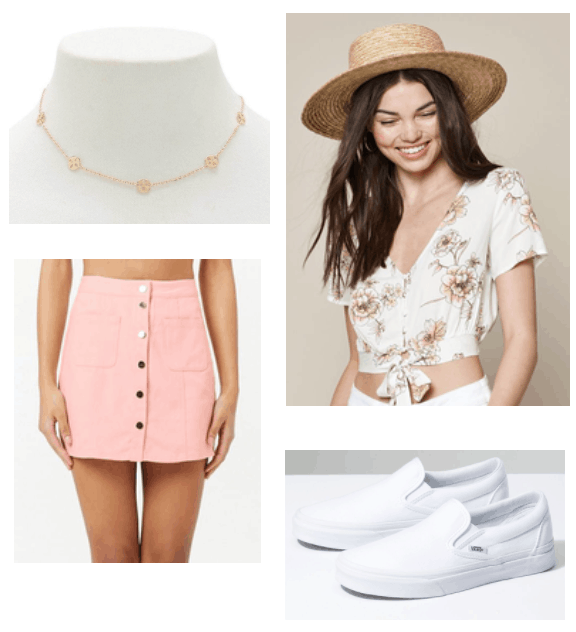 Products: Top – Pacsun, Bottoms – Forever 21, Shoes – Vans, Jewelry – Forever 21
With the warmer weather coming around, what better way to celebrate than with colorful patterns? Whether you choose florals or polka dots (both timeless spring patterns), a good print always brings a fresher look to an outfit than a solid does.
A patterned crop top is a great spring piece that you can wear with just about any bottom in your closet — be creative! Here, I paired the top with an a-line skirt and some white sneakers. To finish it off, I added a dainty gold necklace to accentuate the top.
2. Two-Piece Sets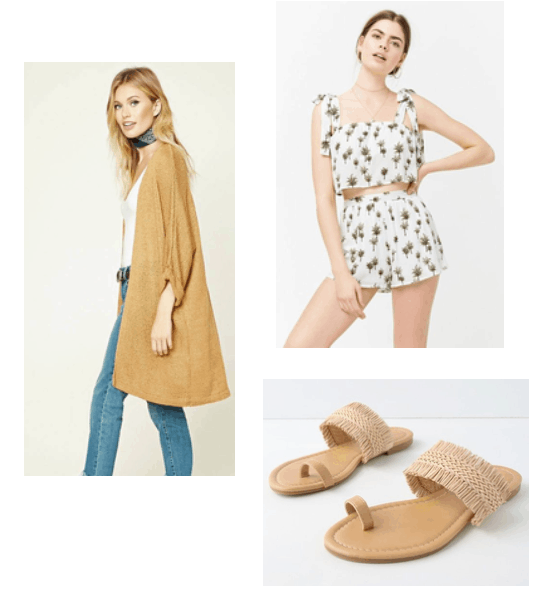 Products: Top – Forever 21, Bottoms – Forever 21, Shoes – Lulu's, Jacket – Forever 21
Instead of throwing on a t-shirt and some shorts and being done with it, two-piece sets are great for when you want to look like you tried without expending much effort. In addition, you're getting two pieces for the price of one — which means double the wardrobe options.
On warm days, linen and cotton are always great fabrics to wear, as they keep you cool. (Natural fibers FTW!) Put on this white palm tree print cotton two-piece with some sandals and you can call it a day! Due to the bold pattern of the set, you don't need tons of accessories here. If it gets chilly out in the evening, layer the set with a loose knit cardigan.
3. Off-the-Shoulder Tops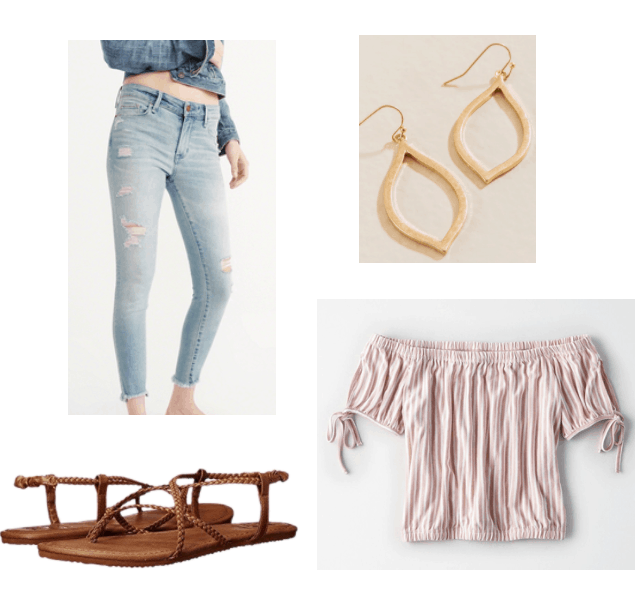 Products: Top – American Eagle, Bottoms – A&F, Jewelry – Francesca's Shoes – Zappos
Off-the-shoulder tops are a staple for hot, humid weather, and have been ultra trendy for the past few seasons. You can't go wrong investing in one now — they're still slated to be popular this year.
I created this off-the-shoulder top outfit for an early spring day when it's sunny but cool. To keep yourself relatively warm, pair the top with some ripped jeans instead of shorts. Then, put on some strappy brown sandals and gold dangling earrings for that springtime feel.
4. Pastel Sundresses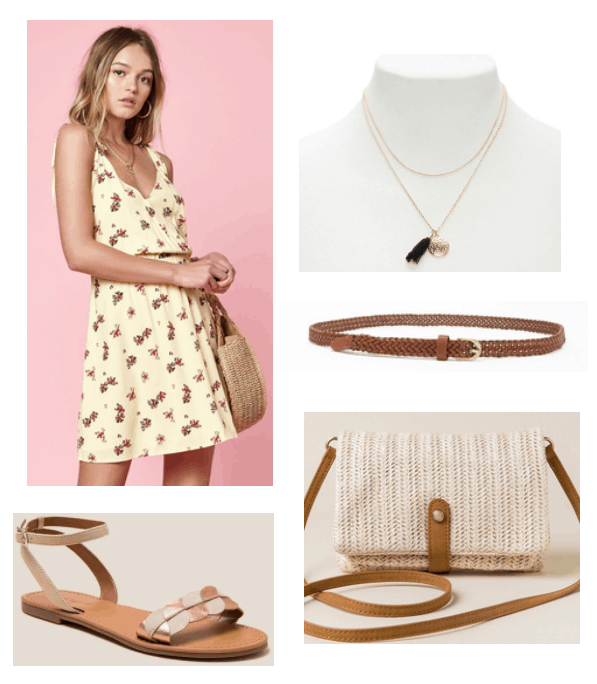 Products: Dress – Pacsun, Shoes – Francesca's, Jewelry – Forever 21, Belt – Forever 21, Bag – Francesca's
Wearing pastels is a wonderful way to celebrate the fact that warmer days are ahead. Light, colorful clothes are the antithesis of the heavy black coats we have been wearing all winter, so they're just the refreshing choice your wardrobe needs.
I love a good pastel sundress for the springtime — it's a classic that every girl should own. To get this look, slip on a pale yellow floral sundress and choose your other pieces to complement your dress. Add a belt to cinch in the waist and two gold necklaces to bring out the warm tones of the outfit. Finish everything off with some sandals and a straw crossbody bag.
What do you think?
What are your fashion must-haves for warm spring weather? What is your go-to spring piece? What's one clothing item you always wear when it gets sunny out? Let us know in the comments!