Get ready to see these looks all over Instagram: There are six popular spring trends that all the popular bloggers and influencers are loving. I thought it would be a nice idea to show y'all these popular trends as well as affordable dupes of them!
1. Bamboo Handbag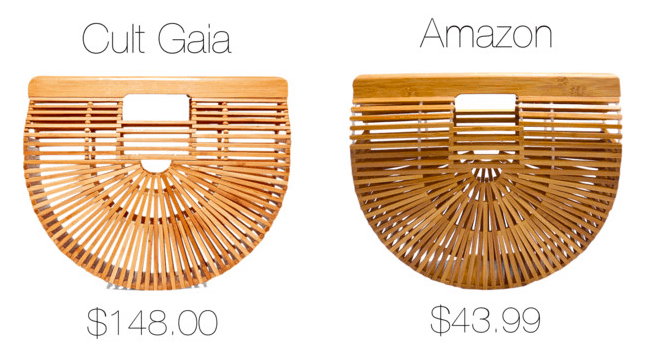 Products: Left – Shopbop, Right – Amazon.
This Cult Gaia bag has been all over Instagram for the last year or so! It's so chic and different and that is why it's so popular. The original bag, however, is expensive for a college girl on a tight budget.
This dupe from Amazon is almost IDENTICAL to the original but only a fraction of the cost! I purchased this for myself and it's definitely worth it. It's so cute for anyone trying to start a fashion blog or just follow some trends while staying on a budget. It's chic yet still functional and can look good with everything in your closet.
2. Espadrille Wedges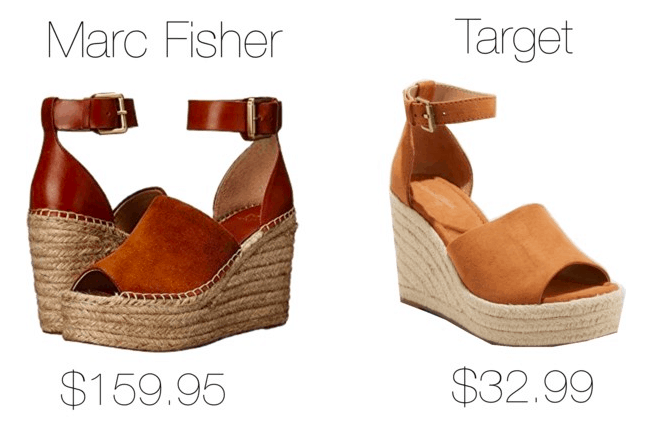 Products: Left – Zappos, Right – Target.
This next spring trend is perfect for college girls on a tight budget because it's so versatile — these wedges match almost anything. The Marc Fisher espadrille wedges on the left are so adorable but also so pricey! They're perfect for anyone looking for an investment piece so if that's what you've been searching for then go for it.
HOWEVER, if you've been doing the opposite, searching for a cheaper option that will still look amazing, this second pair of espadrilles from Target is a much better choice. (We actually styled them in our espadrille outfits post — check that out for an outfit idea!) They're great for a spring wedding or a sorority event. I purchased these myself for Easter and they did not disappoint.
3. Woven Mules.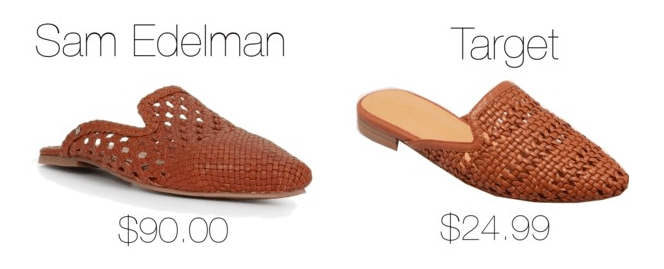 Products: Left – Sam Edelman, Right – Target.
This next accessory is another favorite! These woven mules by Sam Edelman have been all over Instagram lately. I've seen them in white as well, but I love this brown color. Woven everything is such a popular trend for spring (as you'll see in my next choice) and so I thought it would be great to mention these!
The more affordable dupes, again from Target, are still charmingly rustic while staying affordable. Since they are a deep brown color they will go with even the most colorful pops of color you wish to wear this spring!
4. Round Rattan Bag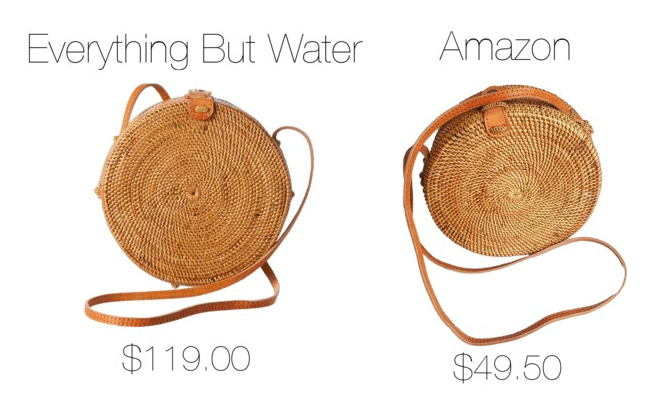 Products: Left – Everything But Water, Right – Amazon.
The next item I chose is this round rattan bag. I have been eyeing these bags for months and am so tempted to buy the dupe version above. The original is from Everything But Water (and adorable!) and the dupe is from Amazon.
This dupe from Amazon is incredibly cute. With a delightful paisley print on the inside it is a really cute bag that looks great with any look. Urban Outfitters also has a bag that's almost identical to these two for $59, another budget-friendly option.
5. Bow Slide Sandal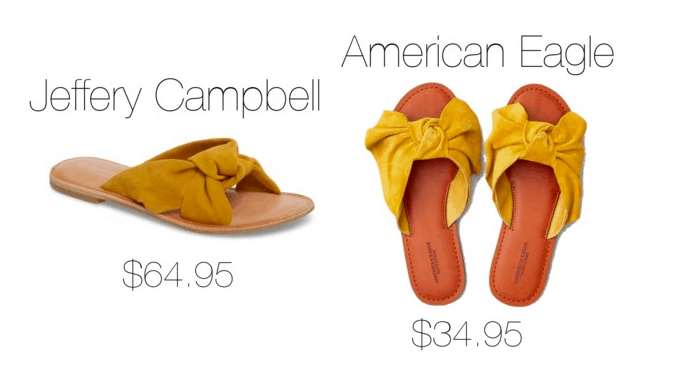 Products: Left – Nordstrom, Right – American Eagle.
This next dupe is my favorite of the bunch! I love mustard yellow and these yellow bow flats are honestly the cutest things ever. Can't afford the $65 Jeffery Campbell ones on the left? Don't fret! These American Eagle dupes are still adorable and a fraction of the cost.
This mustard color looks amazing with so many other colors as well as any monochromatic looks you wish to try. They're a total must-have. Also, these AEO flats have been on sale before, so definitely keep an eye on them — they may get marked down again!
6. Greek Sandals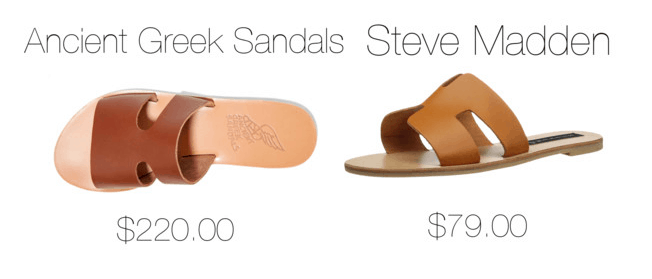 Products: Left – Net-A-Porter, Right – Amazon.
The last and final product dupe is this pair of greek sandals. These are a throwback style and a classic spring shoe. The original pair from Ancient Greek Sandals has rave reviews but so does the more affordable option from Steve Madden!
I heard that Forever 21 has an even cheaper pair that looks almost identical to this (I have seen an influencer post about them), but I wasn't able to find them online! If you want an even cheaper dupe option, definitely check out your local store.
What do you think of these spring fashion dupes?
Which of these fashion dupes is your favorite? Are you going to pick up any of these? As always, don't forget to follow @CollegeFashion on social media and tag us in any photos you have!