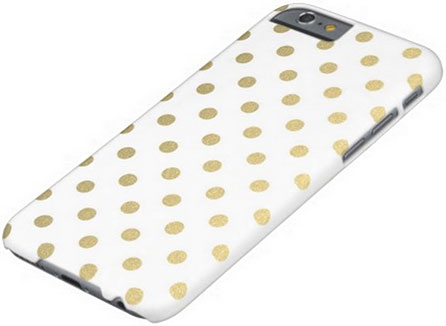 Gold Polka Dots iPhone 6 Case, via Zazzle
With the new iPhone 6 being released this Friday, iPhone fever is officially upon us. And what goes best with a brand new iPhone? A super amazing case, of course!
I'm upgrading my 4S to a 6 (so excited!), so I've been searching everywhere for a perfect case to pre-order. When I checked out Zazzle's iPhone 6 cases, I knew I would find the right one there. You can literally create ANY case you want and customize it to your exact specifications. Read on to learn more!
The Four Types of Zazzle iPhone 6 Cases

Zazzle offers four different types of cases for your 6, depending on how much phone protection you need.
The options are "Barely There" (slim, impact-resistant plastic), "Tough" (hard shell plastic exterior with shock absorbing liner), "Tough Xtreme" (ultra-strong protection from wind/rain, shock/drop, sand/dust, and vibration), and "Wood" (real wood case with a full wrap flexible bumper).
Cute Case Examples from Zazzle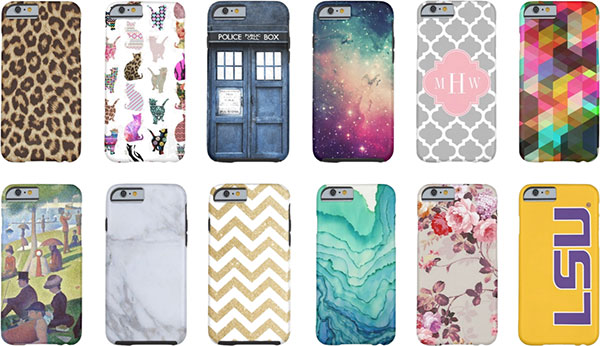 Top L-R: Leopard, Whimsical Cats, TARDIS, Galaxy, Monogram, Geometric
Bottom L-R: Seurat, White Marble, Glitter Chevron, Turquoise Ripples, Roses, LSU Logo
Here are some of my favorite pre-made cases I found on Zazzle.com. Each one of these is completely customizable – you can add your own text (or your own monogram, as in the monogram one), add extra images, and even change the colors on some. There are millions of options so you can create the perfect case for you!
Of course, if you want to get super creative, you can make a case with your own photo or graphic and they'll print it for you! This is a great option for sororities or clubs on campus, or anyone who wants a truly one-of-a-kind case.
Pre-Order Your iPhone 6 Case Now!
Want your own customized case ready when your new 6 arrives? Head over to Zazzle's iPhone 6 section and get creating today! Your case will ship as soon as the phone is released, by 9/26.
Disclosure: This post was sponsored by Zazzle. The opinions, as always, are our own. For more information, please see our Disclosure page.