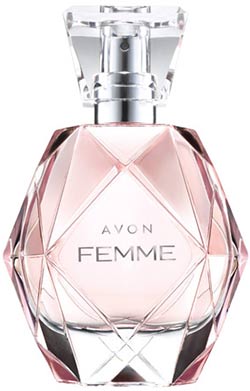 Avon Femme – $30 at Avon.com
With Mother's Day approaching, most of us are scrambling to find that perfect gift to show mom how special she is. In case you're stumped, we've got the perfect gift in mind.
To celebrate the holiday, our friends at Avon are launching a new social media campaign for their Avon Femme fragrance, a glam scent that's perfect for every CF reader and her mom.
About Avon Femme
Avon Femme is a glamorous and sophisticated signature scent, featuring notes of jasmine, magnolia, and amberwoods for a blend that's truly stunning and one-of-a-kind.
We were lucky enough to nab a tester bottle and we're obsessed – the scent isn't too overpowering but still has a glam vibe that's perfect for a fabulous occasion. The bottle (seen right) is absolutely gorgeous, too. (We always appreciate a stylish perfume bottle worth displaying.)
Overall, we think this scent is the perfect gift for every stylish mom out there, and it's awesome enough that you'll want to borrow it too!
Special Avon Femme Offer
The best part about all of this? You can get the perfume for less – yay! – using the following offer:
Get $5 Off Avon Femme Eau de Parfum Spray with code FEMME5. Offer expires 5/31/14. Direct delivery only.
Celebrate Mom with #MakesMeShine
To celebrate this fragrance and moms everywhere, Avon is asking you to get involved! If you'd like to participate in the Mother's Day campaign, get on social media and share a moment where you make mom shine using #MakesMeShine. We can't wait to read all of your responses!
Disclosure: This post was sponsored by Avon and the perfume was provided for free. The opinions, as always, are our own. For more information, please see our Disclosure page.