This post brought to you by Abercrombie & Fitch. All opinions are 100% mine.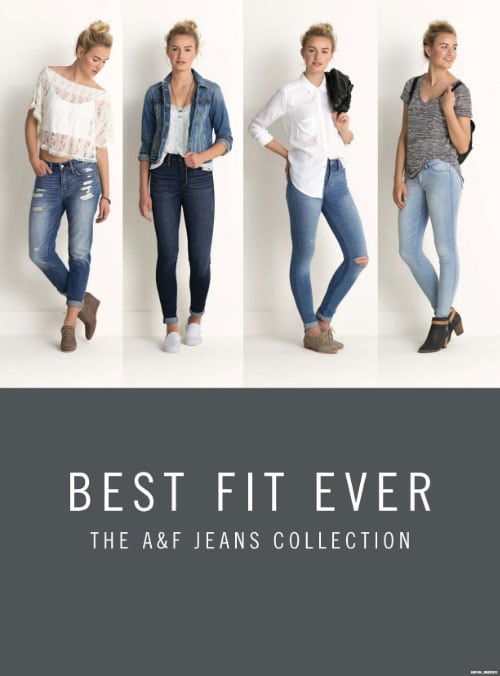 This week, I headed to Abercrombie & Fitch to check out their new jean collection and accept their challenge to find my Best Fit Ever. Armed with a gift card and the knowledge that you can get any jeans in store for $35, I was ready to find my perfect summer denim look.
My A+F Denim Shopping Experience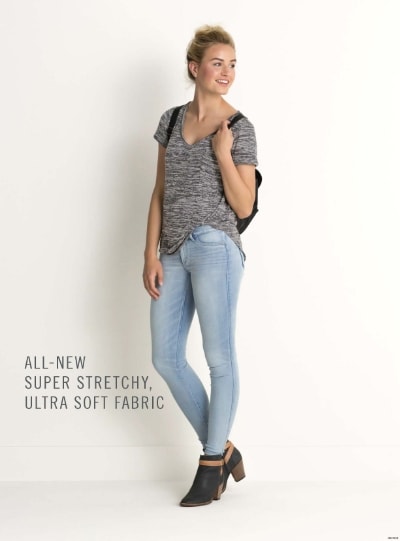 As I recently learned, Abercrombie has expanded their jean collection, offering a ton of different styles, with cuts including skinny jeans, bootcut jeans, boyfriend jeans, jean leggings, and jeggings, all in various washes and rises. I had also heard about the special back pocket placement, that was rumored to make your booty look extra perky, so I couldn't wait to see for myself what the buzz was all about.
To find my perfect fit, I grabbed a bunch of different pairs and hit the fitting room.
I started with the A&F Super Skinny in a dark wash – you can choose the length of your jeans, so I grabbed a long pair to cuff for a cute summer vibe. The jeans were stretchy, made of super-soft denim, and featured some cool whiskering.
I am a huge fan of boyfriend jeans, and I found a pair in a super light wash, almost white – ideal for the season! These jeans featured hand-done destruction which was really cool and had a super comfy, relaxed fit.
My perfect fit, however, was the A&F Jegging . In a medium wash that works for any season, these jeans have the right amount of stretch so they're comfy to wear all day but still look like jeans. Being able to choose the leg length, I opted for "S" to show off my flats and sandals. What really sold me on this pair was… dun, dun, dun, the fit on the butt. I loved what the pocket placement along with some strategic whiskering did for my booty!
Back to School OOTD Featuring A+F Jeggings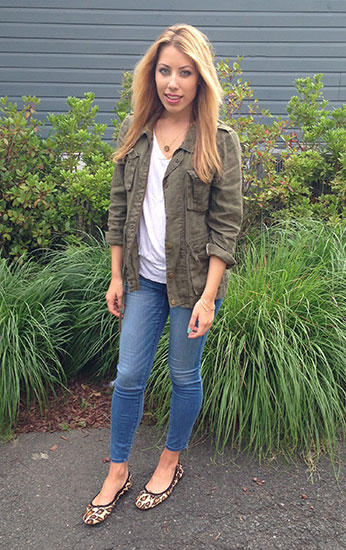 I styled my jeggings for a casual day by pairing them with some eye-catching leopard print flats, a simple white t-shirt, and a light army jacket. As I mentioned before, the ankle length shows off my footwear, in this case my favorite leopard print flats! If I were going out later, I would switch my flats and tee out for some heels and a cute blouse.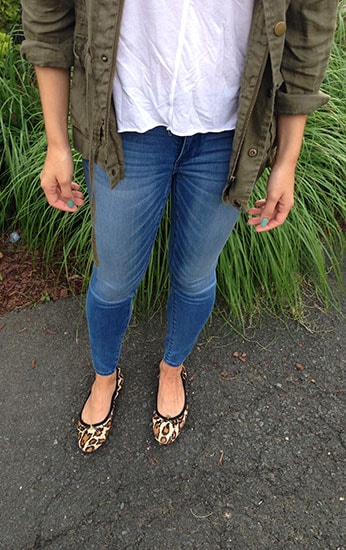 Close-up of the whiskering and wash.
While my jeggings appear to be very snug fitting, their stretchy material makes them easy to slide on and comfortable to wear and move around in. I'm so happy to have found my perfect fit!
Get Your Perfect Jeans at A+F for $35!
To find your perfect jeans, head to Abercrombie & Fitch and take advantage of their all jeans in store for $35 sale (note, this applies in store only) – you may find that you have not just one, but several perfect fits thanks to all the different styles available.
For more info on their new jeans and more,: Follow @abercrombie on Twitter, Follow @abercrombie on Instagram.
Disclosure: This post was sponsored by Abercrombie & Fitch and a gift card to the store was provided for free. The opinions, as always, are our own. For more information, please see our Disclosure page.