Every girl knows that you can't have too many dresses. This week's Fabulous Find gives you another dress to add to the collection, at an incredible price. Plus, it's in a fall-perfect color, a pretty raspberry pink.
You guys are going to love this one! It's so pretty and can be styled a million different ways.
The Dress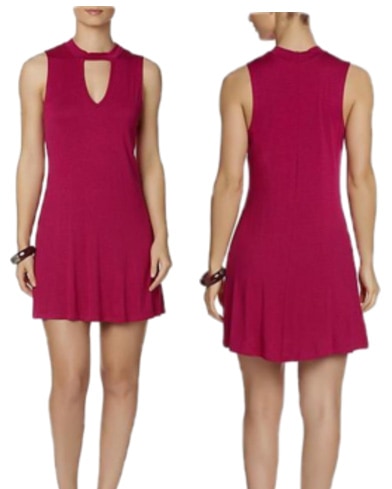 This stylish dress can be found at Kmart for just $12.00! It features a pretty skater dress shape and a cute little mock neck detail. In addition, it's also available in black. You seriously can't go wrong with a dress this versatile and inexpensive.
Need some styling ideas? Below, we'll show you three stylish and inspirational skater dress outfit ideas to try.
Raspberry Pink Skater Dress Outfit Idea 1: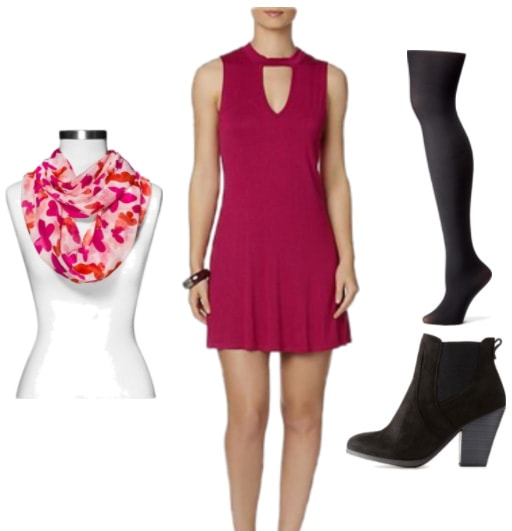 Products: Dress – Kmart, Booties – Charlotte Russe, Tights – Old Navy, Scarf – Target
Fall is quickly approaching and it's good to have a few easy transitional outfits planned for when those first chillier days hit.
This cute dress is a great fall pick, as its color pops but it's still subtle enough to wear with just about any combination of neutrals that you have in your closet.
Stay warm without breaking a sweat by adding a scarf and tights — they'll keep you toasty when the fall winds blow. The butterfly scarf brings out the hot pink color of the dress while the bottom half is toned down with dark tights and booties.
This outfit can comfortably be worn in any circumstance, but I love it for wearing to class in mid-September.
Raspberry Pink Skater Dress Outfit Idea 2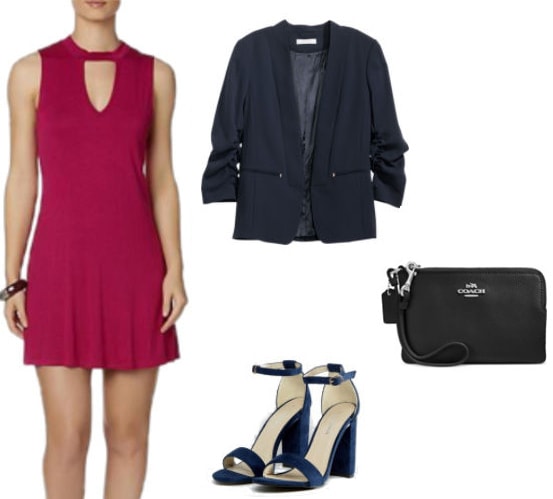 Products: Dress – Kmart, Heels – Asos, Wristlet – Macy's, Blazer – H&M
This outfit is a super cute, sophisticated way to style a skater dress — it would be great for a night out to dinner with your parents or some friends.
The navy blazer and single-strap heels are wardrobe staples that go perfectly with one another. The Coach wristlet gives that sophisticated look while still allowing you to keep your essentials nearby.
Raspberry Pink Skater Dress Outfit Idea 3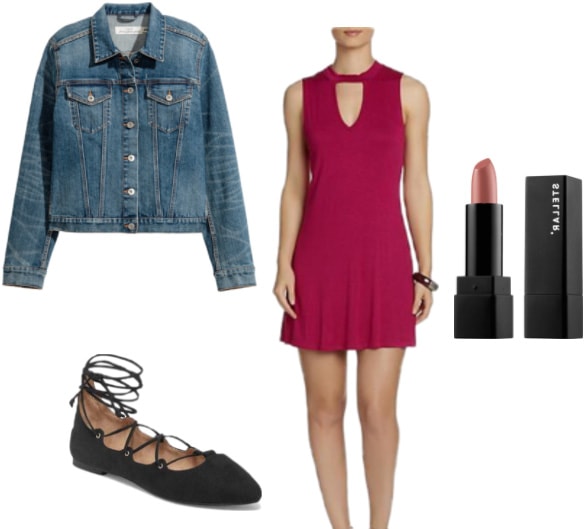 Products: Dress – Kmart, Flats – Old Navy, Lipstick – Sephora, Denim Jacket – H&M
Our final skater dress outfit idea is both laid back and girly, a perfect combination for brunching, shopping, or class at the end of summer. I love the look of a skater dress with an oversized denim jacket, so I mixed the two here. I also made sure the outfit was comfy, in case you have a long walk to class or a full day ahead of you.
The strappy flats are a super cute accent and the lipstick is simple, pretty, and doesn't clash with the color of the dress.
How do you style a skater dress? Do you have any tips?
How do you wear your skater dress? Do you dress it up, down, or make it a professional? We'd love to hear about your skater dress style below.