This post may contain affiliate links, which means we may receive a commission if you purchase through our links. Please
read our full disclosure here
.

I still remember the first item I ever bought online- an Erin Fetherston for Target red heart purse. Back in the fall of my senior year of high school, I still lived in an area with 5-6 malls in a 30 mile radius. That next August, I moved to college, where the one mall in a 50 mile+ radius didn't have a Wet Seal, Nordstrom, Urban Outfitters, or a Sephora! Plus, I came from a school with uniforms, which meant that I owned absolutely no clothes that weren't from the 8th grade. Thankfully, after working (and saving) for over a year as your friendly barista, I amassed enough money for a new wardrobe.
Point is, I online shopped a lot-and still do. This new series is all about how to shop online with different retailers- if you thought they were all the same, you are in for a surprise!
However, for the first part in this series, I'm going to outline the basics of shopping on the internet, and show you some tips on how to get what you want while shopping from home.
1. Avoid impulse buys – set a budget and stick to it!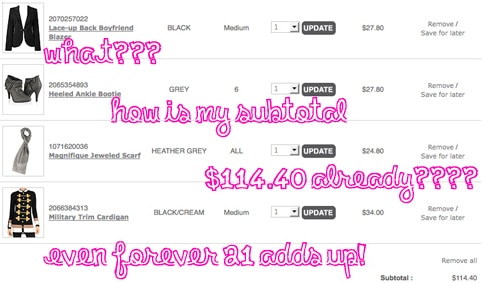 When you're shopping in a store and pick up a top you like, you have a lot of time from waiting in line for a fitting room, trying it on, looking for other items, waiting in line and finally paying to decide whether you want an item. When you shop online, you pick something out and can have it shipped it to your dorm room in the span of five minutes.
That's why you have to give yourself a budget when you shop online– whether it's a set number of tops you're going to buy or a dollar amount you're willing to spend. A few clicks at your favorite retailer can end up in a few hundred dollars of merchandise!
If you really want to avoid impulse shopping, put the items you think you want in your 'bag' and wait a few hours, or even overnight to see if you really wanted those items. More often than not, you'll realize that those faux-fur shorts won't really be a 'transition' piece and those $5 neon orange kitten heels might not go with your entire wardrobe.
2. Know what to buy online and what to buy in stores.
From my own experience, here is what to buy in real-life: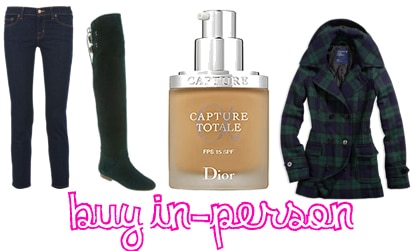 Jeans from a 'new' brand– Every pair of jeans fits differently. If you really want to buy a pair of J Brand skinnies, go into a store and try them on. Then if there's a better deal online, buy them there. You won't have to go through the problem of buying a pair that doesn't fit and having to return them!
Boots- We all have different sized calves. Buying a pair of Steve Madden boots that look cute online might mean you end up with boots that come to an awkward length on your shin or might not fit your calf. You'll definitely be able to get away with buying ankle boots online, but I would strongly encourage you to try an over-the-knee boot in person.
Expensive makeup you haven't tried- Although everyone in the world might say NARS' Deep Throat is the best color ever, don't go buying it online without trying it on first. Ditto for perfume!
Winter Jacket- A winter jacket is definitely an investment piece and you want to make sure it fits perfectly and looks amazing, especially if you live in a cold climate where you'll be wearing this daily.
Things to buy on the internet: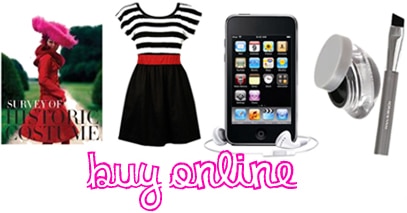 Textbooks- Buying textbooks online is usually so much cheaper than at your college bookstore. You can use Amazon, eBay, Half.com, or my personal favorite, Chegg.com to save some serious cash.
Clothes- This is an obvious one- but buy your clothes online if they don't have the style you want in stores. For example, I love PacSun jeans but they sometimes don't have the style/wash that I want in my size. Basically, if you know what you're looking for and know your size in that particular item, click away!
Electronics- Electronics are expensive, but they can be much, much cheaper online. Verizon, for example, gives great discounts on phones bought over the web. An 8 gigabyte 3rd generation iPod Touch will cost you $199 through Apple, but can be found online for around $170. And, since electronics are so costly, you'll almost certainly get free shipping.
Drugstore makeup- My local CVS is perpetually out of stock in the beauty aisle, especially, it seems, in the colors I want. Since I don't have a car, I can't just pop into Walmart for my hair & beauty needs. Since you can't try drugstore makeup anyways, try buying it on the internet. Sites like drugstore.com, walmart.com and walgreens.com have all the shades and brands you want, and often have nice free shipping deals!
Of course, there's always a gray area, especially with items like jewelery, shoes and purses!
3. Use coupon codes and rebates to get deals.
Every Friday here at CF, we post a list of the best coupon codes and online sales for all the most popular stores among college girls. From Sephora to Nordstrom to Urban Outfitters, we list the best deals for each in our Coupons & Sales list. Checking that list first can save you tons of money on clothes, shoes, accessories, and cosmetics.
If you're shopping for something other than fashion or beauty products, here are some other non-CF resources that can help you save a buck on your purchase:
RetailMeNot – Perfect for when you're shopping at a smaller online store or retailer that you don't shop at often. RetailMeNot lists all the user-submitted deals for a certain store, and even tells you if a coupon code is still "working" or not.
Student Advantage – A special discount card just for college students, the Student Advantage card will save you money everywhere from Target to Urban Outfitters and even Aldo, plus many more stores! You can even save on your spring break trip when you have this discount card.
Ebates – You can get from 2-4% cash-back on your online purchases when you sign up for an Ebates account and complete your online transaction in a special Ebates window. Even better, it's free.
What do you think?
These are some basic hints to help you with online shopping at any store. Next time, I'll be giving you tips about shopping at Forever 21.com! But in the meantime, what other general tips do you have for online shopping? What stores do you want to see profiled? Tell me everything in the comments!