This post may contain affiliate links, which means we may receive a commission if you purchase through our links. Please
read our full disclosure here
.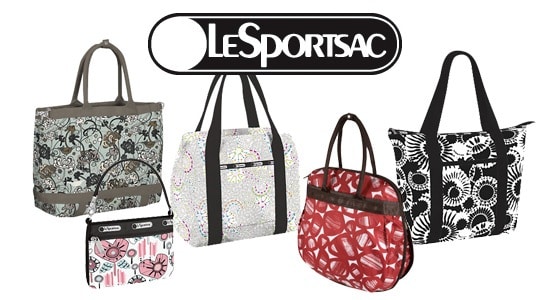 Here's a hot product you might want to know more about. The amazing people at LeSportsac were kind enough to let me check out one of their bags recently, and the following is my review.
Having never owned a LeSportsac bag before, I had no idea what all the fuss was about. I knew about their collaborations with Stella McCartney, Gwen Stefani, and Tokidoki, but beyond that, I really didn't understand the hype.
Pros
My thoughts about the brand changed when I received my bag (mine is the same style as the white patterned bag above, only in a black and gray floral pattern.) Here are some of my favorite things about the LeSportsac purse I tested out.

Lightweight material. One of my favorite things about the bag I received was how lightweight the material was, which is great if you're like me and love to carry lots of things in your purse. As someone who normally carries a leather or faux leather bag, the difference in weight between that and a LeSportsac purse was huge!

Mostly waterproof. Second, the lightweight nylon material makes a LeSportsac bag much more waterproof than the average leather or suede bag. Nice if you're caught in a rain storm without an umbrella and don't want to ruin your purse and everything inside! This was a definite plus for me, and made me carry the bag more often than my other purses.

So many styles to choose from. Another great thing about LeSportsac bags is that you have many options when it comes to colors and patterns! There are so many styles of bags, and about 10 different colors to choose from for each. You can customize any bag to look the way you want, so you'll have a personalized look.
Cons
On the other hand, no purse is perfect, and there were a few things I didn't like about the LeSportsac bag. Here are the things I didn't like about it:

Lack of structure. The purse I tested out was not very structured, which I didn't like. Structure is definitely something I look for in a bag, as structured purses look much more chic than floppy bags. It's nice to have a bag hold its shape whether it's full or not, and the thin nylon simply didn't hold up unless it was stuffed.

Not so versatile. In general, the bags are not very formal, so don't expect to carry one to work or an interview. They're perfect for going to class and hanging out during the day, but most are not appropriate for night. To be fair, LeSportsac does offer some smaller purses in patent leather fabrics, so those would work better for nighttime than the nylon bag I tested.
My Overall Opinion
Overall, I liked the LeSportsac purse I reviewed, and would recommend the brand for any college girl who wants a simple, stylish, well-made bag for everyday.
If you'd like to test out a LeSportsac handbag of your own, prices start around $50 at LeSportsac.com.