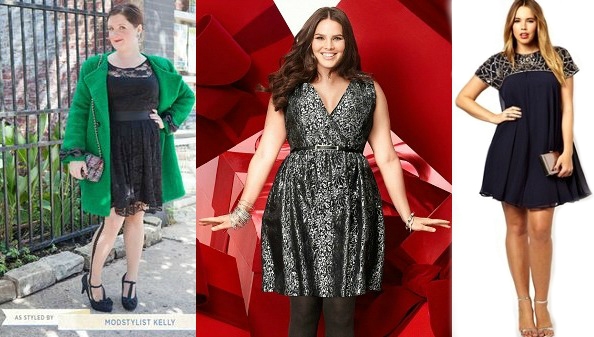 (L to R) 1. Modcloth, 2. Lane Bryant, 3. ASOS
Holiday/New Year's Eve party season is right around the corner, which means it's time to start looking for a fabulous holiday dress (or two!).
Personally, I've always had an issue finding the perfect dress, but I've come up with a list of my top five trusty stores that I know I can always count on to snag cute plus-size holiday dresses that are still fairly budget-friendly. Read on to check out all five of my picks:
1 & 2. Modcloth & ASOS Curve
Hands down, my top two favorite stores for holiday dresses are ModCloth and ASOS Curve. I've found they have the best variety and styles to choose from.
ModCloth has amore vintage style while ASOS carries trendy and modern frocks, but what I love the most is that a majority of the dresses at both stores can be dressed up or down to fit the occasion.
Moreover, if you're looking for an adorable daytime party dress, I would suggest picking one from ModCloth, but if you're looking for an edgy and cool nighttime party dress, go for one from ASOS.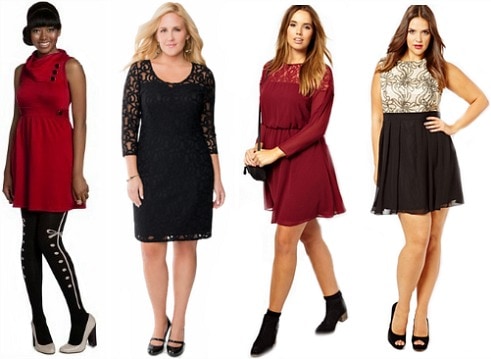 (L to R) 1. Modcloth, 2. Lane Bryant, 3. ASOS, 4. ASOS
3. Lane Bryant
Is it any surprise that Lane Bryant is on this list? Probably not.
While some of their dresses are crazy expensive, they do have some really cute and decently priced ones. I think LB does a fantastic variety of short, fancy, and sparkly dresses that are festive without being too over-the-top.
That said, their selection is usually extremely limited, especially in stores. However, if you can grab a holiday dress from LB, go for it! The quality is great, so you'll have a dress that you can wear for years to come.
4. Torrid
Torrid is quite similar to ModCloth when it comes to their party dress selection; their dresses are more likely to fit a daytime party, but they do have a few adorable evening dresses, too.
From floral to stripes to polka dots, Torrid tends to carry a wide variety of prints since their target audience is a younger crowd. Because of that, if you're looking for a fun holiday dress, Torrid is the place for you.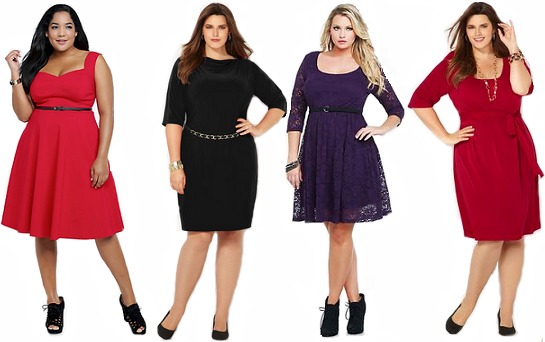 (L to R) 1. Torrid, 2. Avenue, 3. Torrid, 4. Avenue
5. Avenue
If you're looking for a dress for a work/internship holiday party or even a daytime party, I'd highly suggest Avenue. Since they tend to cater to an older audience most of their dresses are on the more conservative side, but these frocks are still stylish and cute
Here's a tip: jazz up one of the Avenue dresses with glam accessories and maybe even a headband for a fancier look! Accessories are everything.
What do you think?
Which are your favorite stores to find plus-size holiday dresses? Which one of the holiday dresses pictured above is your favorite? Let me know in the comments!