This post may contain affiliate links, which means we may receive a commission if you purchase through our links. Please
read our full disclosure here
.
Jessica Alba, Sienna Miller, Lauren Conrad and Emma Watson strut in style at the airport (Photo Credits)
Winter break is wrapping up for most College Fashion-istas, which means it's time to travel back to campus. Next time you're at the terminal and waiting on yet-another delayed flight, take a look around and check out your fellow travelers. You'll likely see baggy sweatpants, worn Uggs, bulky hoodies and unkempt hair. It's true that comfort is key, but do we need to look like we rolled out of bed when boarding flights or heading on a road trip?
Fashionable clothes can be just as comfy as lazy sweats, so take a cue from chic celebs and hit the airport in style. Here are three travel outfits that are both easy to wear and easy on your wallet (under $100 total):
Outfit #1: Forget the Sweats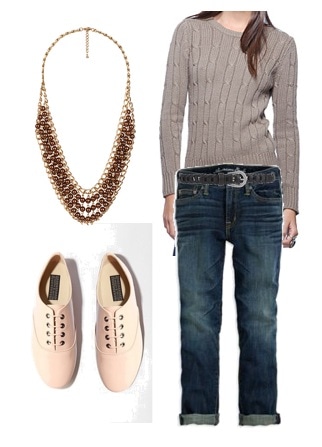 Product Info:Necklace, Sweater, Belt, Jeans, Oxfords
Sweats are comfy; that's why people wear them, right? Well, loose-fitting boyfriend jeans and a soft top can be just as cozy as your favorite gym clothes —but they're infinitely more stylish. Why look like you're wearing pajamas in public when you could be the most fabulous traveler in the terminal?
The key to wearing loose jeans like these is balancing the proportions of your outfit. If you go loose on the bottom, wear a slim top. To ensure you don't look too bulky, particularly at the hips, tuck the top in and add a thin belt through the jeans' loopholes. For an extra bit of glitz, top off this casual outfit with a statement necklace.
Outfit #2: Polished Jet-Setter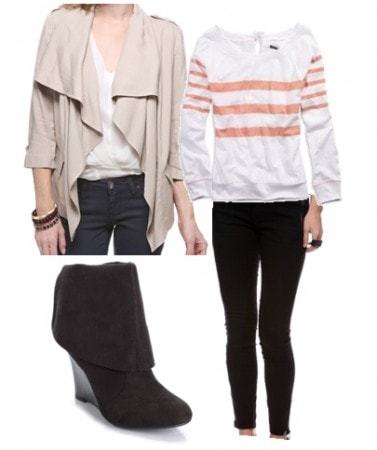 Product Info:Blazer, Top, Jeans, Wedges
The secret to looking polished on the go: Wear separates that look dressy but are actually comfy. The stretchy black jeans and laid-back top in this ensemble make a cute, albeit casual, look, but when you add a cotton blazer and walkable wedges, the outfit instantly becomes more polished. Wedges are easy to walk in, but they still offer a bit of height and glamor so you can feel like a star as you strut through security.
Outfit #3: Feminine Flight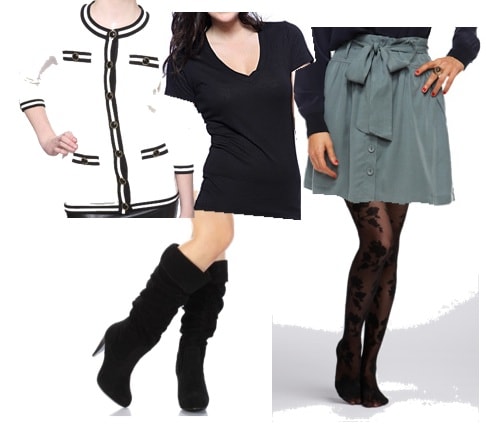 Product Info: Cardigan, Shirt, Skirt, Tights, Boots
The combination of this classically cut cardigan (an homage to Chanel jackets), this flattering A-line skirt, and a touch of frilly lace will have you looking girly at the gate. Whether you're flying two hours or twenty, there's no reason you can't feel feminine and sophisticated. This skirt is neither too short nor too tight, and paired with hosiery, it's as comfortable as wearing your favorite jeans or leggings. Layering a cardigan over a basic v-neck also offers some flexibility if you're traveling to a destination with a different temperature.
What do you think?
Are you traveling back to school or on a vacation? What do you plan to wear on your next trip? What do you normally wear while traveling? Do you like these outfits? Please leave a comment!