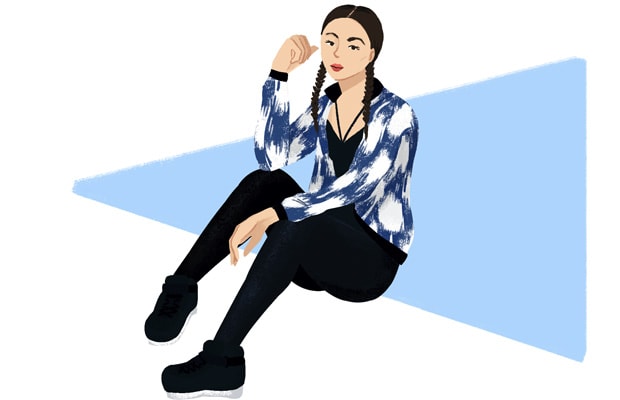 Personal style is something that is always changing. I haven't quite nailed down any defining category that I resonate the most with, so it's helpful to look through a wide variety of styles for inspiration. This week's Outfits Under $100 features three affordable street style outfits for a quick look at just one of the many styles out there. For different takes on that model-off-duty edgy chic look on a budget, keep on reading!
Edgy Bomber Jacket – $98.69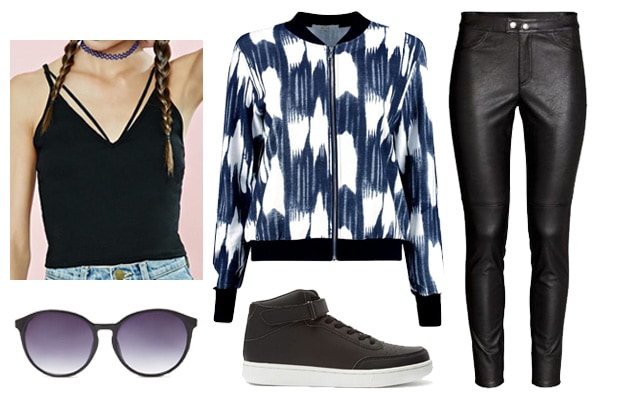 Products: Top, Sunglasses, Bomber Jacket, Sneakers, Pants
One recurring item in street fashion is the bomber jacket. Its unique cut gives it more personality than something more streamlined, and bomber jackets can come in a variety of interesting prints. The base of the outfit is entirely black and gets extra edge with the addition of cool straps and faux leather pants. Adding a colorful bomber jacket brings the attention there. Finish off the look with some high-top sneakers (for function and fashion) and sunglasses.
Chic Graphic Tee – $97.58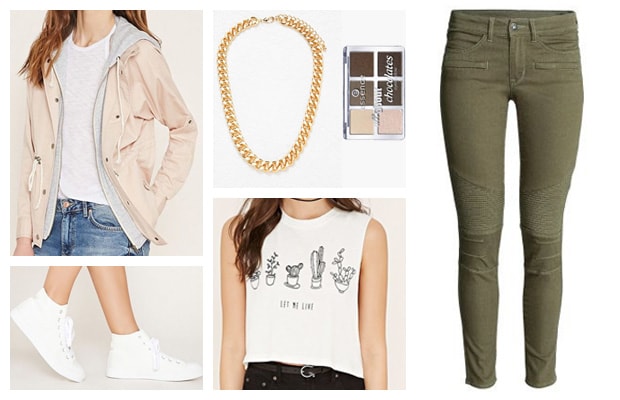 Products: Jacket, Sneakers, Necklace, Eyeshadow Palette, Tee, Pants
Street style isn't entirely about all-black edgy looks. The main goal is to mix form and function. One great way to do that is through accessories and makeup. A graphic tee and some simple pants can be enhanced with a bold necklace and smokey eye shadow. This hooded jacket will keep you warm on cooler spring days, but has a nice layered effect to help you seem more coordinated. I love white sneakers for their ability to be simultaneously bold (striking white) and plain (neutral colored sneakers).
Stylish Sweatshirt – $97.89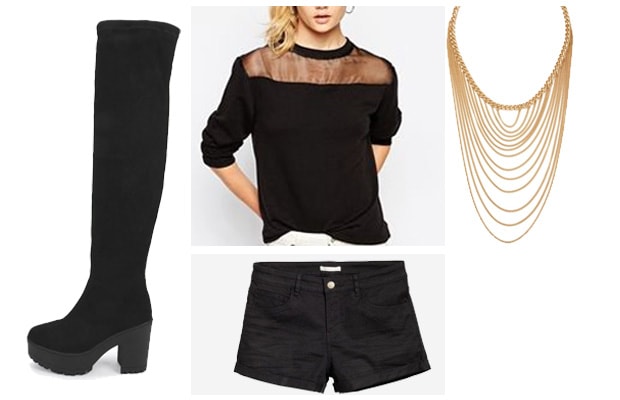 Products: Boots, Sweatshirt, Shorts, Necklace
Baggy sweatshirts feature often in street style looks this season. It's easy to see why: I mean, sweatshirts are comfy as heck. If you want to make a sweatshirt look ultra fashionable, seek out options with interesting textures, like this mesh-embellished one. Balance out the bagginess of a sweatshirt by making the rest of your outfit form-fitting. Shorts and over-the-knee boots are an interesting combo that can potentially turn your sweatshirt into a dress. Add a statement necklace and some winged eyeliner to pull the look together.
What do you think?
How do you define street style? What outfit is your favorite? Do you want to see any other style types covered in Outfits Under $100? Leave your suggestions and comments down below! I love reading your feedback.