This post may contain affiliate links, which means we may receive a commission if you purchase through our links. Please
read our full disclosure here
.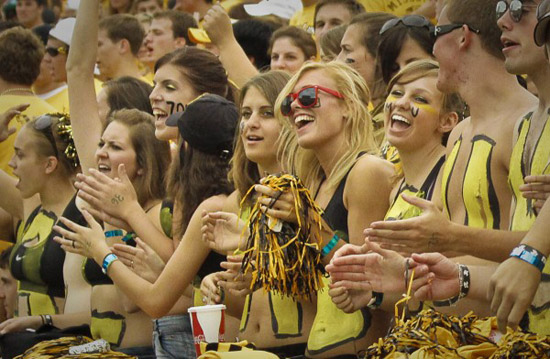 When Saturday hits, packed stadiums at colleges around the country will be roaring with the vivacious cheers of loyal fans. That's right… Football season is officially upon us! For a stylish college gal, football Saturdays prompt another question besides "Where to tailgate?" and "Will the team win?" —"What should I wear?"
This post offers up some tips on how to dress for football games with school spirit and style, while on a budget. With these pointers and suggestions, you'll be hard-pressed to find an excuse for looking frumpy when you're heading to the field.
Kick off the football season in style with our tips:
Tips for What to Wear to College Football Games

Don't limit yourself to team gear.
There's lots of great school-branded clothing out there, but why limit yourself? You can wear your favorite clothes to games if you find them in your college's colors. This opens up your options to shopping at any store, so instead of spending $20 on a tired "Insert-School-Name-Here" shirt, you can invest the cash in a cute top that you could wear to the game, or to class, or out for the night. Also, open yourself up to more options than t-shirts and jeans — sundresses, camisoles and skirts make for comfy and classy game gear, too.

Go with the customs of your school, but don't be a slave to fashion.
While researching this article, I came across a photo of girls tailgating — all of them were wearing heels! While at many schools it's customary to dress up nicely for games, I would never advise being a slave to fashion. Most sporting events are hard to navigate in heels, so if you're not comfortable in them, don't hurt yourself. If you want some height, wedges are a comfortable option.

Don't be afraid to express your personal style.
When you're in a crowd of students dressed in the same colors and rooting for the same team, it can be easy to get lost in the mix. But that doesn't mean your style needs to get lost in the crowd, too. Combine your favorite accessories, shoes and clothes with school spirit and you'll be the most stylish girl at the game.

Can't find what you want? DIY.
Don't be afraid to get creative and do-it-yourself if you can't find a game-worthy dress or top. With just a couple t-shirts and some sewing talent, you could fashion yourself an adorable dress and a fashionable strapless or one-shouldered top (or a couple of t-shirt scarves!). Don't let the team store limit your style.

Don't forget accessories!
No outfit is complete without the right accessories. Find cute fashion jewelry — like plastic bead necklaces or hoop earrings — in your school colors at mall stores like Forever 21, or check out your local team store for face decals and mini pom-poms.

Look for team gear in updated cuts, flattering fits and cool styles.
No longer are ladies limited to bulky (and boring) tees, sweatshirts and jerseys. Today, you can find new sportswear brands specifically targeted to fashionable female fans. (Check out the outfits below from some of our favorite pieces from these brands!)

Heat wave? Don't forget sunnies, sandals and sunscreen!
The football season spans end-of-summer heat to end-of-fall chills. (And some schools are lucky enough to have sunny skies year round!) When it's hot out, you don't want to forget sunglasses, sunscreen, and the best summer footwear, sandals.

Chilly outside? Find cute cold-weather accessories in your team's colors.
When it turns cold, you want to bundle up so the game isn't spoiled with shivers and numb hands. I recommend scarves, mittens, and even cute earmuffs in your team colors. As always, you can find these at your team's store or just buy them in your team colors elsewhere!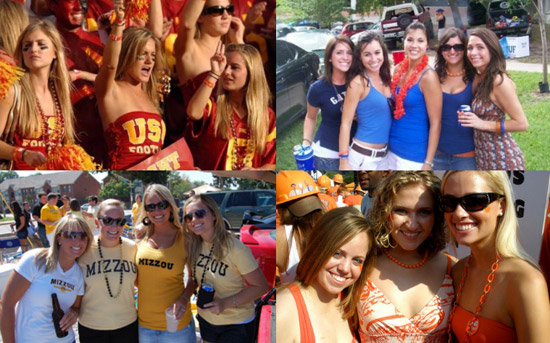 (Photo Credits: USC, University of Florida, Mizzou, Clemson)
Outfit #1: Casual Cool
Example School: University of Southern California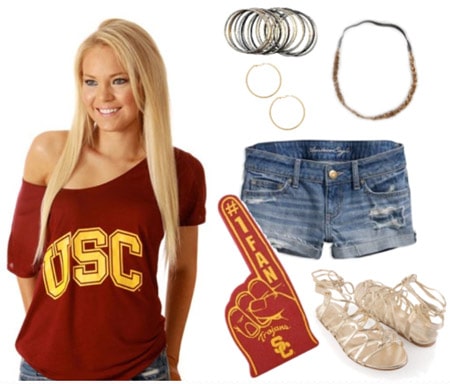 Product Info:Top, Bangles, Hoop Earrings, Headwrap, Shorts, Foam Finger, Sandals.
Outfit #2: Sexy and Spirited
Example School: University of Texas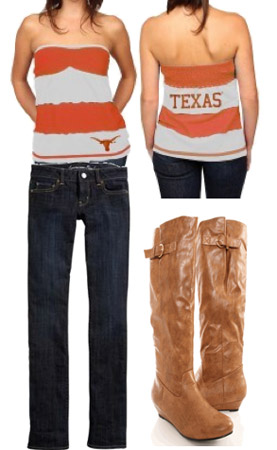 Product Info:Top, Skinny Jeans, Wedge Boots.
Outfit #3: Fancy Fan
Example School: Ole Miss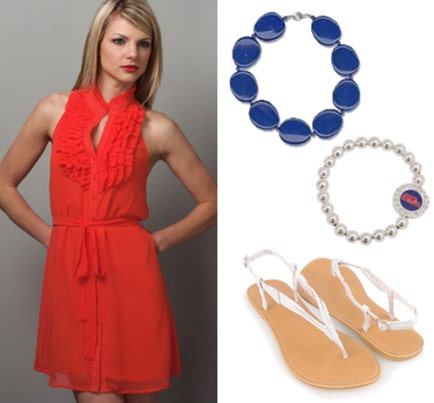 Product Info: Dress, Necklace, Bracelet, Sandals.
More Football Finds Under $50:

Product Info (L-R): Auburn Shirt, Tennessee Cardigan, Illinois Hoodie, Iowa Jersey.
What do you think?
How do you like to dress for football games? Which of these outfits is most like your school's football style? Do you have any suggestions for football game attire? Please leave a comment! Thanks for reading.