This post may contain affiliate links, which means we may receive a commission if you purchase through our links. Please
read our full disclosure here
.
As most of you know, Valentine's Day is a week from today. Whether you love it or loathe it, Valentine's Day is a great day to rock a stylish new outfit! So this week I'm featuring three cute Valentine's Day-inspired outfits that each cost under $100.
Even if you don't have a special someone to share your Valentine's Day with, don't let that stop you from having fun. Go do something special with people you care about – and don't forget to dress up!
Outfit #1: Fancy Night Out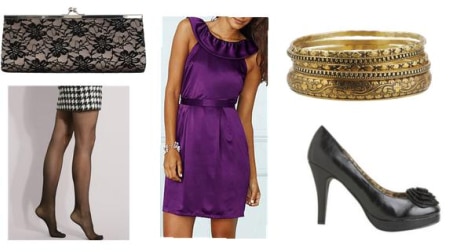 Product Information: Clutch- Forever 21, Tights- ASOS, Dress- Alloy.com, Bangles- Forever 21, Pumps- Wet Seal
Outfit Total: $92
This look is perfect for going out and eating at a nice restaurant or attending an equally glamorous event. Red and pink dresses are so common for Valentine's Day, so why not try a luxurious purple one instead? Add some tights for warmth, then slip on classic black pumps with an adorable flower detail. Accessorize with a lacy clutch and glittery gold bangles and have fun on your night out!
Outfit #2: Casual Night Out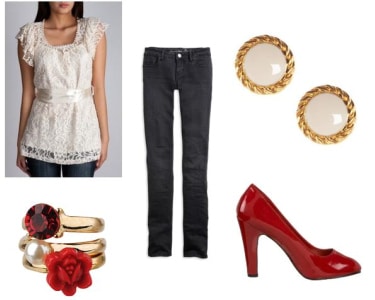 Product Information: Shirt- Charlotte Russe, Rings- Forever 21, Jeans- AE, Earrings- ModCloth, Pumps- Endless
Outfit Total: $90
This outfit works if you are going somewhere casual on Valentine's Day, such as a movie, a bar, or an informal restaurant. Lace shirts are trendy right now and add a romantic look to the outfit. Pair it with some simple black jeans to keep the look dressed-down. Add a pop of color with these great red heels. Continue the red motif with rose-embellished rings and finish the outfit with these adorable earrings.
Outfit #3: Comfy Night In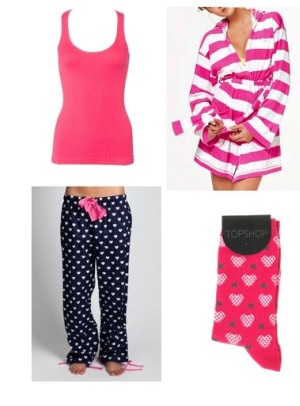 Product Information: Tank- Charlotte Russe, Pajama Pants- Charlotte Russe, Robe- Victoria's Secret, Socks- TopShop
Outfit Total: $80
Who says you need to go out on Valentine's Day? It's no big deal to stay in on V-Day, especially since it falls on a Sunday this year. Stay in and watch movies in this outfit, if only to show off these adorable pajama bottoms! I paired them with a classic pink tank top for a little bit of V-Day spirit. Throw on a comfy robe and warm socks, then go cuddle up with someone special.
What Do You Think?
Are these outfits worth the money? What do you wear on Valentine's Day? Do you like wearing the traditional red and pink or do you wear something different?
Also, tell me your plans for Valentine's Day in the comments!