This post may contain affiliate links, which means we may receive a commission if you purchase through our links. Please
read our full disclosure here
.

It's the eternal struggle we all face every weekend in the fall – what the heck do I wear on game day? On one hand, you want to support your team and rock their colors; on the other, you still want to express your style. And that's not to mention stadium handbag size restrictions, which further complicate everything.
Today, we're excited to introduce you to the perfect solution for your game day style woes – Lauren Farrell NY bags, specially designed with the stylish sports fan in mind. You can express team spirit without losing your sense of style – these bags make it possible.
Read on to learn all about these gorgeous bags and where you can get your own!
About Lauren Farrell NY Bags
Lauren Farrell NY (LFNY) is the first company to offer fashion-forward game day handbags in stadium-friendly sizes. As you probably know, there are major restrictions on the kinds of bags you can bring into football stadiums, particularly in NFL stadiums and large college stadiums.
The NFL in particular mandates in their bag rules that you can either bring a clear PVC bag or ziplock bag to hold your items (yeah, no thanks) OR a small handbag with sizes not to exceed 6.5 inches x 4.5 inches. Lauren Farrell's bags are exactly the allowed small handbag size, making them perfectly suited for game day.
Lauren Farrell's bags are crazy stylish and come in tons of colors to match your team (see the photo above). They are crafted out of super high quality Italian leather and include a chic chain strap for mega style points. For versatility, they can be worn cross-body or over your shoulder, and have room for a phone, credit cards, an ID, and a lipstick.
Needless to say, we're obsessed with these. These aren't cheap fast-fashion bags: They're super high quality and made to last. If you want to pick one up, visit Lauren Farrell's website to shop the collection.
Get More Game Day Style at The Fashionable Fan:
A subset of the Lauren Farrell NY (LFNY) brand is the company's blog, The Fashionable Fan.

The Fashionable Fan is a lifestyle blog for sports fans that also love fashion – it combines the two worlds by offering game day-inspired looks, tailgating recipes, DIY projects, and more. It's the perfect blog for stylish sports fans. Check it out here!
More on Lauren Farrell NY:
For more info or to shop these bags, visit Lauren Farrell's website, and follow her on Instagram @Laurenfarrellny.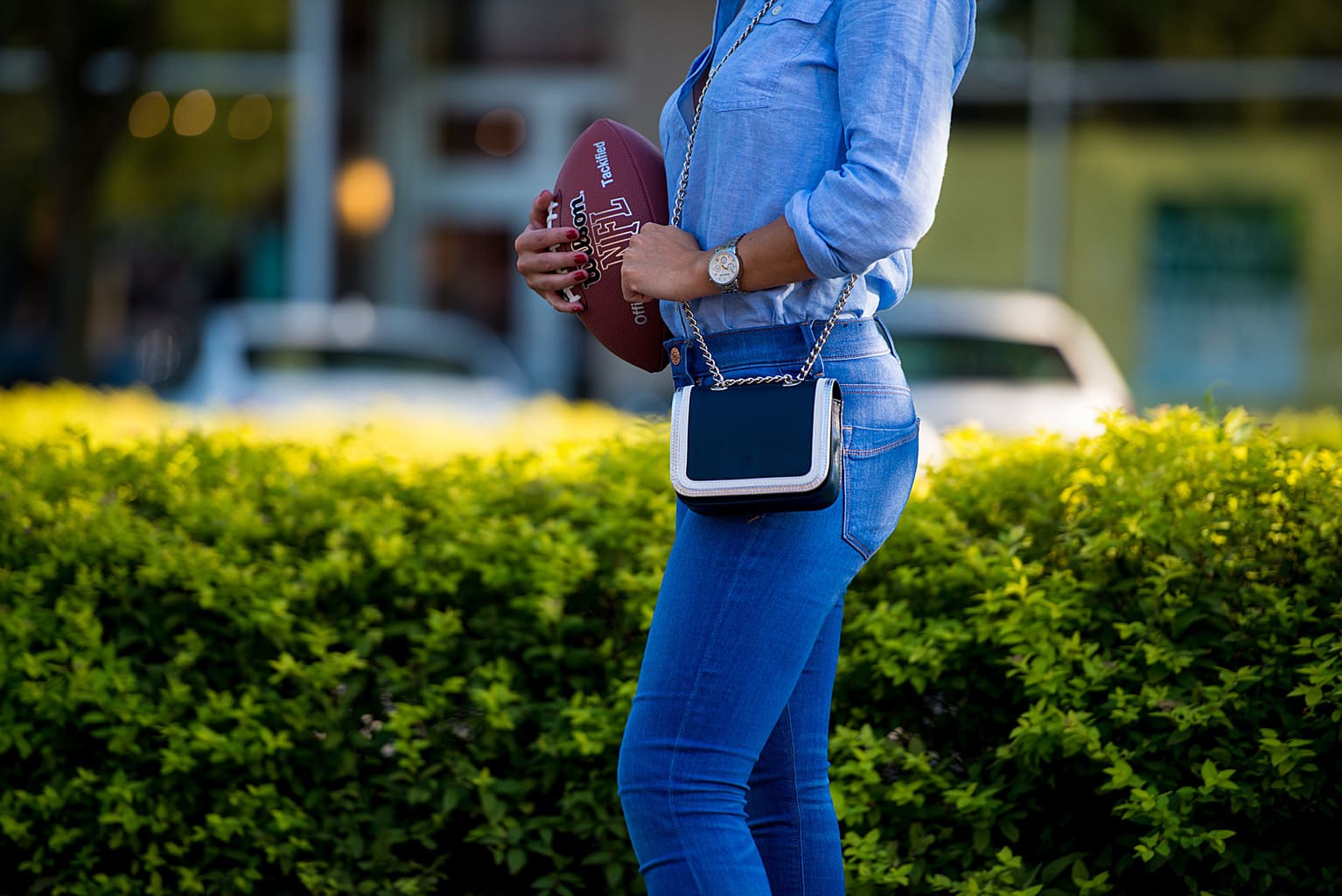 What do you think?
How do you stay stylish on game day? Are you loving Lauren Farrell's bags as much as we are? What are your school's colors and how do you style them into a look? Let us know in the comments.
Disclosure: This post was sponsored by Lauren Farrell. The opinions, as always, are our own. For more information, please see our Disclosure page.