Hey girls! How is everyone doing? I hope your final exams are going well. My schedule is SO hectic and I dream of the days when I was getting more than 3 hours of sleep. (Who else can relate?)
Since I am dreaming of summer days, for this week's Fabulous Find I have found the perfect flip flops!
I know what you're thinking: "Everyone has flip flops. What makes these so special?" To that I say, check them out: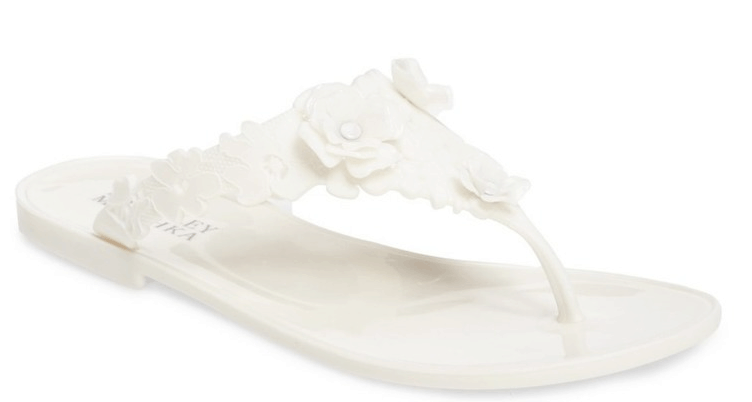 These gorgeous flip flops are by the brand Badgley Mischka. They have a stunning floral pattern that is perfect for the spring and summer, but is also nice and subtle.
The white color is perfect for summer too. I know people often say that buying white shoes is a bad idea because they get dirty so easily! But because these are jelly shoes you can wash them so easily and they'll look new forever.
Not to mention these shoes are only $29.70. For a pair of high end brand sandals, that's a stellar deal.
Puff Sleeve Perfection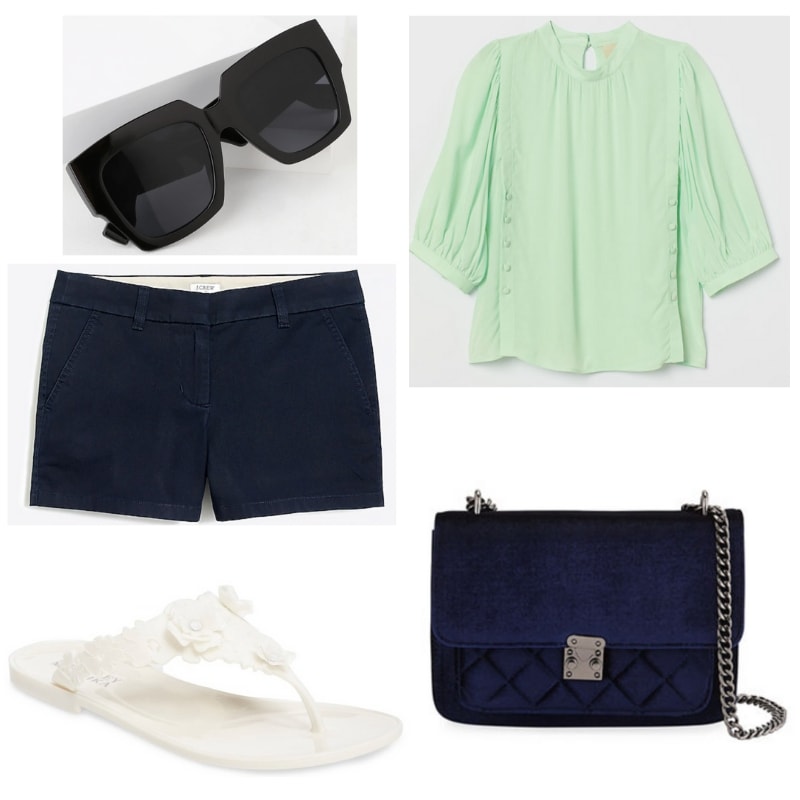 Products: Shorts – J.Crew Factory, Sunglasses – Lulu's, Flip Flops – Badgley Mischka (Nordstrom Rack), Top – H&M, Handbag – KC Jagger (Neiman Marcus Last Call)
I absolutely love J.Crew shorts. They're comfortable, durable and SO pretty. I personally own a handful of pairs and I can't get enough. At J.Crew Factory they're currently on sale for $16.50 plus you get an extra 20% off with the code TOOGOOD. It's an amazing chance to stock up for the summer!
I also love puff sleeve blouses. They're so feminine and ladylike. I think brands like H&M and Zara do a great job of making blouses that are both ladylike and affordable. Here, I paired a mint one from H&M with our classic J.Crew shorts for a sweet look. Add the flip flops and a a simple navy bag and you have the perfect spring day ensemble.
Ruffle Rager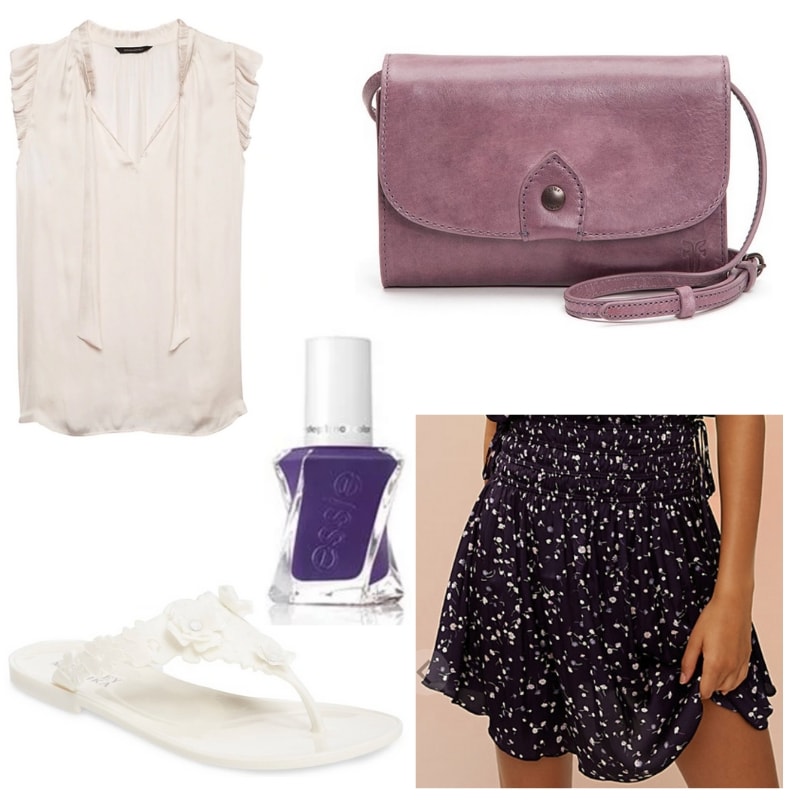 Products: Skirt – Express, Flip Flops – Badgley Mischka (Nordstrom Rack), Handbag – Frye (Dillard's), Top – Banana Republic, Nail Polish – Essie
I adore Banana Republic tops. This ruffle blouse is so silky and the fabric is so amazingly soft. They're great for such a variety of occasions. Whether you're going to work at your internship or out with friends at a party, it'll look fabulous.
For this look, I mixed the ruffle blouse with our floral flip flops and added a simple patterned skirt for interest. Then, I finished with a pretty purple bag for a pop of color.
Also, for those of you who haven't tried it yet, I totally recommend Essie gel nail polish. It's not like an actual gel manicure so it doesn't require the time or money but lasts so much longer than their regular polishes. It's so worth it!
Striped Sunshine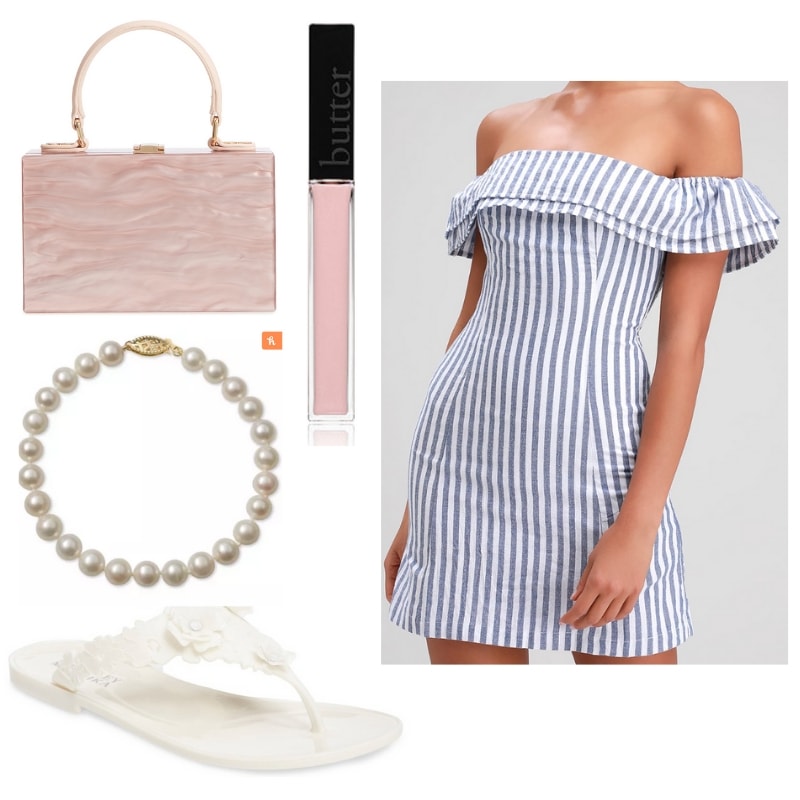 Products: Handbag – Like Dreams (Nordstrom), Bracelet – Belle de Mer (Macy's), Dress – Lulu's, Lipgloss – Butter London (Ulta), Flip Flops – Badgley Mischka (Nordstrom Rack)
This look is perfect for an elegant brunch out. I love the striped Lulu's dress. The off shoulder design is so beautiful and it's definitely a piece you will wear over and over again this summer. Be sure to check it out in pink as well!
Pearls are my favorite kind of jewelry. They're so timeless and are something every girl, independent of your personal style, should have on hand. These pearls look gorgeous with this dress and the simple floral sandals.
What did you think about this week's Fabulous Find?
Do you like this top? Are you a fan of Badgley Mischka or Nordstrom Rack? What are your favorite styles of shoes? What have been your favorite Spring trends so far? Start the convo below!