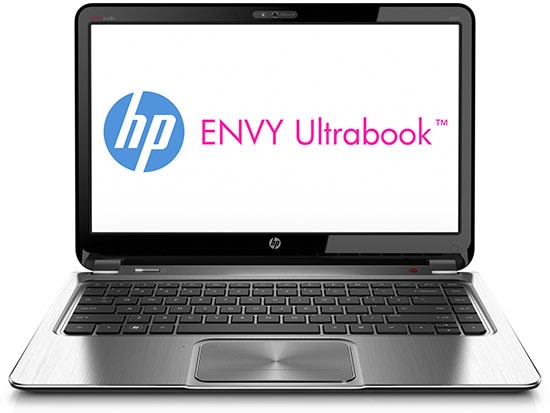 The HP ENVY 4 Ultrabook | Click photo to enlarge.
With the fall semester rapidly approaching, it's time to start thinking about back to school shopping. And whether you're attending college for the first time or returning for another year, there's no back-to-school purchase more important than a good computer.
To celebrate back-to-school season, our fabulous friends at HP let us test drive one of their hottest notebooks, the HP ENVY 4, and we're officially smitten.
Read on to learn all about this stylish back-to-school essential AND enter to win one of your very own!
All About the HP ENVY 4 Ultrabook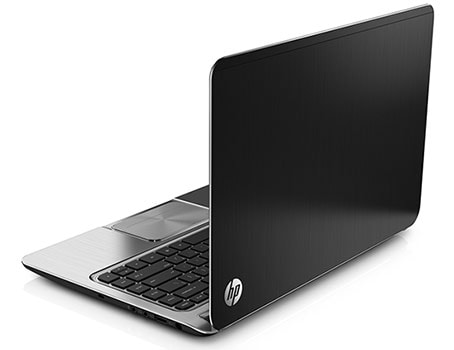 Here at CF, we're pretty discerning notebook shoppers: We not only want a computer that's fast, powerful, and lightweight, but we want it to be stylish, too. (If we're staring at it for hours a day, it better look good!) Suffice to say that most laptops we've tested have not fit the bill.
But as soon as we saw the HP ENVY 4, we knew this was an exception. Not only does this computer exceed our tech requirements, but it more than fulfills the style quotient. Let's break it down:
Tech Specs:
Let's face it: the perfect computer for college needs to perform. Whether you're editing a presentation, typing your thesis, or just browsing Facebook, your laptop needs to handle it all with ease.
Unlike other ultra-thin laptops we've tested, the ENVY 4 is incredibly responsive. Boasting an Intel® Core™ i5-3317U 1.7 GHz processor and 4 GB of RAM (upgradable to 16 GB), it can handle anything. Plus, with a 500 GB hard drive, there's more than enough space for your notes, music, photos, and more.
Design:
As mentioned earlier, we expect our gadgets to be as stylish as they are functional. And the ENVY 4 is total eye-candy: With a gorgeous, shiny brushed metal design, backlit keyboard, and ultra thin (.78 in) profile, it's incredibly chic. While we prefer the sparkle of the silver model (above), the ENVY 4 also comes in Louboutin-esque black and red, if that's more your style.
Special Features:
Finally, the ENVY 4 is packed with features that make it perfect for college students. Here's a quick sampling:
Equipped with Beats Audio™, dual speakers, and a subwoofer – music sounds amazing on the ENVY 4.
Weighing just 3.86 lbs, and with over 7 hours of battery life, it's ideal for toting around campus.
Equipped with HP ProtectSmart, which senses motion and secures your data, so you won't lose everything if you accidentally drop it.
HP CoolSense technology automatically adjusts your notebook's temperature based on usage and conditions – no more overheating or burnt legs while wearing shorts! (The latter has happened to us.)
Enter to Win an HP ENVY 4!
Now that you know the HP ENVY 4, here's your chance to snag one: One lucky CF reader will win an HP ENVY 4 in Black/Silver, pictured above.
Entering is easy – just leave a comment on this post and tell us… What's on your back-to-school shopping list? Be specific! Are you seeking out the perfect pair of leopard flats? New dresses, perhaps? Furniture for your dorm room? The perfect black leather tote? Anything goes, so have fun and tell us what you're coveting for back-to-campus!
Make sure to include your real email address in the "email" section of the form so we can contact you if you win.
Giveaway Rules & Eligiblity
This giveaway is open to CF readers in the U.S. only. Only one entry per person/computer, please. Those who try to enter more than once will have all their entries deleted.
You have until Monday, August 20th at 10:00 AM Eastern to enter, at which time we'll randomly choose a winner from all eligible entries and announce their name on our Facebook page and Twitter.
Thanks to our friends at HP for their generosity and best of luck!
Disclosure: This post was sponsored by HP. The opinions, as always, are our own. For more information, see our disclosure page.