The "Fabulous Find of the Week" column gives you the heads up on all the hottest, most affordable items at your favorite stores!
Hello ladies! How are you all doing? Fall is upon us and the leaves are starting to turn. This change in season also brings about an exciting change of wardrobe. We will be moving our flip-flops and seersucker dresses to the back of the closet and making way for our boots and cashmere sweaters.
This week's Fabulous Find is an essential fall accessory: a stole. This elegant piece is a must have that you can easily dress up or down depending on the outfit. Rest assured, CF will be showing you how to style it for different occasions to be sure you maximize this piece.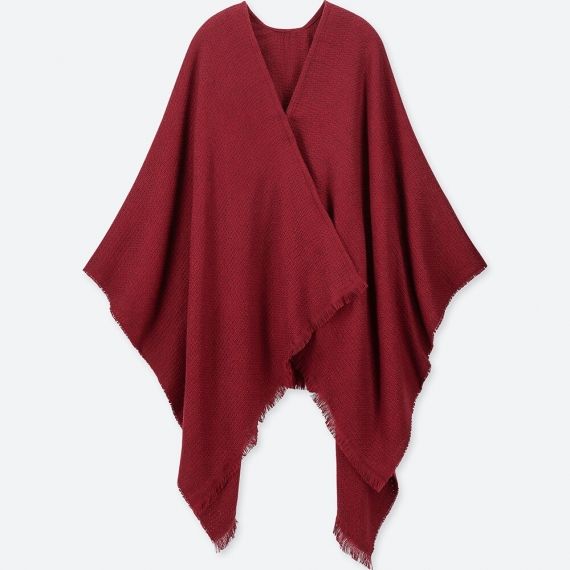 This amazing red stole is the perfect shade for fall. It's warm, comfortable, and incredibly classy. If that weren't enough, you can find it at Uniqlo for the great price of $19.90. It has a wonderful two-way design, which means you can wear it both as a stole or a wrap. You can even make it a scarf!
Comfy & Casual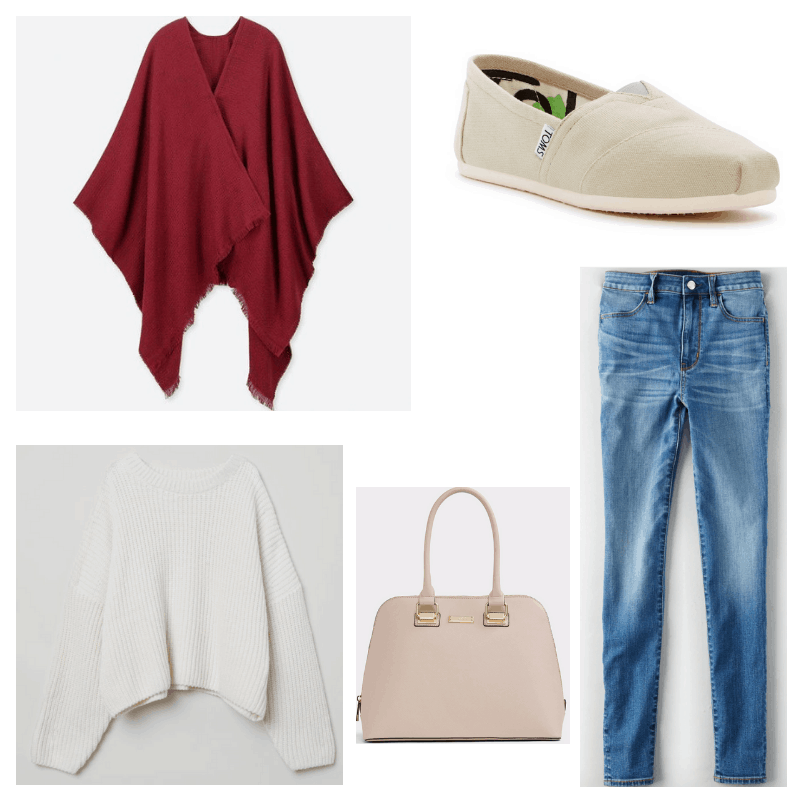 Products: Jeans – American Eagle, Handbag – Aldo, Stole – Uniqlo, Shoes – Toms (Nordstrom Rack), Sweater – H&M
This is the perfect casual outfit for class. Every item here is incredibly comfortable and will keep you warm all day long. I'm obsessed with Toms. They're the kind of shoes you can wear year-round, throughout every season. You can get this particular pair for under $30, which is such a steal!
I'm also a huge fan of the American Eagle jeggings. They're high-waisted and complement all figures and body types. The jeggings pictured above are also on sale, so like the Toms you can get them for under $30.
Houndstooth Elegant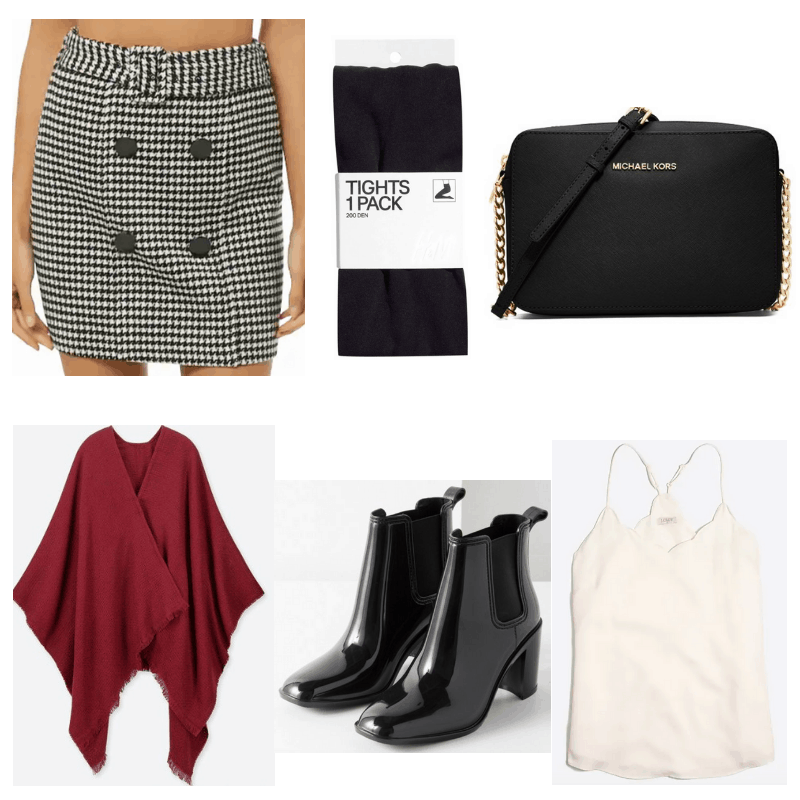 Products: Stole – Uniqlo, Boots – Urban Outfitters, Skirt – Forever 21, Tights – H&M, Top – J. Crew Factory, Crossbody Bag – Michael Kors
This look is perfect for a weekend brunch with friends. I'm obsessed with the houndstooth skirt. It's so elegant and ladylike. Depending on how you accessorize it, you can easily wear it throughout every season. I love the button detailing and belt on this skirt. It adds an extra feminine touch.
The black opaque tights are also a must. You will wear them all fall and winter long. They give you a way of wearing short dresses and skirts in the cold weather, thus widening your closet options!
Fall Floral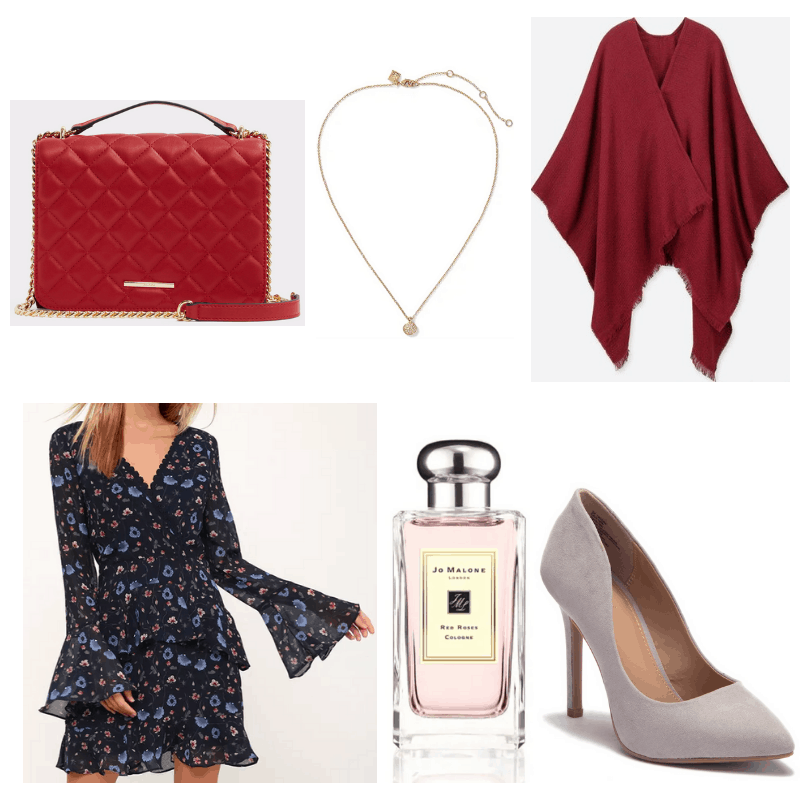 Products: Perfume – Jo Malone, Handbag – Aldo, Dress – Lulu's, Necklace – Banana Republic, Heels – Abound (Nordstrom Rack), Stole – Uniqlo
This outfit is perfect for a dinner out on the town. I adore the blue floral dress. It's a myth that you can only wear floral patterns in the spring and summer. You can style them all year long. Featuring flouncy sleeves and crochet details, this stunning dress is a must have.
I love these gray heels. They are very simple yet incredibly elegant and ladylike. The color is perfect for the season and the cut is great. Whether you're wearing these out to dinner with friends or for a job interview, you'll be glad to have them!
What did you think about this week's Fabulous Find?
Do you like this stole? Are you a fan of Uniqlo? What are your favorite fall colors? What have been your favorite fall trends so far? Start the convo below!