This post may contain affiliate links, which means we may receive a commission if you purchase through our links. Please
read our full disclosure here
.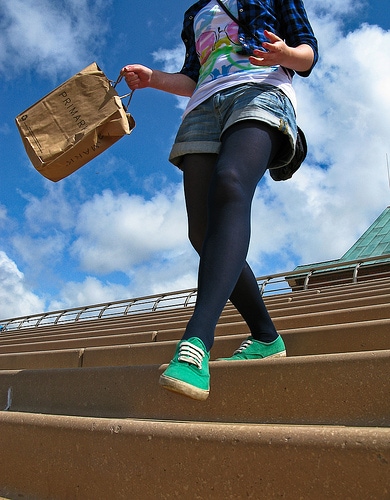 Photo Credit: 1
It's undeniable: the eco-friendly fashion movement is growing stronger every day. From Harry Potter's resident fashionista Emma Watson designing her own collection of magical duds for British brand People Tree to Seattle's hosting of the first ever Eco-Chic Expo in April, sustainable style is spreading like wildfire. (Oops–bad metaphor for an eco-friendly fashion post?)
Whether you're new to eco-fashion or just want some tips on greening your wardrobe, never fear: I've boiled down the basic lingo & facts you need to know into a quick, easy-to-understand guide. Read this, and you'll be ready to embark on your first green shopping trip in no time!
Green Fashion Terms to Know Before You Shop:
Sustainable: A sustainable product has the ability to be produced (over & over & over again) without doing much harm to the environment.
Renew-ability: Renewable resources are derived from something living (plant, animal, ecosystem) that can regenerate.
Cruelty-free: Cruelty-free companies do not test on or use animals in their products.
Carbon Footprint: A carbon footprint is a measurement of the impact human activities have on the environment. In terms of fashion, a clothing's carbon or ecological footprint is the impact the piece of clothing has had on the environment from start to finish.
Eco-Friendly Fabrics to Try:
Bamboo: Bamboo is one of nature's most sustainable resources! Added bonus: It drapes super-nicely across the human bod.
Organic Cotton: Organic cotton is harvested using what are called "organic farming methods" and doesn't require pesticides or herbicides to grow. (On the other hand, regular cotton is usually permeated with chemicals!)
Hemp: Hemp doesn't need pesticides, herbicides or fungicides to grow, so it's a popular fabric used to make organic clothing. Plus, it's very comfortable to wear.
Other Eco-Chic Fabrics: Soy, Eco-Spun (fabric made from soda bottles/cans!), SeaCell (a mix of seaweed and wood pulp fiber), Wool (in place of other furs).
Where to Look for Inspiration:
On Your Fave Eco-Conscious Celeb: Celebrities are at the forefront of the eco-fashion movement. Kristen Stewart, Erykah Badu, Courteney Cox, Sienna Miller, Angelina Jolie and even rehab-bound Lindsay Lohan have all spoken out about their love of eco-friendly fashion (although I definitely don't advocate following in LiLo's footsteps when it comes to anything but style!).
Fashion Blogs: More & more blogs dedicated to eco-fashion are cropping up. Check out Eco Stilleto, Eco-Chick & Ecofabulous to start.
Polyvore: I was super-impressed with Polyvore's vegan and organic clothing selection. If you're looking for some inspiration, try this: Go to Polyvore.com, search for an organic tee or dress and browse the creative sets others have built around the item you picked. Instant inspiration!
Other Tips for Your Eco-Friendly Shopping Trip:
Save. An integral part of living the eco-conscious lifestyle is reducing the amount you consume. Save for vegan and eco-friendly products (which tend to run a little more expensive than other products), so you can splurge on high-quality goods that will last—curbing your need to buy more stuff.
Buy Basics. Basics never go out of style. Use this to your advantage & build the core of your wardrobe with products made from organic cotton, hemp or recycled materials. You'll wear them often, so you'll definitely get your money's worth (totally important while you're penny-pinching in college!).
Know What You Already Own. Another way to save: Work eco-friendly fashion into your wardrobe slowly. Pick green pieces that complement the items you already own. Vegan shoes (so many options!) or organic cotton tees are good items to start with.
Check the Labels for Care Instructions. Some eco-friendly clothing requires special care (like hand-washing), so check the labels before you buy so you won't be upset when you bring home a tee that requires washing in the dorm bathroom sink after every wear.
Sample Outfits for Inspiration:
Outfit 1 – Casual Vegan
All items are vegan or eco-friendly (minus skinny jeans).
Product Information: Shoes – Swell, Tee – Net-a-Porter.com, Skinny Jeans – AE, Bag – Mod Cloth, Bangle – REVOLVEclothing, Urban Decay Eyeshadow – Sephora, Faux Leather Jacket Good Goth
Outfit 2 – Eco-Chic Coed
All items are vegan or eco-friendly (minus cardigan).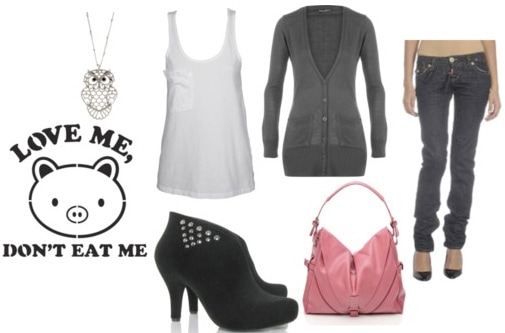 Product Information: Cardigan – Dorothy Perkins, Organic Tank – General Pants Co., Jeans – yoox.com,
Vegan Ankle Boot – Fashion-Conscience, Vegan Bag – Fashion-Conscience, Necklace – Mod Cloth
What do you think?
Do you shop for green clothing? What types of clothing do you buy that are made from organic materials? Do you have a favorite place to shop for eco-friendly clothing? Share your eco-fashion stories in the comments!