This week's Fabulous Find is totally festive and perfect for wearing a million ways – and the best part is that it's on sale for $10! (Don't let the website confuse you, though; it still reads $20, but the sale price will apply when you add the shirt to your cart.)
Anyway, I absolutely love this shirt – its delicate lace texture and scalloped bottom mean it can be either dressed WAY down or WAY up, making it perfect for a million occasions! Read on to learn how to wear it.
The Top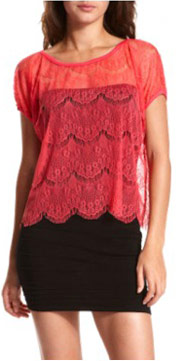 Sheer Eyelash Lace Tee – $10 at Charlotte Russe
Outfit Inspiration
Now that you've checked out the shirt, take a look at three very different ways to style it during winter break and on into spring!
Outfit 1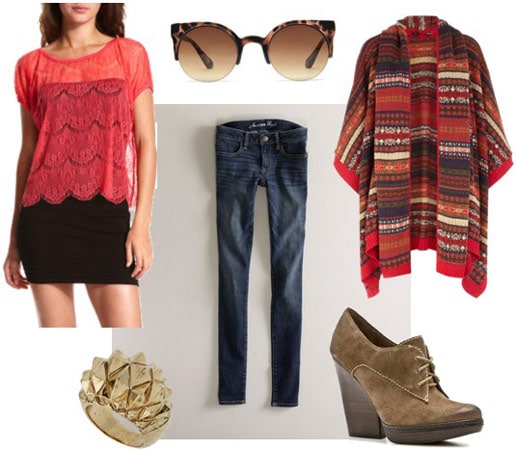 Top, Jeggings, Cardigan, Boots, Sunglasses, Ring
This look is bright and fun, which makes it a nice change of pace from our typical dark, gloomy winter wear. Here, I paired the top with some jeggings and this awesome geometric patterned open cardigan, which is super thick and warm too, making it perfect for the season. A pair of chunky heeled desert-style boots go perfectly with the warm feel of this look, and a faceted gold ring and cool retro sunglasses subtly top off the outfit.
Outfit 2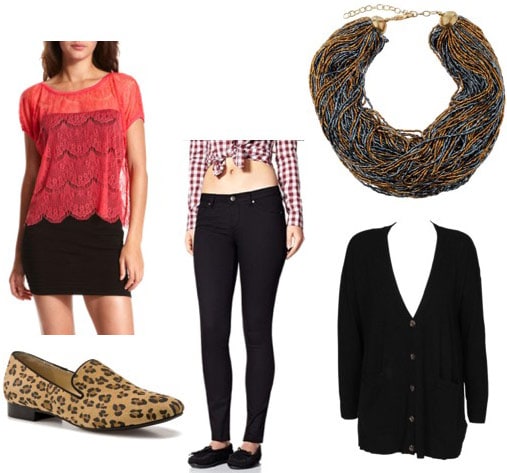 Top, Jeans, Cardigan, Loafers, Necklace
This casual outfit mixes unexpected colors and textures for a fun, unique look. To begin, I took the lace top and paired it with some black skinny jeans. I added an oversized black cardigan (to be left open) and these awesome leopard print loafers for extra warmth. To finish off the look and subtly tie in all the colors, I chose this interesting beaded necklace that has blue, black, brown, gold, and even slightly red tones in it – it's a fun and unexpected way to bring the outfit together.
Outfit 3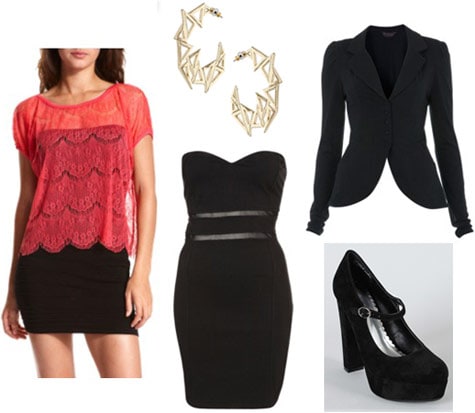 Top, Dress, Blazer, Heels, Earrings
For the last and most dressy look, I took a page out of Charlotte Russe's book and styled the top over a simple black dress. (You could also rock it under the dress – your choice!) I then chose a structured black blazer and some killer mary jane heels. I kept the jewelry simple, adding some interesting gold earrings. The best part about this look? If you need the extra warmth, it would look JUST as good with a pair of black tights! How perfect would this be for your next soiree?
Your thoughts?
So there you have it! Three ways to style this super cool, delicate top from Charlotte Russe. For $10 bucks, why not treat yourself a little and add it to your wardrobe? A top like this will work in any season with the right styling – so get it before it's gone!
Now, what do you guys think? Would YOU wear this top? Which outfit was your favorite? Let me know with a comment.