In some parts of the country it's freezing, but in others it's soak-up-the-sun weather, so here's a dress that everyone can wear this week!
The midi dress is coming back into style – we've seen this length of dress on all of the top models and celebs lately. This Boohoo midi dress is crazy cheap at just $10. it's also appropriate yet sexy, and the ribbed, body-con style is ultra flattering. The dark coral color of this dress is the perfect shade for the winter-to-spring transition. It's dark enough that its still a winter shade but colorful and bright enough that you can rock it into spring.
So if you want to learn how to style up this dress for every and any occasion, keep reading!
The Dress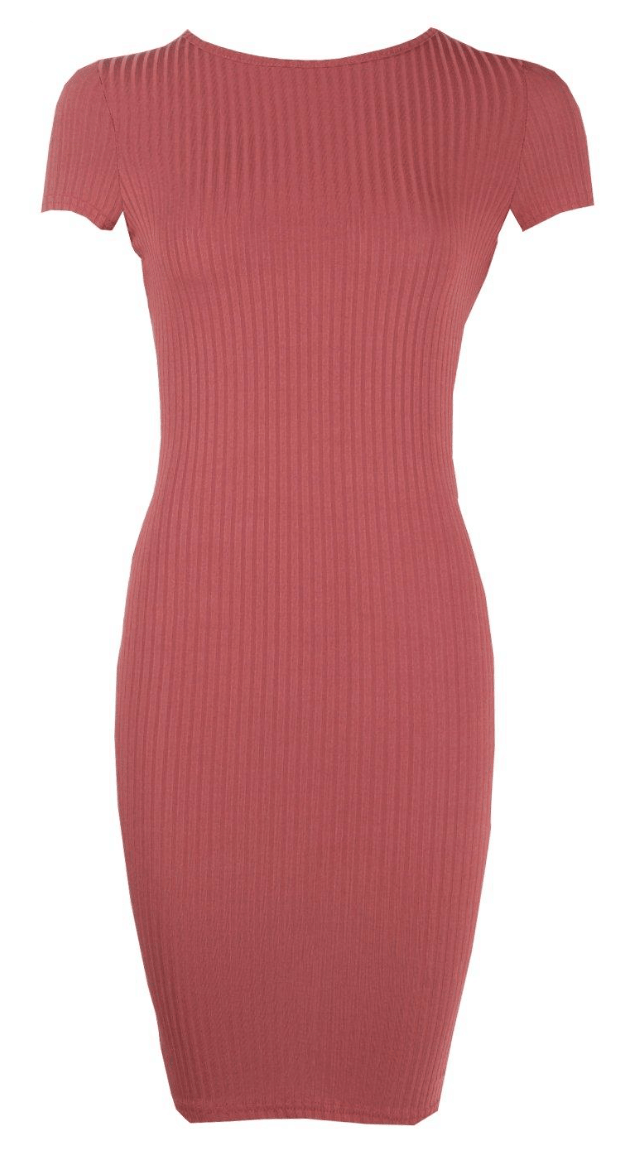 Boohoo Ribbed Cap Sleeved Bodycon Dress – $10.00
Don't be scared to rock this model-off-duty look – keep reading for three awesome outfits.
Outfit 1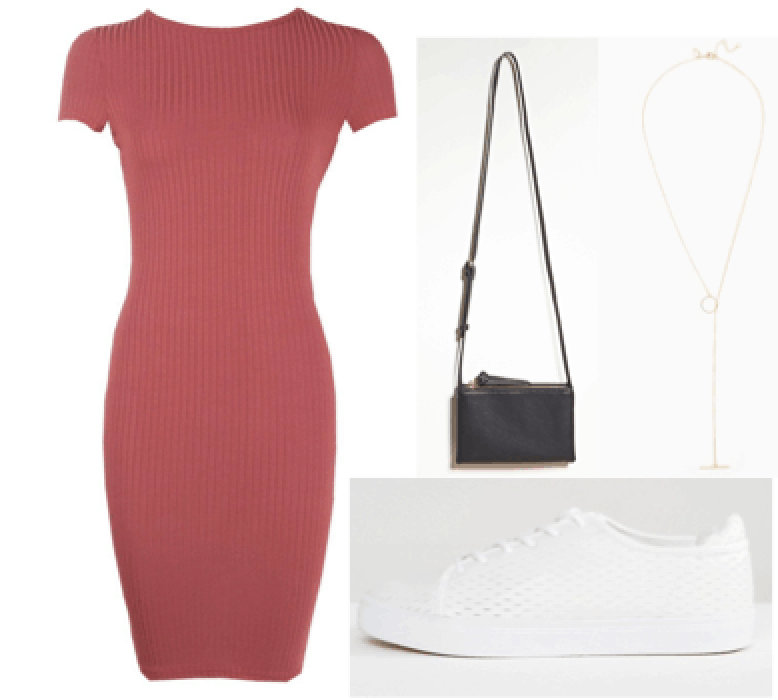 Products: Dress – Boohoo, Bag – Forever 21, Shoes – ASOS, Necklace – Charming Charlie
This casual outfit is so easy to wear and can be recreated with items you already own. Pair the lovely dress with your favorite sneakers for a perfect chill outfit. Continue the casual and comfortable vibe by grabbing your backpack or favorite purse. Finish with a great necklace – this one, from Charming Charlie, is under $9.00!
Outfit 2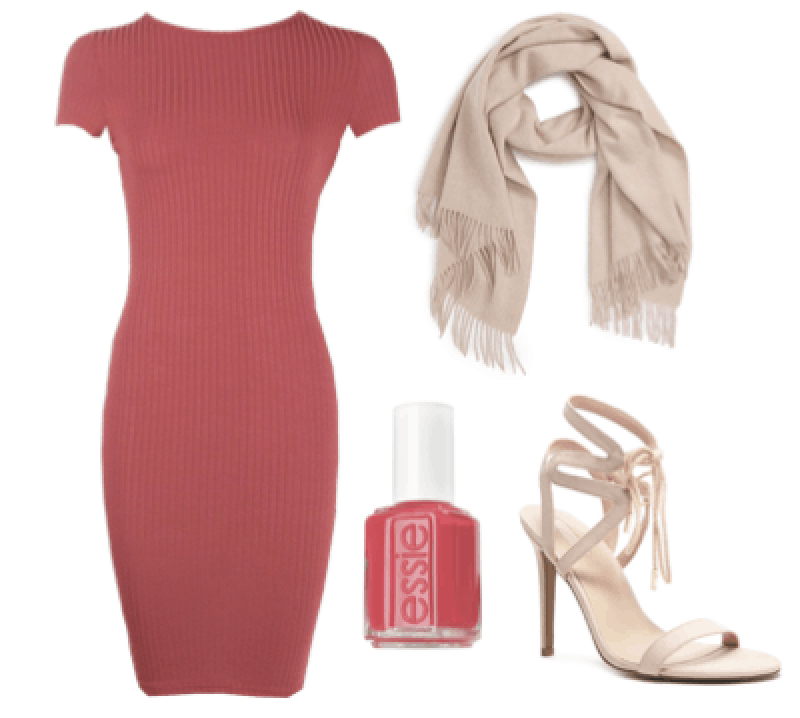 Products: Dress – Boohoo, Shoes – Forever 21, Scarf – Nordstrom, Nail polish – BeyondPolish
For a fun night out, this dress is perfect: it's sexy, sophisticated, and oh-so cute. This outfit is not only amazing for a night out but would also be great for a nice dinner with parents.
To get this look, pair the simple dress with some fun beige heels like these from Forever 21. These shoes are interesting but not too crazy, and they look perfect with this dress. To warm up those exposed arms and keep this outfit adorable, wrap a pashmina or scarf around yourself. This one from Nordstrom is thick enough to wrap around your whole body if you desire. Top this outfit off with cute nail polish, like this shade from Essie that perfectly matches the dress.
Outfit 3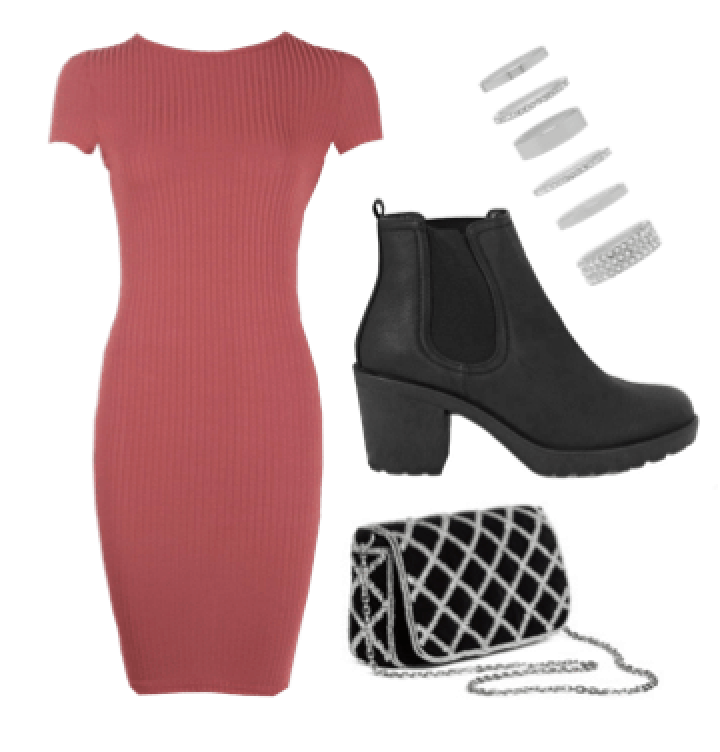 Products: Dress – Boohoo, Bag – H&M, Shoes – Boohoo, Rings – Forever 21
Keep the night alive and party on in this dress! This is the perfect outfit for a fun, and long, night out with your girlfriends. It's comfortable enough that you can wear it all night and cute enough that you'll want to wear it all night!
The chunky heeled boots from Boohoo are flattering and very on-trend right now. To keep your phone, wallet, and other belongings close, bring this adorable little studded bag along for the ride! Top the outfit off with your favorite blingy pieces. Here's a great ring set from Forever 21 for under $7.00!
How would you style this dress?
Tell us below! Are you into the body con trend? How do you wear midi dresses? Let's discuss in the comments.