I don't know about you, but boyfriend jeans are my go-to for lazy days when I just want to be comfortable. The great thing about them, though, is that they're trendy enough to be worn in all kinds of situations! If you still don't have a pair, it might be time to give them a try.
This week's Fabulous Find is a great starter pair of boyfriend jeans from Old Navy. They come in a range of sizes and lengths, they're well-reviewed, reasonably-priced, and they're not overly distressed (in case you're not a fan of big rips and tears in your jeans). Read on for ways to wear them, too!
The Jeans
Boyfriend Skinny Ankle Jeans – $32.00 at Old Navy
Outfit Inspiration
Now, for a few ideas on how to wear these jeans:
Outfit #1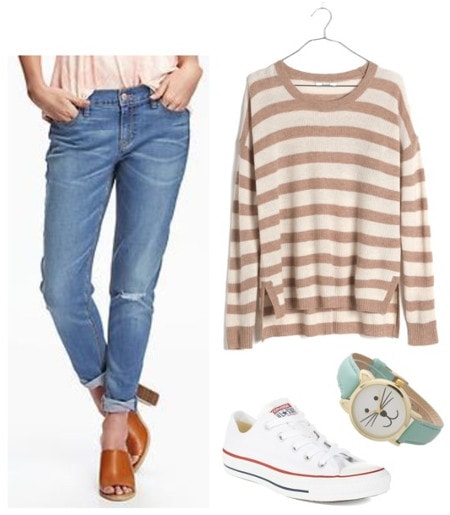 Products: Jeans, Sweater, Sneakers, Watch
This cute, lazy-day look is perfect for studying at the library or doing chores around the house. Start by pairing these casual jeans with a comfy striped sweater, and throw on a pair of white sneakers for running around town. Lastly, add a fun touch and a pop of color with a cat-shaped watch.
Outfit #2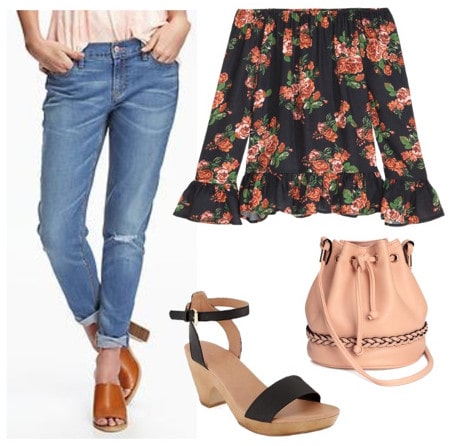 Products: Jeans, Blouse, Sandals, Bag
For a trendy, Coachella-inspired look, pair these boyfriend jeans with a printed off-shoulder blouse. Strappy platform sandals dress up the outfit (perfect for a date), and to carry your essentials, grab a pretty pink bucket bag.
Outfit #3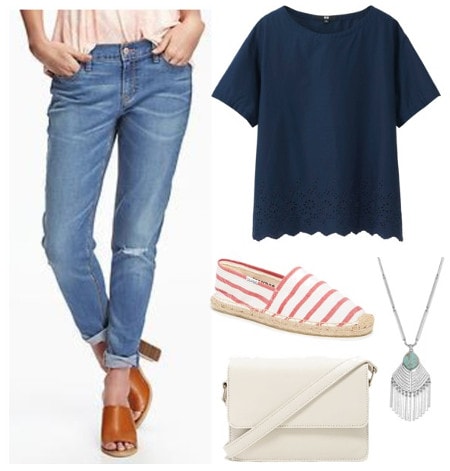 Products: Jeans, Top, Shoes, Bag, Necklace
This comfy yet polished look would be perfect for a spring day of shopping or sightseeing. Start with these boyfriend jeans and add a breezy, embroidered top. Striped espadrille flats give the ensemble a summery feel, and a white crossbody bag will carry your things as you're out and about. Lastly, add a turquoise-detailed pendant for just a little touch of boho.
Thoughts?
Are you a fan of boyfriend jeans? Which look is your favorite? How do you wear your pair? Let us know in the comments!